Purplesful Snacking produces healthy snacking products and supports underprivileged children by donating 25% of their profits to education, health and nutrition programs. We spoke with Co-Founder and Executive Chairman Matthew von Teichman to learn more about what they do.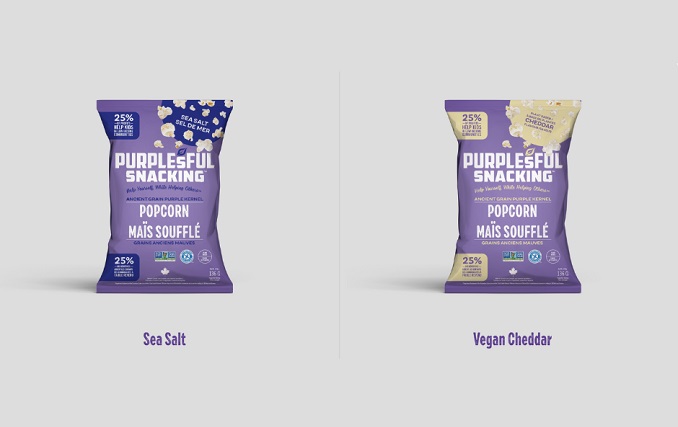 What is your business called and what does it do?
My business is called Purplesful Snacking. At Purplesful, we believe all children should have the opportunity to reach their potential. We believe in purpose over profit and we're committed to supporting underprivileged children through the sale of healthy snacking products. We donate 25% of our profits to education, health and nutrition programs benefiting kids in underprivileged communities across Canada. What separates Purplesful from other popcorn on the market is that it's made with purple kernel corn. Our product, available in Sea Salt and Plant-based Cheddar is Non-GMO, 100% plant-based and gluten-free. An added benefit is that the taste of these non-GMO purple corn kernels is super smooth and creates a snack that is 'creamier' than virtually anything else on the market.
What made you want to do this work?
Purplesful Snacking is a project I've been working on since 2020 and was brought to the market in February 2022. My venture with Purplesful was focused on creating a product that wasn't simply going to satiate cravings but would actually make a difference in the lives of others. The venture with Purplesful continues to inspire and motivate me and my team to create purpose-driven products. I also wanted to apply my knowledge from previous work in the natural food industry. Prior to Purplesful, I was the founder of Spore Wellness, GreenSpace brands, and Life Choices, among others.
What problem did you want to solve with the business?
Child inequalities are prevalent in many communities across Canada, and I wanted to create a high-volume CPG that could flow profits to the less privileged. We solidified how we wanted it to be structured (25% of profits to be given back) and who we wanted to give back to (started with inner city children) and I'm proud to say we have now grown a roster of different children's organizations that we support on an ongoing basis.
Who are your clientele/demographics?
Our primary demographic consists of consumers who believe in buying from socially conscious brands. Like us, they care about social issues ranging from the environment and global warming to ethical sourcing and supporting the less privileged.
How does your business make money? How does it work?
Purplesful is currently sold at major grocery stores across the country for the suggested retail price of $4.49 per package. We invest 25% of all our profits from each city or region into unprivileged communities through local organizations. Some organizations we support are the Hockey Diversity Alliance, Breakfast Club of Canada and Backpack Buddies.
Where in the city can we find your profession?
My office is located in downtown Toronto, and you can find Purplesful at a variety of major grocery and natural food stores locally, including Longo's, Loblaws, Whole Foods, Metro or Shoppers Drugmart.
What is the best question a prospective customer could ask a member of your profession when comparing services? Give the answer as well.
Question: What is the secret to your success of starting companies, successfully launching them and in some cases taking them public?
Answer: The secret to success in the CPG world is in making sure your product not only tastes great (a must) but also has a social conscience. New brands nowadays need to separate themselves in a very competitive field, and a great way to do that is to be about more than profit, but to truly get behind a societal or environmental need that is near and dear to your heart. That social conscience will separate the product from the rest of the products on shelf.
What is the best part about what you do? What is the worst part?
The best part is, of course, being able to help underprivileged children in communities across the country. Working closely with our community partners, we're able to see the direct impact these organizations have in making a difference in children's lives. The worst part is not being able to support every Canadian organization that is doing amazing things for underserved communities – but as the company grows so can our support!
What is your favourite joke about your own profession?
Mom – You keep dropping popcorn honey, please stop.
Sorry, butter fingers!
Where can we follow you?
Website | Instagram | Facebook | LinkedIn | Matthew von Teichman
PAY IT FORWARD: What is another local business that you love?
I love Made Good. They're a great local manufacturer of bars and cookies.