Tristan (AKA Top Pops) is a YouTuber whose channel mainly focuses on Funko Pops and other pop culture collectibles such as Pokemon, YouTooz and even Lego. We got a chance to speak with him to find out more about what he does.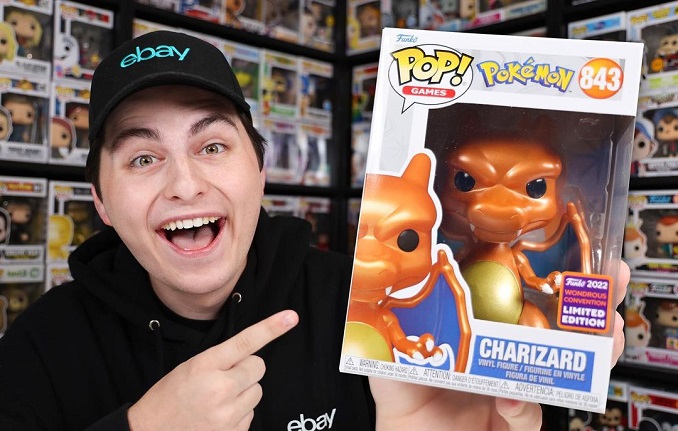 What is your channel called and what is it about?
My YouTube channel is called Top Pops. It focuses mainly on Funko Pops and other pop cultures collectibles such as Pokemon, YouTooz and even Lego.
When did you start it? What motivated you at the beginning?
I started my channel back in 2015. I was in grade school and had just discovered Funko Pops. My brother Noah was actually the one who motivated me because back then we did every video together. It was great when first starting out to have someone to bounce ideas off. Since then, I've taken over the channel by myself, but he does still help me behind the scenes with things like editing and camera work from time to time. Once in a while he will even make a guest appearance if I need him!
Who were you inspired by? Any influences?
One channel that definitely inspired me when I was first starting out was "Nerd Therapy". It was a YouTube channel created by a couple from the USA who made videos about Funko Pops and other collectibles. Back when I was just learning about Funko and collecting in general, I would watch their videos to get the latest information.
After watching for a while, I decided it might be fun to give it a try!
How would you describe your audience?
I would describe my audience as collectors of all ages. I get messages every day from viewers letting me know about new figures that they have found or collections they have started because of my videos. It definitely keeps me going, knowing that they enjoy my content and use it to grow their collections.
What is your creative process? Do you have people who work with you?
For the most part, it is just me behind the scenes but I do chat about my video ideas with friends and family. Having people to brainstorm with has definitely helped me to create better content and to get a new perspective on things when I'm stuck. I try to plan my videos a few days in advance, but I'm always ready to juggle my content around in case a new figure or event is announced. The best part about having Funko Pops as my content is that there are always new ones coming out, which in turn gives me an endless supply of video ideas.
How do you monetize your content? Do you also have another job?
This is my full-time job so when it comes to monetizing my content, I have a few different sources. My main source of income is definitely directly through Youtube ads but I also choose to promote a few other companies as well. One of those companies is eBay Canada. I am selective with my partnerships to ensure that the ads are aligned with my content and audience, and I also want to choose companies that I believe in and use myself. eBay Canada is my one-stop shop for Pops when I am searching for everything from hard-to-find to everyday items in just about any category imaginable.
What is your favourite piece of content you have created?
My favourite piece of content is always changing! At the moment, it's a video that I created that showcases when I asked a bunch of YouTubers that I follow to challenge me to hunt for specific Funko Pops. The video was fun to make, and it was popular with my audience!
What is the best part about what you do? What is the worst part?
The best part about what I do has to be when I get to meet the people who watch and enjoy my videos! It always amazes me when I see subscribers and they can tell me all about a specific video that I have made. Sometimes when you are at home making videos each day, you forget that thousands of people are watching them! There really aren't a lot of negatives with my job, but you definitely have to be organized, responsible and not a procrastinator! I am often working alone and I need to stick to specific schedules and timelines for various partnerships. I also need to be creative and come up with many ideas a week.
What are your future plans for your channel?
At the moment my future plans are really to just keep on making videos. Up until last year, I uploaded a full video every day for over 2000 days in a row. Last summer I took my first break from that. Ever since then, I have been doing full videos around four times a week and then uploading shorter videos on the other days. This has been a better balance for me as it allows me to continue to always be creating but also makes it easier on the editing and filming workload.
Where can we follow you?
My main platforms are Youtube, Instagram, and TikTok!
PAY IT FORWARD: What is another Canadian content creator that you love?
Another channel that I always enjoy is a Canadian Youtuber by the name of RyeThePopGuy. He creates videos and Tik Toks about Funko Pops and other collectibles with a fun twist by playing games and challenges against his friends. I like to watch channels like this to get inspiration for some of the videos I create as well.