There's a fabulous new exhibition at the Myseum gallery space (401 Richmond Street West) that brings me right back to my childhood. "Mr Dressup to Degrassi: 42 Years of Legendary Toronto Kids TV"  is a retrospective of children's TV created and produced from 1952 to 1994 in Toronto. Visitors will have the unique opportunity to revisit their favourite Canadian made shows and discover the impact it had on today's TV and film industry.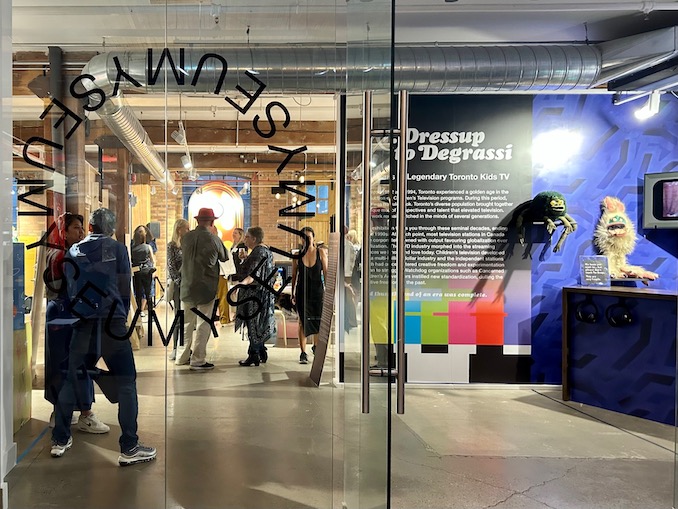 What is on display? Original puppets including The Grogs and Muffy The Mouse as well as a few replicas and set props like The Friendly Giant's Window are there. Vintage televisions are throughout the exhibition where visitors can take in a few episodes. It's also exhibition to inspire conversations with today's kids. Immersive and interactive stations offer more ways to explore how children's television shows were made and enjoyed. Learn how puppets were made and how they came to life. Master puppeteer Nina Keogh was at the opening night and had mentioned how she had offered performers tips on ways to make the hand puppets come to life.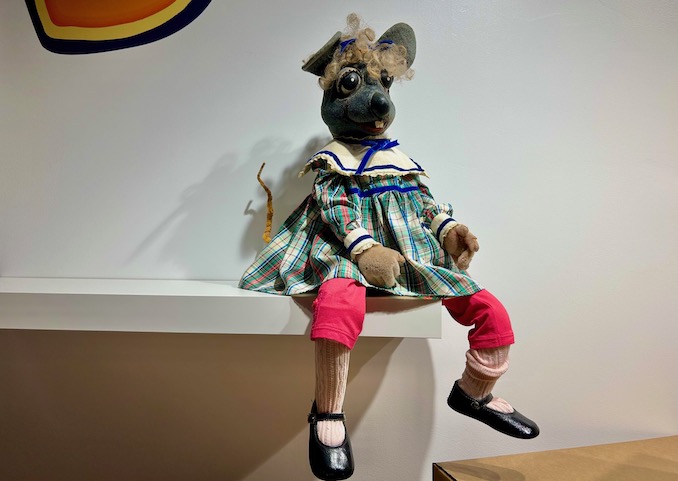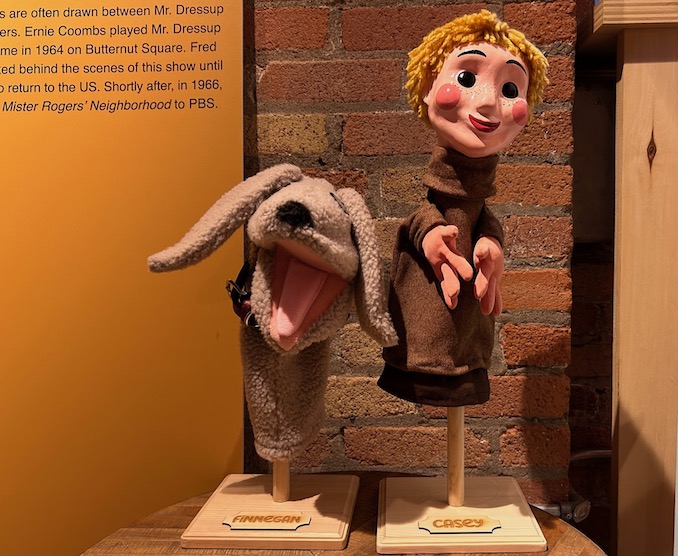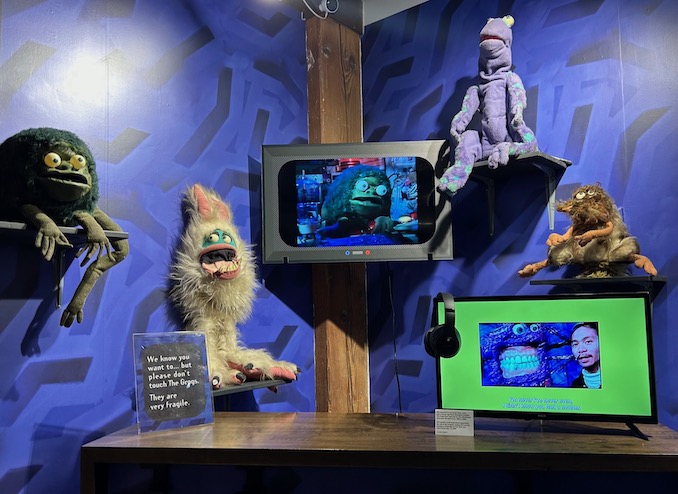 There's even a Polkadot Door and a Mr. Dressup's Tickle Trunk for photo opps! Visitors can also learn about the history of Canadian children's television throughout the space. There's a timeline on display as well as morsels of information   thoughtfully positioned.
At the opening I also had a chance to chat with actor Mark Kersey who played "Mark the Repairman" for 10 seasons of Mr. Dressup.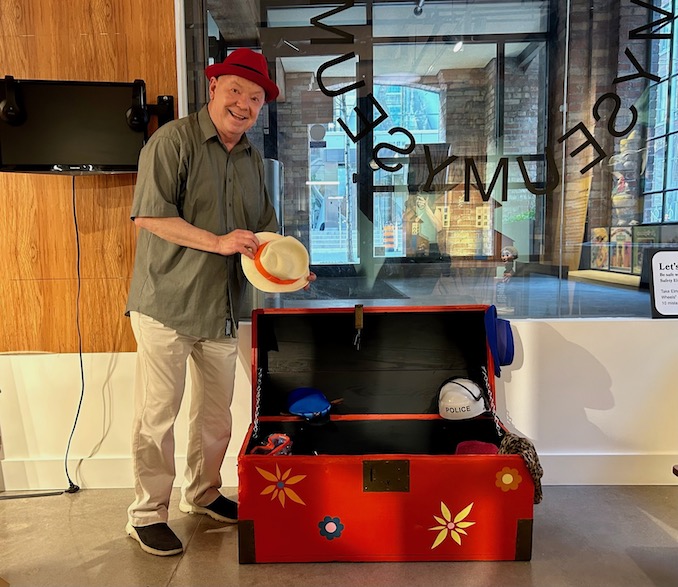 Kersey recalled auditioning for the show. "One of the writers of the show had in the script for a yo-yo expert to come on the show to do some tricks. At the time, I was also the Canadian National Yo-Yo Champion and actually when I was eleven years old I was the All-City Yo-Yo Champion," said Kersey. "But when I got on the set I wanted to make sure that everyone knew that I was also an actor. I was also writing songs and could play a lot of different instruments. I think that really charmed everybody. So, instead of one episode they had me stay on for 10 years!"
The show writers created the role for him and "Mark the Repairman"  became a regular character in Mr. Dressup's universe to help fix whatever was broken. "My character was reoccurring and I was fortunate to stay on because most visiting characters would come and do one show and we'd never see them again. But this guy kept showing up and fixing the sink or something in the shed. He would show up with his toolbox and  help Mr. Dressup but the funny thing was there always was a yo-yo in the toolbox," said Kersey with a big smile.
Kersey also mentioned that he was also a writer on the show. "I would write my own scripts and songs. Because it was a national TV show we knew there were big residuals on our songs. All the writers did the same."
Aside from his work on Mr. Dressup, Kersey entertained Canadians in his various in-person shows including a popular Duelling Pianos act. He also was the organist for the Toronto Blue Jays for four years and has appeared in many television commercials in Canada and the US.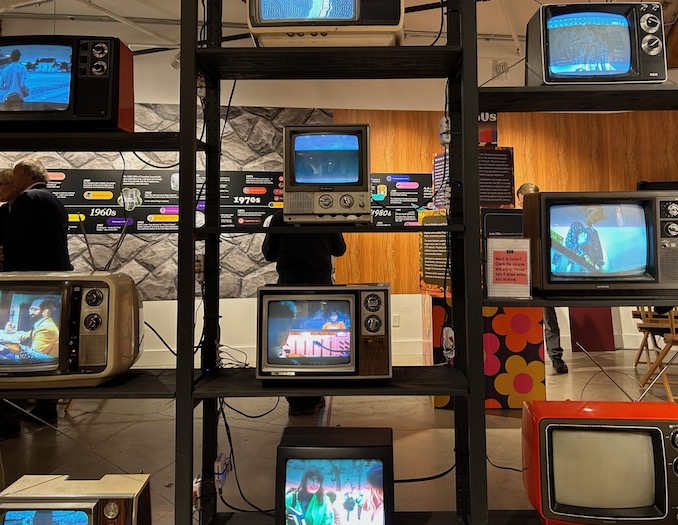 Fondest memory as being part of the Mr. Dressup family?  "It actually happened near here when Jani Lauzon had a CD release party at The Horseshoe and several of us from the show had dinner at Peter Pan. Then, we went across the street to her concert. Imagine this bunch of characters and crew, including Ernie (Mr.Dressup) from this popular kids' show at the Horseshoe? It was a lot of fun. I'll never forget it," said Kersey.
Jani Lauzon has an extensive career in the Canadian entertainment scene as a multidisciplinary artist and was a puppeteer on Mr. Dressup and went on to win a Gemini for her work on the show.
Fun fact…Ernie Coombs who played the iconic Mr. Dressup was a former understudy for Fred Rogers. Mr. Dressup was Canada's longest-running children's show (1967 to 1996) The preschool audience were taught subjects using puppets, games, songs, and costumes discovered in his Tickle Trunk.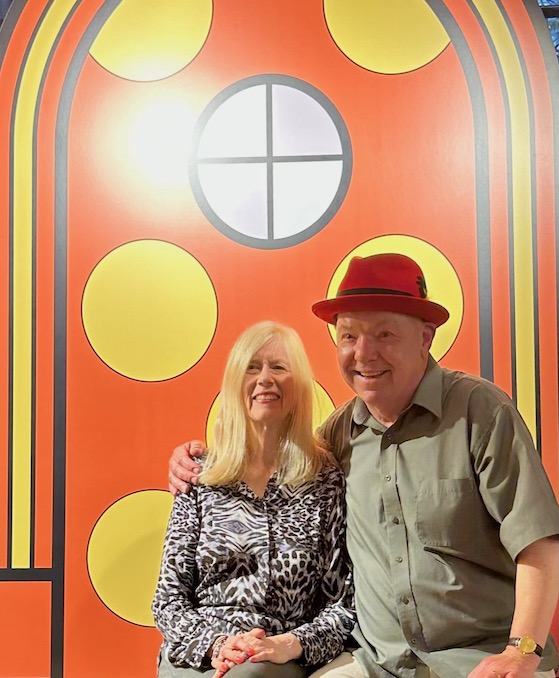 "I'm very, very impressed with this exhibition. A lot of work when into this and I'm so glad that it covers so many of the iconic children's shows," said Kersey. "It brings back a lot of great memories for me and I hope the same goes for those who grew up watching us. It's also great for parents and their kids today to visit and see what it was like to create a show back then."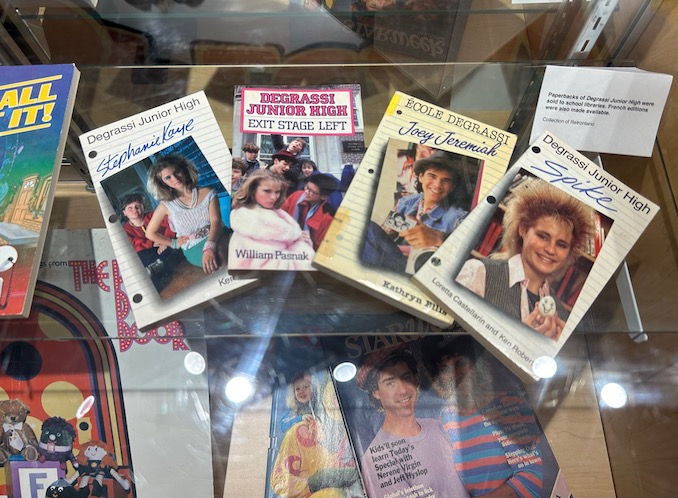 Mr Dressup to Degrassi: 42 Years of Legendary Toronto Kids TV exhibition is now open to the public at Myseum 401 Richmond in Toronto. Admission is free. More information can be found here.
Myseum is known as Toronto's museum. Dedicated to tell the history, evolving stories and experiences that are truly about Toronto and the people who live and work here.