Run The Flex is a Hip Hop and Street Dance studio in Toronto that offers daily drop-in dance classes and progressive programs for adults. Students can learn Hip Hop, Popping & Locking as well as Breakdancing to name a few offerings. We got a chance to chat with co-founders Aaron Aquino-Annobil and Nicole Rosove to find out more about them.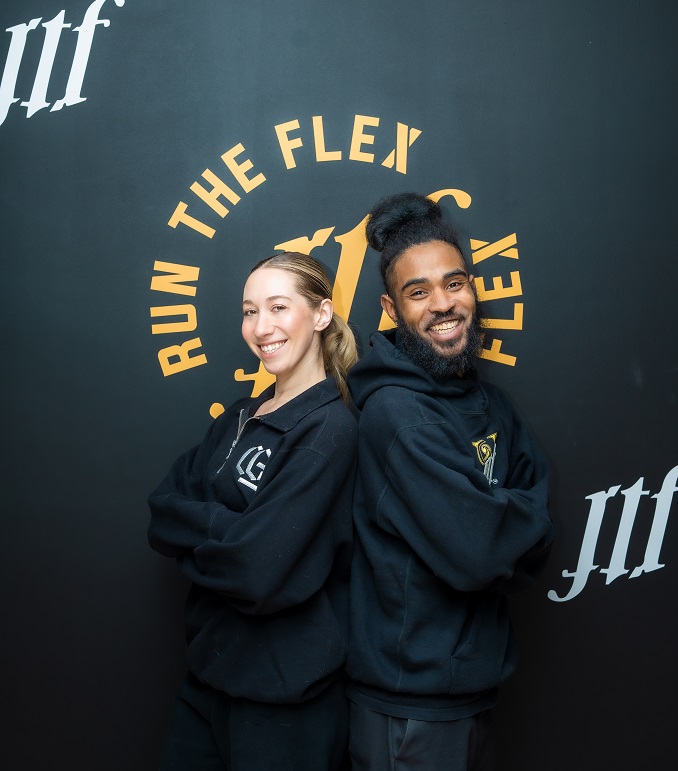 What is your business called and what does it do?
Our business is called Run The Flex.
We are a Hip Hop and Street Dance (ie. popping, locking, breaking, house) focused studio. We offer daily drop-in dance classes and progressive programs for adults from the complete beginner to the advanced dancer. Additionally, we offer Hip Hop programs for children and youth on the weekend. In conjunction with teaching dance, we also educate our clientele on the history of Hip Hop and Street dance in our classes and programs to fully encapsulate the foundation and art of Hip Hop.
Our space is a modern, welcoming environment, with a common area for hanging out between classes, a filtered water station, private bathrooms/changerooms and two dance studios with state-of-the-art sound, flooring, and lighting. The heart of what we do is quality, community and fun–we believe everyone can and should dance, no matter what age or level of experience.
What made you want to do this work?
As dancers ourselves, we understand the incredible benefits that dancing can have on people's lives. It is therapeutic with so many physical and mental benefits. We've seen how connecting people to Hip Hop – a culture so rich in knowledge and artistry- can improve lives.
What problem did you want to solve with the business?
We want the average person to have confidence that they can dance. Whether it be at a wedding, a bar mitzvah, or simply just in their own bedroom. People are afraid of looking silly, and we're here to say that dance is not just for professional dancers–it's for everyone.
Who are your clientele/demographics?
Our clientele is a wide range, from kids as young as 6 to adults 60+. Our main demographic is 25-45-year-olds who are either students or working professionals, that take dance classes as a regular part of their wellness routine.
How does your business make money? How does it work?
We are a service-based business. We sell packages and memberships to attend our classes and programs. Clients can also take private lessons with us, or book our space for rentals and events. All purchases can be made easily on our website (runtheflex.com/pricing) or on our app (Run The Flex on iOS). –> I can provide a link if necessary.
Where in the city can we find your profession?
Our studio is located at 893 Yonge Street, 2nd Floor, in the heart of Toronto! We are right on Yonge St, and a 2-minute walk from Rosedale Subway Station.
What is the best question a prospective customer could ask a member of your profession when comparing services? Give the answer as well.
Q: What makes Run The Flex different from any other dance studio?
A: Toronto has a number of dance instruction organizations spread across the GTA, but none of which have mastered the quality and professionalism of the environment, and instruction that is both inviting and geographically well situated for access and convenience. At Run the Flex, we work to provide our dancers with all the necessary resources to be their personal best while inspiring self-confidence and enjoying the journey along the way. Fostering community, providing qualitative knowledge, and bolstering wellness through street dance are our core values. RTF is a space where the complete beginner to the advanced dancer can tap into their creativity, challenge their athleticism, and have fun.
What is the best part about what you do? What is the worst part?
The best part of what we do is receiving positive feedback from our community–hearing how our studio and what we offer has impacted their lives in a positive manner has been the most rewarding. There is no worst part!
What is your favourite joke about your own profession?
"If you look ugly you're doing it right." This is a sign we have at our studio meaning that in hip-hop, it's okay to look messy, to make mistakes and to just get real and raw–it's all part of the journey!
Where can we follow you?
Website | Instagram | Facebook | TikTok
You can also sign up for updates via our mailing list here.
PAY IT FORWARD: What is another local business that you love?
HSS Photography – Hernani Sagra is a Toronto-based interdisciplinary artist, who migrated from Manila, Philippines, he operates his photography business within the walls of RTF and is our go-to for headshots and full-body movement shots.