The capital of the Ontario province, Toronto, is the largest and most diverse city in Canada. Toronto is filled with historic and beautiful spots every couple will enjoy. Apart from going on romantic dinners and visiting mesmerizing sights like the historic Casa Loma, you can also go for a hike or a day at the beach at the Toronto Islands Park, or for a sunset dinner cruise at the harbour. If you have something more luxurious in mind, consider a private twilight helicopter tour.
And aside from the beautiful sights and outdoor activities, the city also features a number of first-class hotels. To add romance to your getaway, we recommend choosing one of its best hotels with a private hot tub in the room. That's why we've prepared this list of romantic hotels with hot tub suites in Toronto so you can plan your honeymoon or couples getaway in no time and have the time of your life with your special someone. Check it out and enjoy your trip to Toronto!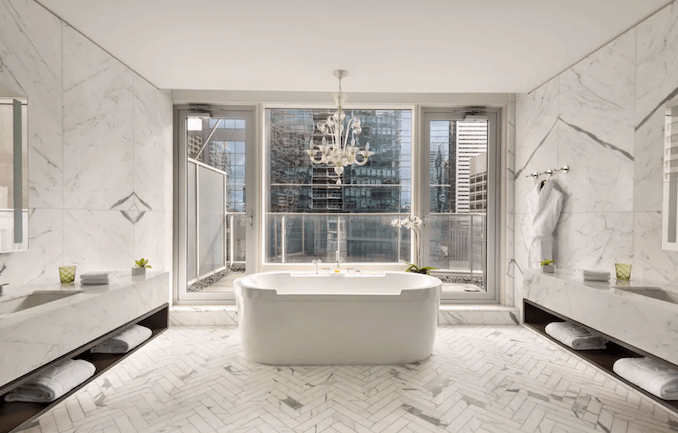 Top 10 Toronto Hotels with Hot Tubs in Rooms
In Downtown Toronto:
1. Shangri-La Hotel Toronto
First on our top 10 list of hotels with hot tub in room in Toronto is this luxury establishment in downtown Toronto, in the Entertainment District. Shangri-La Hotel features an indoor pool, a hot tub,  an infrared sauna, an on-site restaurant, room service, and a Health Club, along with the usual services, such as free wifi, on-site parking, and a 24-hour business centre. Pets are allowed with an additional fee.
The rooms are spacious with floor-to-ceiling windows and offer a spectacular city view. A TV, a coffee maker, and a minibar are also included in each room, while only some units boast a private terrace. And if you're planning a fancy and relaxing honeymoon, check out their Shangri-La Suite. With its unique decor and a private deep soaking bath, this suite provides an ideal setting for a romantic getaway.
2. Four Seasons Hotel
If you're looking for a romantic getaway in Toronto, check out this pet-friendly, 5-star hotel that offers world-class service, as well as hot tub suites. Featuring spa facilities, a fitness centre, an indoor lap pool, and a hot tub, you and your SO will get the pampering of a lifetime here. Local attractions, like the CN Tower and Royal Ontario Museum, are within walking distance.
The guest rooms are provided with a satellite TV, free wifi, a coffee maker, as well as floor-to-ceiling windows with amazing views that add to the romantic ambiance. If you're travelling with kids, this property also offers babysitting services, as well as room service, so you can spend some quality time with your partner. Furthermore, select suites include a hot tub in the room to provide guests with a memorable experience.
3. The Ritz-Carlton
This downtown Toronto hotel is located near the Metro Toronto Convention Center and overlooks Lake Ontario as well as the city skyline. The Ritz Carlton offers modern amenities like an on-site full-service spa, an indoor saltwater pool, a hot tub, and a sauna. A 24-hour gym and an on-site restaurant are also provided for guests. If you're planning a destination wedding, this hotel features the largest upscale ballroom in Toronto which the staff can transform into your dream wedding venue.
All the guest rooms include a flat-screen TV, free wifi, floor-to-ceiling windows, and other essentials that will make you feel at home. And as a cherry on top, they have suites that offer a deep soaking tub inside the room – perfect for couples celebrating a special occasion.
4. Windsor Arms Hotel
Nestled in the heart of the city, the Windsor Arms Hotel is a great choice for couples looking for Toronto hotels with hot tubs in rooms. This pet-friendly hotel features two restaurants, unique tea rooms, as well as a European-style spa centre with a saltwater indoor pool, a sauna, and a modern gym. The CN Tower and Yorkville Avenue shopping district are within walking distance from this 5-star hotel.
All spacious rooms are fitted with flat-screen TVs, free wifi, minibars, and sofa beds, while only select rooms provide guests with musical instruments, butler services, city views, and private limestone bathrooms with spa baths.
5. The SoHo Hotel
Next on our list of hotels in Toronto with private hot tubs is this luxury city centre hotel that excels in providing its guests with high-quality service and world-class amenities. This pet-friendly boutique hotel offers free wifi, a full-service spa centre, a fitness centre with personal fitness coaches and an indoor pool, as well as concierge services and a 24-hour reception.
A private bathroom, a tea/coffee maker, air conditioning, and modern design are featured in every room. Heated bathroom floors and a whirlpool tub in the room are offered for added comfort in select suites. This is definitely one of the most unique romantic hotels with hot tub suites in Toronto, perfect for young couples on a holiday.
6. The St. Regis Toronto
This is one of the many pet-friendly hotels in downtown Toronto that offer superb service. The 5-star St. Regis Toronto features a huge full-service spa centre that includes couples massages, steam rooms, a gym, and more, as well as an on-site upscale restaurant and bar, a heated indoor pool, room service, and private parking.
This eco-friendly hotel boasts spacious rooms with skyline views and contemporary amenities, such as flat-screen TVs, free wifi, luxurious bathrooms, and coffee makers. And for honeymooners and couples, this hotel offers rooms with a jetted tub in the room, making it a perfect choice for a romantic getaway.
6. The Hazelton Hotel
Set in the upscale district of Yorkville, this boutique hotel features a full-service spa with an array of luxurious treatments, concierge services, room service, an on-site restaurant, a heated indoor pool, and more. Furthermore, thanks to its convenient location, this pet-friendly hotel is very close to several top restaurants and attractions in Toronto.
All rooms are furnished with two flat-screen TVs, free wifi, heated flooring, a marble bathroom, and a seating area. In addition, this 5-star hotel also offers king rooms with a relaxing spa bath, great for couples who want to make the most of their romantic vacation.
Near Toronto Pearson International Airport:
7. Courtyard by Marriott Toronto Brampton
Situated in Brampton, a charming city set near the Toronto International Airport, the Courtyard by Marriott Toronto Brampton offers romantic accommodation for couples on a holiday. The hotel features an indoor pool with a waterslide and an adjacent hot tub, an on-site restaurant and bar, as well as a gym for those who prefer to stay active even when on vacation. Other commodities include free wifi, huge banquet and meeting facilities, as well as free parking.
Our personal recommendation is the hotel's King Room with Spa Bath which also offers a flat-screen TV, a mini-fridge, a microwave, and a coffee maker. There is no doubt you will feel right at home here and have a relaxing time together.
8. Old Mill Toronto Hotel
Next on our list of hotels with private hot tubs in Toronto is the Old Mill Toronto Hotel, which boasts a full-service spa, a restaurant, and a bar hosting live jazz music. In addition, the property can cater to up to 300 guests if you're looking for a place for a wedding reception. It is also conveniently situated close to downtown Toronto and the Toronto Pearson International Airport.
All cozy rooms come with a private whirlpool bath, a fireplace, and views of the scenic Humber Valley, along with the usual amenities, like a TV and free wifi. So if you're planning to go to Toronto for your romantic vacation but like to avoid the rush of the city centre, this hotel is a perfect choice.
9. Hilton Garden Inn Toronto Airport
This Mississauga hotel features an indoor pool and hot tub, a gym, a 24-hour front desk, free wifi, and a restaurant. For your convenience, there's also a free airport shuttle service to the nearby Toronto Pearson International Airport. In addition, a number of golf courses and points of interest can be found in the vicinity of this Hilton Garden Inn.
Each hotel room comes with a microwave, a flat-screen cable TV, a small refrigerator, and a private bathroom with free toiletries. Hilton Garden Inn also offers some suites which also boast a seating area and/or a spa bath in the room – a great choice for couples who are searching for a romantic getaway.
10. Hampton Inn & Suites by Hilton Toronto Airport
Also situated in Mississauga, Hampton Inn & Suites features a free hot breakfast, a 24-hour front desk, a gym, an indoor pool, and the usual amenities, such as air conditioning and free wifi. Free airport shuttle is also provided on demand to the nearby Toronto International Airport.
Indulge in complete relaxation and take advantage of the many hotel commodities, and then relax in your room. All rooms provide guests with hypo-allergenic bedding, a coffee maker, a cable TV, a small fridge, and a private bathroom with free toiletries. For a special occasion, treat yourself and your partner with King Studio with Hot Tub and have a very romantic holiday.
FAQs about Hotels with Hot Tub in Room in Toronto
Why is Toronto a good place to visit?
Aside from being a diverse city, Toronto is a place where guests can both have indoor and outdoor fun. The city holds top-rated sites with beautiful sceneries as well as luxury hotels with world-class amenities like award-winning on-site restaurants, luxury queen rooms and king suites, an indoor pool, and so on. If you add a hot tub room or whirlpool suite to the mix, you can have the most romantic time here. Needless to say, Toronto is a city people of all ages can enjoy.
Are hotels with hot tubs in rooms in Toronto safe and clean?
Most of the Toronto hotels with spa baths in rooms we included on the list have excellent ratings. This means that the hotel provides good service and makes sure that its facilities are properly maintained and clean, along with providing convenient commodities and amenities, such as free wifi, free airport shuttle, free continental breakfast, etc.
What activities can couples do when in Toronto?
There are several fun activities that await couples when they visit Toronto, such as going on a tour at Niagara Falls with a romantic boat cruise, going camping, hiking, or attending an event on the vibrant Yonge-Dundas Square.
You can also stick to the basics and find a nearby fine dining restaurant for an intimate dinner with your sweetheart or go for a romantic walk along the shore. And, of course, book a hot tub suite so you can relax in a private whirlpool tub at the end of the day in the intimacy of your room.