Hailing from just outside Toronto, Bedhead (Veronica Racanelli) grew up in an intensely artistic household, sparking a lifelong passion for her own creative pursuits. Having studied painting and photography in addition to music, these elements are incorporated into her work. Each roaring pop chorus and heartfelt verse is accompanied by complementary visuals as bold and bright, or soft and reflective, as the songs they accompany.
Bedhead's songwriting process begins at the piano, and evolves through carefully crafted synthetic soundscapes that highlight her emotional lyrics. Her newest single, "Fight No More" is a close follow up of her debut track "Bitter", diving into complex themes of mental health, heartbreak, and relationships, presented on a bed of lush synths and excellent production, resulting in an undeniably catchy yet authentic pop sound she is becoming well known for. While comparisons have been drawn to groundbreaking artists such as Maggie Rogers, MØ, and Lights, Bedhead is carving a unique space for herself in Toronto's eclectic music scene and people are taking notice, with Indie88 as the first champion of the track, adding to rotation, as well as over 50 mentions in press from Canada, USA, and Europe so far.
Don't sleep on Bedhead – she's a force to be reckoned with.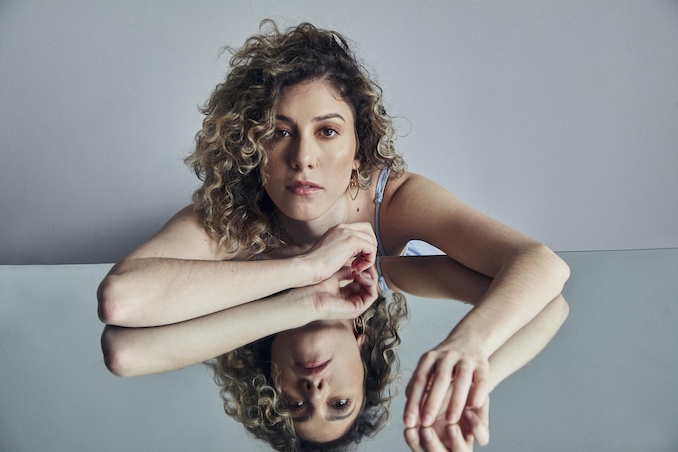 Name: Bedhead (Veronica Racanelli)
Genre: Indie Alt/Synth Pop with a light drizzle of rock
Founded: 2019
# of Albums: Zero! (Soon to be one!)
Latest Release: Fight No More
Latest Single: Fight No More
Latest Video:
Favourite Restaurant:
School! I'm a sucker for brunch.
Favourite band as a teenager:
The Maine. My teenage-self freaked out when I got to meet them at Warped Tour 09, and I still have the band T-shirt they all signed.
Favourite band now:
Tame Impala
Guilty Pleasure Song:
There's so many… but I'm gonna pick "Wide Awake" by Katy Perry. The summer the song came out, I got really good at the hook so I could drop it around my friends randomly during peaceful moments. Waking up in the morning, watching a sunset, etc. I recently listened to it again and was just like, "Crap, I still love this song"
Live Show Ritual:
Doing a funny little dance… dance is a generous word, it's mostly jumping while flailing my arms and lip trills.
Favourite local artist:
Poesy
Sneaky Dees nachos, pasta from Terroni or a superfood salad from Fresh?
My Italian roots will not let me choose anything other than pasta. Pasta wins. Every. Time.
Queen or College St?
Queen Street, West AND East
Trinity Bellwoods or High Park, Riverdale or Kew Gardens?
Trinity Bellwoods, because it makes me feel like I walked into a painting by Seurat. Bonus: Nadège Patisserie is right beside it.
EP or LP?
EP! (hint hint)
Early bird or night owl?
10000% Night Owl
Road or studio?
I have not been on the road yet, I imagine I would like it more because I love going to new places, driving, and staying busy. BUT I do love being in the studio as well… can I get back to you after my first tour?!
Swiss Chalet or Roti?
"Nothing tastes as good as Swiss Chalet" -Swiss Chalet
Where can we follow you?
Instagram | Facebook | Twitter | Youtube
Any shows or albums coming up?
Stay tuned for my debut EP coming out this year!