The Performing Arts are good for the soul and brilliant for the mind. I often forget this in the dead of winter when the weather stops me wanting to trudge out in the snow, even if it is for something fun and cultural. However, I was reminded of this once again as I visited the home of Toronto Dance Theatre for a double bill of movement.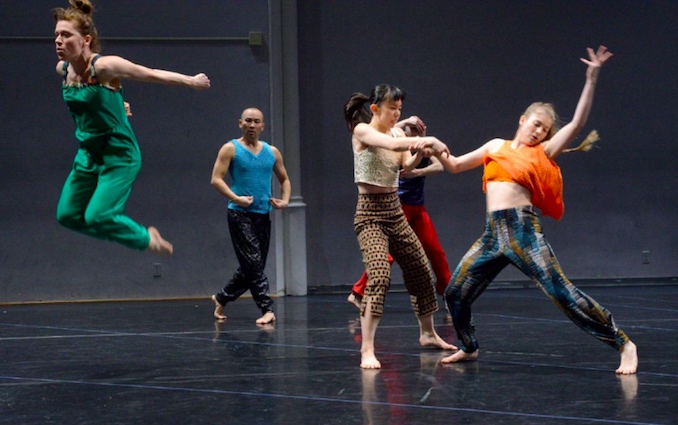 First up I sat for Marie Lambin Gagnon's instillation piece, Slow Dance, which apparently was utilizing the studio space downstairs for the first time since the 1980s. Interesting that that should be the case as the opening tableau of the piece had a distinctly 80s punk-fashion show vibes. Think David Bowie and runway model's high on cocaine. Coupled with the pumping sound design, it was all very HIGH FASHUN, etc.  And then it began.
I can get lost in movement pieces like this. Before my very eyes, an exclusive runway show melted and dissolved, bent and stretched to become a junkyard replete with a homeless man swaddled in layers. He in turn became Gandalf worshiping the wizardry of the household appliance. I spoke to my friend after and she was getting strong hermit crab vibes. Ah, interpretive movement, I love you so.
The key theme seemed to be consumerism. From the hermit crab constantly changing and discarding shells to the fashion show descending into scrapes of waste clothing, from glistening household appliances to their final resting place in landfill, the ultimate story seemed to be about "things" and humans relationship to them perhaps getting in the way of their relationship to one another.  Whatever the intended message, Peter Kelly, Devon Snell, Yuichiro Inoue  and Margarita Soria master their movements; slow and steady with aching control and intent. A wonder to watch on all fronts.
Next up we had This Shape, We Are In; a stark visual contrast to Slow Dance in its vast space and few objects.  Jeanine Durning's piece seemed more to be about the calamity and chaos that comes along with being human and our need to connect. Can we connect across tables? Can we connect through shut doors? Does standing or sitting matter? Why do we have to walk and talk and behave in certain perfunctory ways when actually we just sort of want to cry and scream on the floor sometimes? Well, The Shape We Are In presents the banality and confusion of human existence with the expert help of performers Valerie Calam, Alana Elmer, Mairi Greig, Megumi Kokuba, Pulga Muchochoma, Erin Poole and Roberto Soria. Together the ensemble created expert moments of physical comedy, tension and drama.  I was left deeply considering my own relationship to action and impulse.
While you absolutely could see Slow Dance and This Shape, We Are In as individual pieces, I think together they pose really interesting questions as to human needs. Do we need things more than we need connections, or do we buy things to allow us to feel connected?
Both shows run until February 2nd at the Winchester Theatre. For more information on Toronto Dance Theatre or to book tickets, visit the Toronto Dance Theatre website.