When we think about grabbing something to eat, we often just want something fast. We think of convenience, price and well, what would satisfy our hunger. We're fortunate in this city to have many options and there are a growing number of  locally owned and operated eateries that are exceeding our expectations for fast food. SALUS FRESH FOODS is one of them. Their flavourful and oh, so satisfying menu items is what healthy should always taste like. From wraps to salads to bowls, you can choose from their menu or make your own. Bonus points for customizing to customer's specific dietary needs! Add on a smoothie and a few house-made granola goodies and you'll have the energy to go through the day without that sluggish afternoon slump. Loaded with freshness and just in time for summer, we even had enough left over for a snack later on in the day.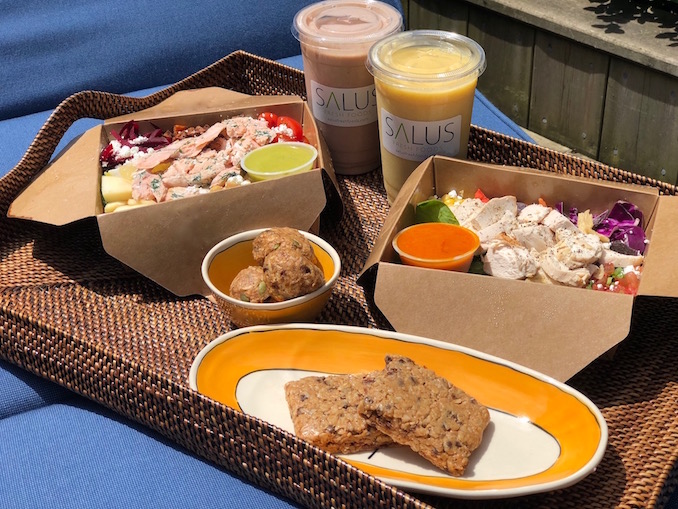 We had a chance to chat with founder Adam Spagnuolo, who left his Bay Street job as an equity analyst to embark on a mission to fill a gap in the health-food industry. His objective? To offer nutritious meals made from whole ingredients for those on-the-go in this city.
Okay, the recipes are really delicious and the portions are pretty satisfying, how did you decide on what to offer on the menu?
My family has been in the food business for generations, and growing up around the industry taught me to value quality and innovation when developing a menu. The goal for Salus was to offer delicious options that were healthy and didn't compromise on taste. It's hard to find food on the go that is actually healthy and leaves you wanting more. Given Toronto's multiculturalism, I am also inspired by different cultures, such as our Mexican-style Corntrolla bowl, and always seasonality, as it allows us to utilize homegrown ingredients that come to us daily and fresh!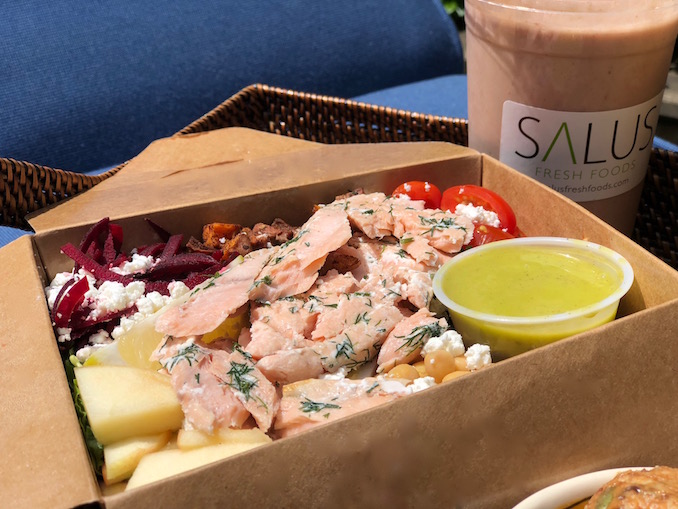 Is this whole fresh, healthy, and tasty thing a trend?
I think there's a couple differences between the shift we're currently experiencing, and some of the health fads we've seen in the last decade. We're seeing a societal change in our relationships with food as part of a larger commitment to a healthy lifestyle. We are becoming better educated on the role diet plays in our overall health, and the importance of nutrition. As consumers, especially the younger generation, learn more about the importance of eating organic, fresh, local ingredients and become hyper-aware of everything that they put in their bodies, the health trends of ten years ago (such as fast food joints adding salads to the menu) simply doesn't cut it anymore.
That being said, I don't think healthy, delicious options will ever go out of style. The more educated we become on the role food plays in our wellbeing, the higher the demand will be for nutritious food that tastes great, and I think that mindset is here to stay.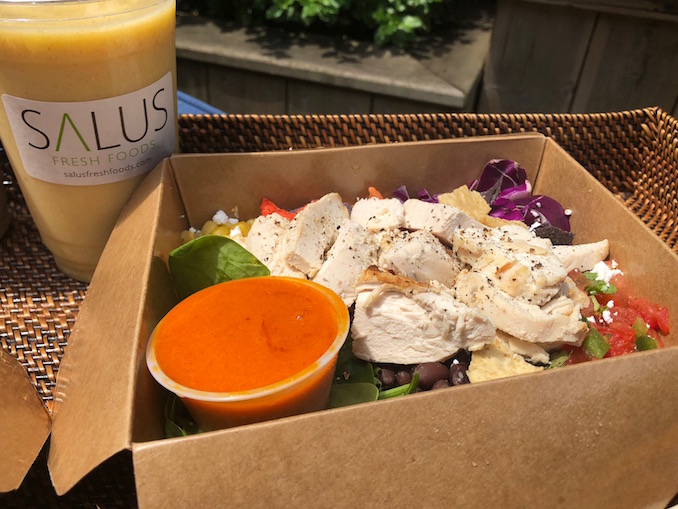 There are so many options in this city, so why should we choose Salus?
Salus truly caters to any dietary restriction, any lifestyle. There's no such thing as being too picky with us, we have over 50 different ingredients to choose from, and the entire experience is completely customizable. Our ingredients are also delivered daily, and everything is prepared fresh in-house.Something that we really pride ourselves on is the fact that you can truly taste the freshness in our meals. We also won't keep you waiting – every bowl, salad, wrap and smoothie is made in 3 minutes or less. Perfect for a workday lunch or post-workout snack.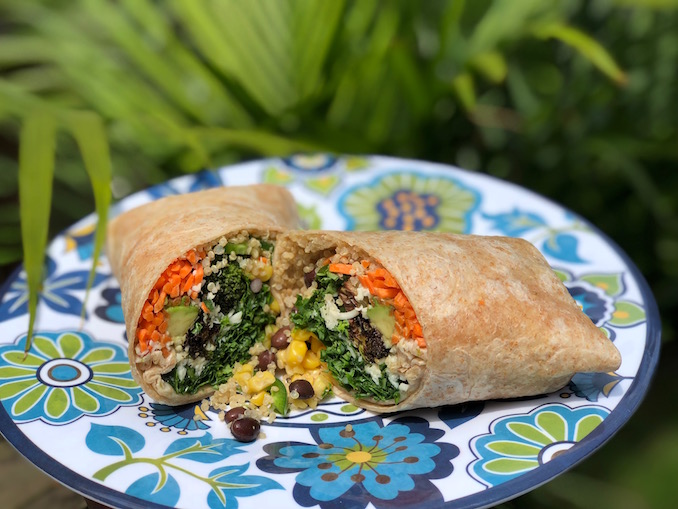 What was your inspiration to start this venture? You left a good career to do this?
My inspiration for starting Salus came from a void I experienced first-hand while working in finance. I was always looking for fresh, delicious, and affordable meals that would be prepared quickly. I never found anywhere that fulfilled all of the above, and saw an opportunity for the health-conscious community.
Walking away from a comfortable, and potentially lucrative career to embark on the path of entrepreneurialism is never an easy decision. Of course it requires an intense level of commitment, but my faith behind the idea and passion for the project is what fuels my motivation. Every time I witness a satisfied customer, or a new store opening, it reminds me to stay true to the core value and looking at the bigger picture.
Sourcing local ingredients…will that also reflect seasonal availability?
We're passionate about the quality and seasonality of the produce offered at Salus. Although many of our salad bar items remain constant throughout the year, we make an effort to source the freshest produce to reflect the season.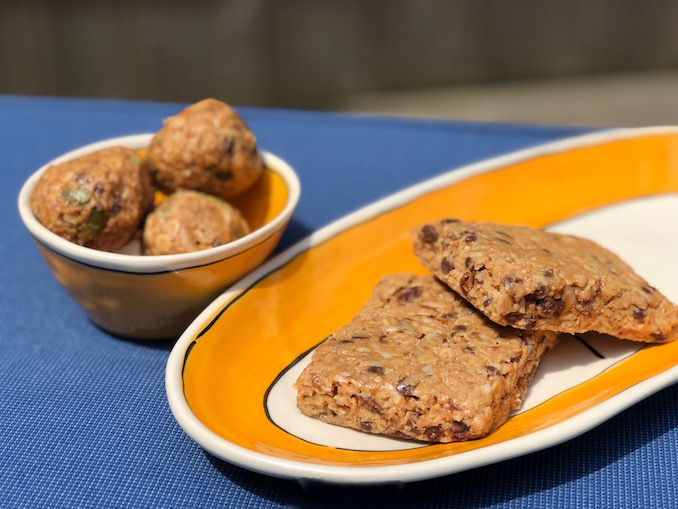 How can we encourage the "grab and go" crowd to go to you?
Finding a health-conscious option on the go is harder than you might think – throughout the years I noticed that healthy grab and go restaurants were plagued with long lines or high price points. We cater to those who are on the run and want quick, clean eats that will satisfy your cravings, and fuel your day. We offer bowls and wraps at an affordable price, as we want to encourage everyone to live their healthiest lives without breaking the bank. Offering meals at a lower price doesn't come at a cost to quality – our super-sized salads are packed with nutrients, taste great, and will keep you full all day long.
What's been the most rewarding thing about opening Salus?
The most rewarding thing about Salus is the positive and encouraging feedback we get from our community. We love hearing how we've made a positive impact on a customer, from keeping them on track to crush their daily health and fitness goals, to helping them stay alert and productive throughout their work day.
Salus Fresh Foods currently has two locations: 25 Carlton Street and Scotia Plaza (40 King Street West). Delivery also available through foodora, Ritual, Doordash and Platterz. Visit their website for more info.