After years of hype, a prologue, and a few betas, Grand Turismo has finally arrived on Playstation 4. As a fan and long-time supporter of the franchise, I had been very disappointed when the previous version of the series was announced as a Playstation 3 exclusive, even though the PS4 had already been out for some time. I, along with most other serious gamers, had already made the switch to the new generation of console, and back-tracking to fire up my dusty old PS3, just to play a driving game, was not really an option. I decided to wait for the next Gran Turismo to hit our current generation of consoles. In some ways, I am still waiting for the next real Gran Turismo game to be available on PS4. However, this is not a completely terrible thing – as this game, Gran Turismo Sport, is a much different game than the GT's you may be accustomed to.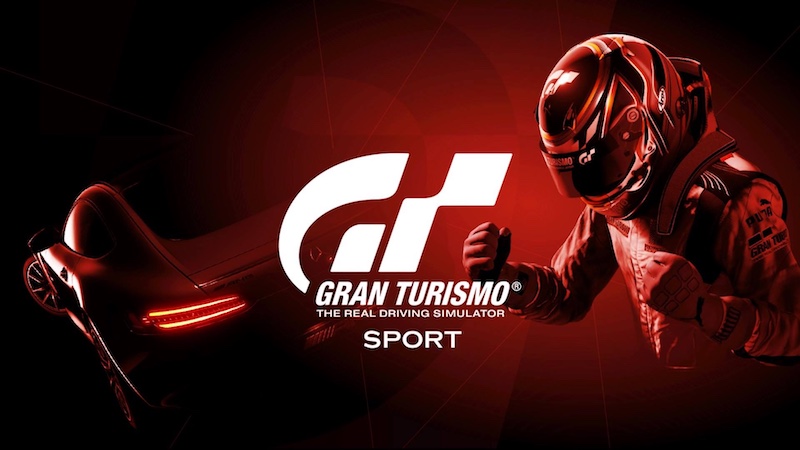 It seems that the new trend in online gaming is leaning towards the side of "e-sports" and serious competition online between players. Undoubtedly, the most important factor for such a game is balance (so you don't have 500 of the same characters/cars online competing) and the Gran Turismo series. And designers, have definitely tried to approach it with this in mind. First of all, the game is very heavily weighted towards online competition. In fact, you must be connected to the internet in order to progress in the game, or even play offline – any mode except arcade one-off races. If you were hoping to drive your Veyron into civilization, just to grab your copy of GT, to race all alone in your earth ship, off-the-grid, you will be heavily disappointed. The game is pretty much useless if you are not connected to the internet. That being said, it is possibly the best online racing game I have ever played, and functions amazingly well.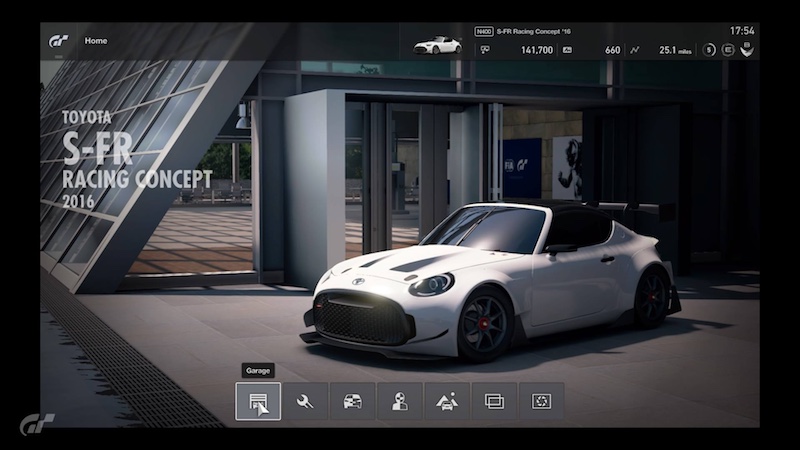 As I stated earlier, this is NOT really a Gran Turismo game. When I was a kid and played the original GT games – it was all about collecting cars, modding/tuning them, buying aftermarket parts, finding the best car in a class, 'souping' it up, cleaning the dirt off at the car wash, and rinsing/repeating until you get an Impreza and have to do 150 laps around Laguna Seca. I would go to the used car lot and buy the closest thing to my parents' car ('86 civic), replace all the parts, put a roll-cage and dirt tires on it, and rally my parents car off-road. That was the appeal of GT to me. This game is something entirely different, it is Gran Turismo SPORT, and it makes me think we may see a more traditional GT on PS4 sometime in the future.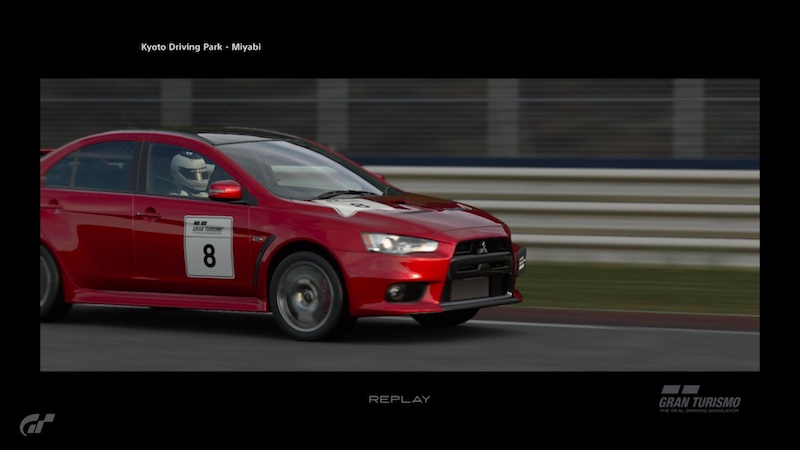 This game has about 150 cars, whereas previous versions of the game had upwards of 1200+. I asked my friend if this was some sort of sick joke the GT designers were playing on us… So collecting is out? Hmmm interesting… Ok let's see what we can do to this free Lancer with all the licensed aftermarket parts? That's a hard NEGATIVE, ghost rider. There is ZERO modding to be done here, the only thing that can be done is "level up" the "power" of a car (three stages) and 3 stages of "weight reduction".  That is it.  No replacing the cpu/speed governors, no carbon drive shafts, no flywheel replacement, nothing!?  Literally 6 clicks and your car is maxed out. That is weak no matter how you slice it, and very UN-Gran Turismo. There is no car wash either… ouch this is getting bad, why is this game good again? You ask…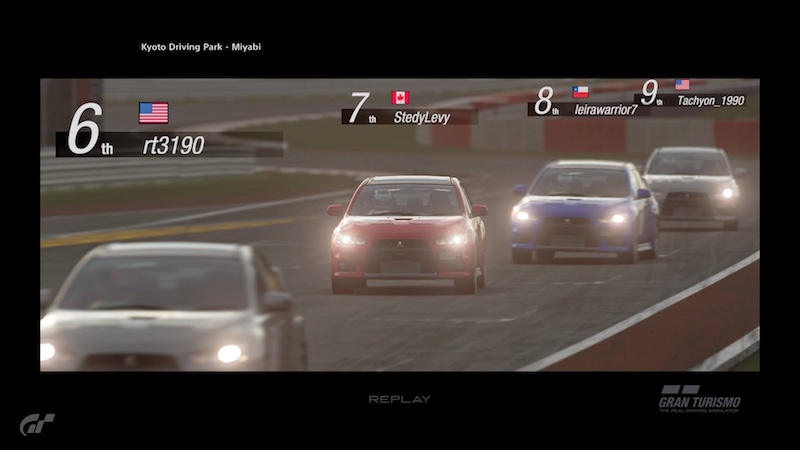 At this point I was having trouble seeing what was separating GT Sport from any other generic driving game with no modding and about 100 cars. And the difference is not apparent until you get online. Gran Turismo Sport is an actual e-sports league that you can compete in for only the price of a video game. Online races are not done in the "matchmaking" traditional way (though that is also an option) – they are at set times, on set dates – with seasons, manufacturer cups, complete with registry, qualifying, warm-ups, statistics, and even real-life rewards/prizes. Everything is logged online and rankings are assigned based on lap times and sportsmanship rating, which is based on the quality of your driving. If you fly off the track and crash into other cars you will lose sportsmanship rating, and I assume this rating is required, in order to enter the higher level races, and competitions later on. In fact before you are even allowed to race online you must watch 2 tutorial videos on "sportsmanship" – something I kind of wish some other sports games made users do ;-).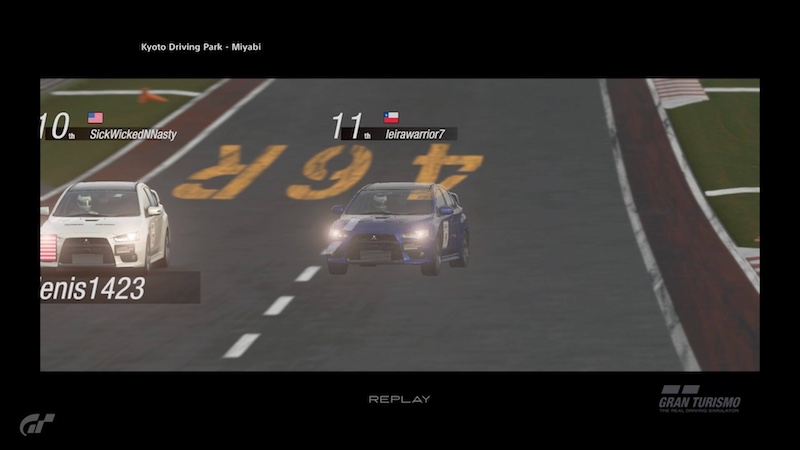 The online races work so well it is almost scary. First of all, I was shocked at how well people were driving, I expected a ton of ramming, spin-outs, and just general chaos. They are 25 car races… Well I was pleasantly surprised, the level of driving was incredible! I am a pretty decent driver in GT, and I found myself battling for 14th! And actually battling! The people in front of me were incredible! The designers also use an ingenious mechanic – that allows for both contact AND ghost cars. When you are driving "correctly" and not out of control, you are solid and can make contact with other racers that are also driving properly. As soon as you lose control, come off the course, fly into a corner with no regard for other cars that are braking properly, or do anything "bad" you automatically become a "ghost car" for a few seconds and lose Sportsmanship Rating. This really prevents the reckless drivers from ruining good driver's races, though it still happens, and the mechanic isn't perfect, it definitely helps especially since there is no "retry" in these races, and if you crash or spin out – you just have to keep going and try to make up the time. Also the stability of the online servers was incredible, I expected clipping, and skating/jumping cars, however I have yet to experience anything of the sort. The gameplay was smooth and pretty much unchanged from the singleplayer game, which was very refreshing when compared to other games in the racing or sports genre.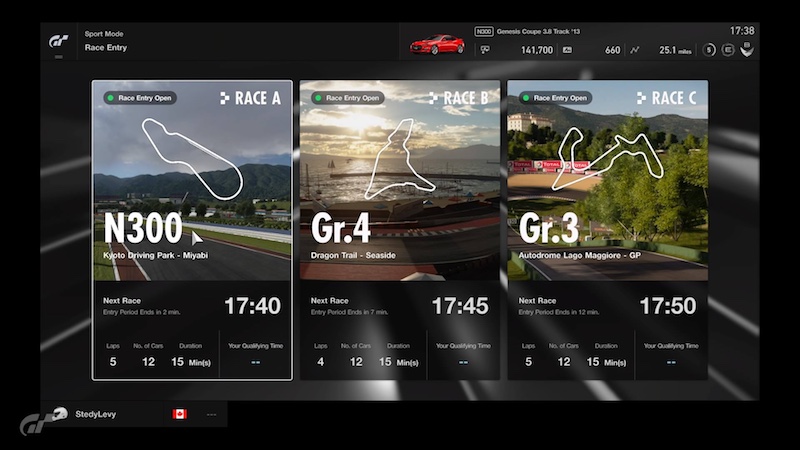 There are daily races scheduled to start almost every 5 mins online – heats of 25 cars per race – and depending on how many people register – I believe there are multi-stage races with heats and finals, though in my experience so far, all of the daily races, I participated in, were around 20 cars and had only one race/heat, however when the actual GT "season" starts (in November 2017), and more people get the game, I could see the races involving hundreds, if not thousands of people.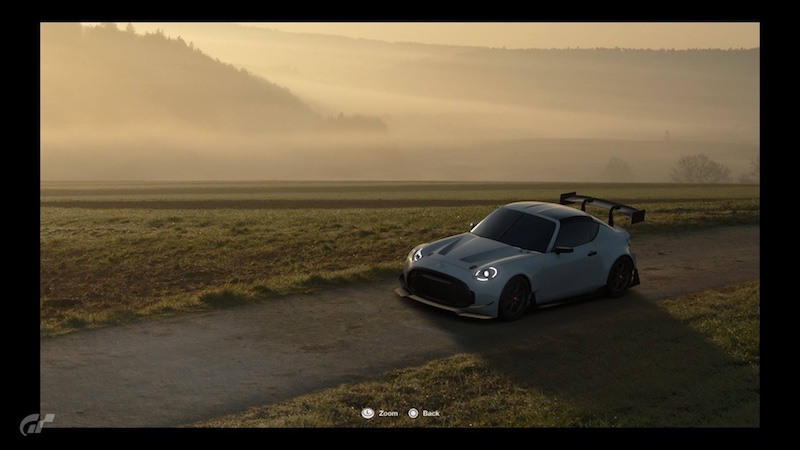 The graphics are gorgeous, and the gameplay/handling is spot on. Every car is detailed on the interior and exterior, and handle differently depending on manufacturer, model, power, aerodynamics, weight, and drivetrain. The amount of detail put into each individual car is most likely the reason for the gimped number of total cars available. The courses are highly detailed with animated pit crews and grandstands, and this version of Nurburgring is possibly the most accurate of any digital version that exists in a driving game today. I was incredibly disappointed to find out that some of my favourite things, from previous GT's, were not included in the new game: Laguna Seca Raceway and Pikes Peak Hill climb are not included – and neither is Suzuki's super-duper Hill Climb Pikes Peak Edition Rally car (The best 4WD car in all the old GTs).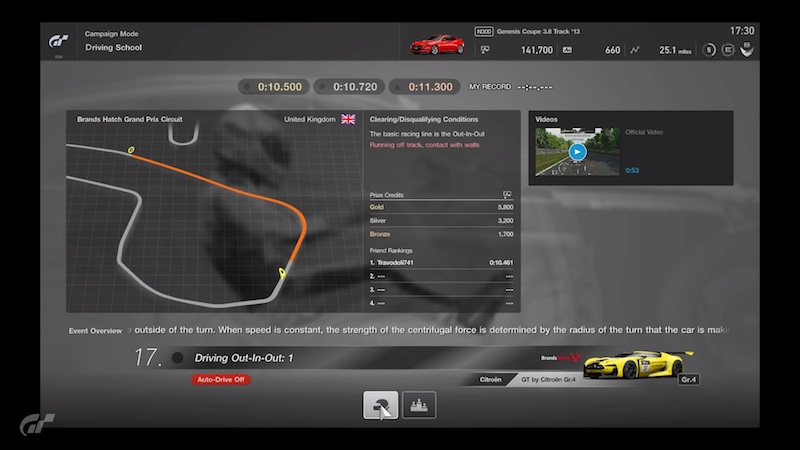 Offline, the game has a small campaign mode which includes 64 different challenges, ranging from small sector time challenges to long endurance races involving pit stops and re-fueling. This seems very short in comparison to the older games – and many of the races, the cars are provided for you, so it kind of removes the need for owning many cars or stockpiling your garage. I personally think this is a shame, and makes the game much shorter, for no discernible reason. I liked the mechanic of the old game, where you had to buy specific cars to win specific races… this type of race does still exist in the campaign, but is much more rare, and the options of cars, needless to say with the game having 10x less cars and mods, is greatly reduced. There is also an offline driving school, and a sector practice/course-learning mode. All in all, the offline portion of the game definitely leaves something to be desired, and if offline is what you are looking for – I might hold off and wait for a more traditional Gran Turismo to hit PS4 – probably a few months after PS5 is released 😛