Echo Productions' Charlie: Son of Man is an original play, on now for a limited showing at Walmer Centre Theatre in Toronto. It imagines and documents moments from the life of the infamous cult leader and his "family" by flashing back and forth between a court scene and the moments surrounding the murders of their victims.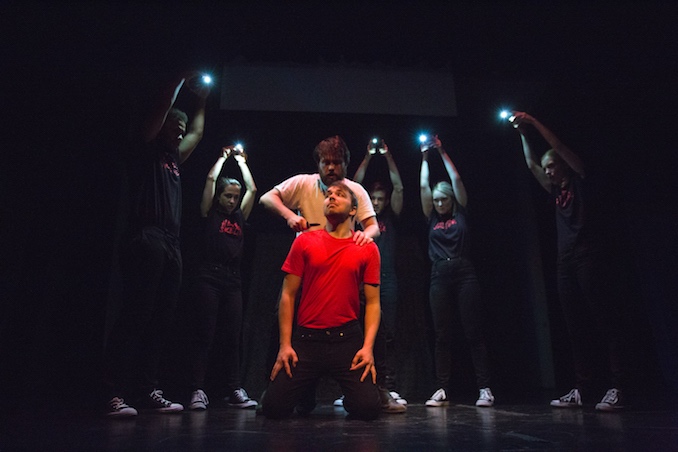 James Karfilis as Manson is well cast, deranged, and his audience glare may frighten you. His shift from love to cruelty was at times assisted by the dramatic change of lighting between white and red, quickly shifting the tone and feeling, bringing the viewer to Manson's dark place that is truly frightening to behold.
A clash of decades takes place with live music from the 60s and 70s contrasting with the continual use of cellphones as a way of connecting the "family", a substitution for addictive drugs that the creative team used to modernize the control tactics of Manson. At the end of many of the scenes, a screen displayed a pop culture social media quote like #SQUADGOALS and #STANDBYYOURMAN that was relative to the closing scene, furthering the use of modernity.
The music of the production was a one man show, played on an electric guitar and sung by musical director Kyle Duffin. Heltah Skeltah, Strawberry Fields and other classics were part of a soundtrack that could have curated itself.
The show was an hour and forty five minutes with a fifteen minute break in the middle. It moved very quickly to get through some backstory, the murders and the court depictions, all in the short amount of time. The aim of this, along with the modernization and the music, was to attract younger audiences as well as those who do not see plays very often. A faster paced show gives those who may have less of an attention span something more exciting to stay glued to.
Charlie: Son of Man is playing December 2-3 and December 6-9 at the Walmer Centre Theatre in Toronto. Visit their website for more info.