He's an abstract artist and a contemporary furniture designer. His work is curiously unique and there's something extraordinary about each piece. And we're not alone in thinking this. Toronto-based designer Troy Smith has caught the attention of design lovers, galleries, and collectors around the world for his one-of-a-kind pieces.
His designs are definitely conversation starters worth a second and third look. Using a mix of industrial, modern and classic materials his pieces bridge that sense of nostalgia with contemporary art. Smith integrates exotic woods, metals, glass and leather with unexpected materials like rebar — (short for reinforcing bar) a material that is known more as a reinforcement to strengthen structures rather than something that is used in the forefront.  Though it is easy to find it's almost never bent to create furniture.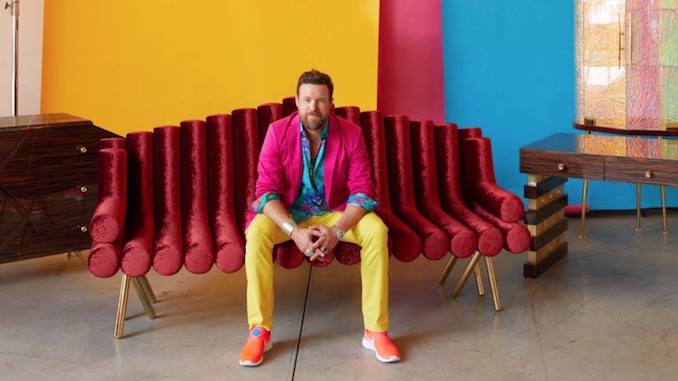 We had a chance to catch up and chat with Smith recently while he was shooting his latest additions…
You have an interesting and fun way of incorporating industrial materials like rebar in your designs. What inspired that and what was that a-ha moment that made this particular material exciting to you?
TS: Inspiration came from building sites I was working on when I was in construction. I always liked the texture of rebar because it wasn't smooth. It really is a readily available material available all over the world. It's what holds stone and concrete building together. I also liked that the material was so utilitarian and unremarkable in its raw form and the fact that I could easily access it. However, doing what I did to the re-bar is not.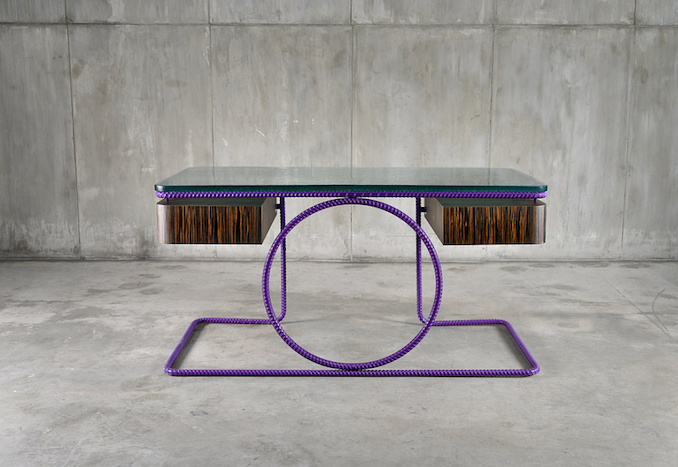 How long does it take you to create a piece from start to finish? What's the process?
TS: From sketch, to render to drawings to mock to actually sourcing material to a final-build can take anywhere from 2 months to over 8 months. This of course is for a brand new prototype. Although some pieces look less "complex", but they can often be more complicated to build. I also take into account how people will use the product and interact with the pieces. I like my furniture not only have form but I also like it to have function.
Tell us about your most challenging or satisfying piece you've worked on? Where is it now?
TS: To date, the Crazy Bar (named after the glass I used) is the most demanding of pieces I have built. It also happens to be the one of the most recent pieces. It required lots of forethought in the planning stages to make sure no mistakes were made during production. The drawings were revised multiple times to ensure what we were doing was actually within the confines of what the glass could take physically. It has three main components. The solid brass machined metal legs, door handles, hinges and shelf supports, the solid Honduran Mahogany base and top plates that were CNC cut and hand finished with high gloss lacquer and then finally the most demanding was the Crazy glass itself which makes up most of the bar. Not only did we have to be very careful working with such expensive glass, we had to make special molds for the glass to be put on and then placed into the oven where it heats up to very high temperature of over 500 Celsius. And of course after this we have to put all the working parts together and hope it comes out as beautiful as planned. It definitely did. Also to take into account and crate designed specifically to hold the bar so It can be transported to photoshoot and then eventually off to a client where it can be enjoyed forever.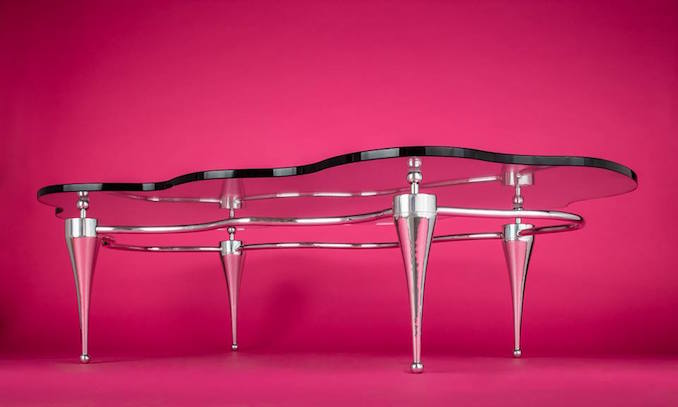 You've said that "you can't just create art, you must give life." As an artist, I totally get that! You've breathed life into one of your designs….so, is there a piece that you just can't let go?
TS: I really put my heart and soul into all pieces I create, there is no "let's just get it done" mentality with me. I am a sucker for details and finishes and only accept the best from my artisans. I end up doing a tremendous amount of research looking for materials and the right people to help me bring these pieces to life. I spare no expense when it comes to building my units, only the best materials and finishes will do. Having a favourite is tough. Usually what I'm working on at the moment has my full attention and love and sleepless nights thinking about the details, details, and details. Great pieces have a soul, and I put all my energy into the furniture and do my best not to leave anything left behind. It's very important to me that I'm not doing trendy work. I like to impart a feeling of classic and timeless appeal to all my pieces even though they are modern pieces. I want them to be as great today as they are far into the future. A timeless classic that never goes out of style.
I understand most of your work goes to collectors and interior design lovers around the world. What are some of the challenges you face on home turf as a designer?
TS: Collectors from around the world are different than Canadians in that their culture is often much older that ours and often comes from more thought of design destination. Europe and its beautiful architecture, the Middle East and their new money, Asia and their heavy influence on what's new. I think Canadians are getting on board slowly with architecture and design. We do have very talented people in Canada in architecture and design but as you know the market is not the same size as other parts in the world. So this group of Canadian designers are looking to get into these markets where density of money and people are mixed in with a population that is willing to take more risks with art and design. Canadians are waiting to find out what's cool and hip elsewhere and are more happy and secure to buy name brand product than buy and investment piece from a local designer.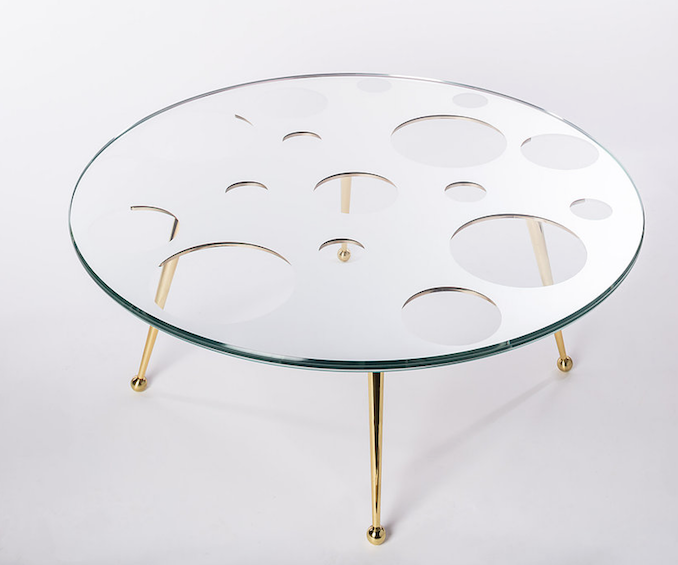 Can you tell us about your most recent pieces?
TS: There are 11 pieces that were all created at the same time, some built in Canada while others are in Italy. It really was a bit much building 11 new prototypes all at the same time. What was I thinking. It really wasn't so much about a collection of sorts but more about showing the world what I can do.
There definitely are similarities within some of the pieces that were created. For example there are 3 objects done out of the crazy glass that all incorporates solid brass: the Picasso Coffee Table, the Crown Screen and the self titled Crazy Bar.
Three others are done with Macassar Ebony that was widely used in Art Deco furniture.
The Shape Shifter Desk, the BB10 Sideboard and the Wedge Sofa and finished with Solid brass knobs and accents also with gold gilding (aka gold leaf) on the Shape Shifter Desk. All finished with 10+ coats of high gloss lacquer.
Then there is the BC Chair which is made of solid brass and hand caned with electric blue stain. It toke three days just to weave the pattern by hand, then on top of that was staining the cane 3 separate times which is an unusual process especially with the colour I chose. I sure like to make things difficult for myself. In total it took a week just to get the caning finished with all the little tedious steps.
And then of course there is the grand dam of sofas – the Flute Sofa that was built in Italy by hand and is covered in the most interesting French velvet, so that every angle provides a different refraction of light. This piece was inspired by an old flute that one might hear of times past. It was also a real engineering effort to build such and light and airy frame with such strength and poise. I'm really happy with the quality of this product. A true original statement making piece, something no one else has, an heirloom investment.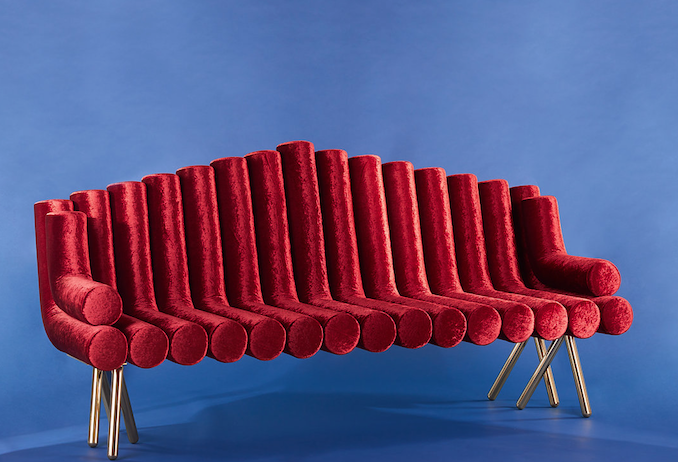 You can check out his designs at troysmithdesigns.com ….but this 'Holy Mirror Coffee Table' has my heart beating fast.