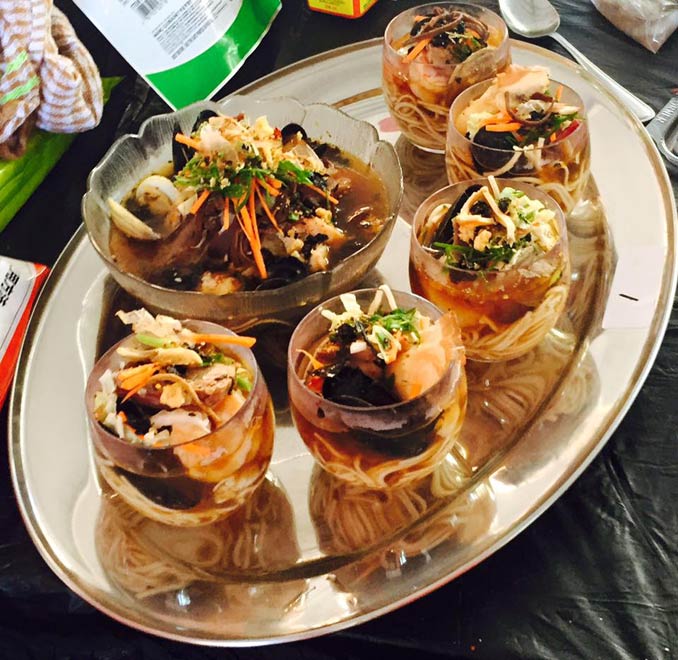 Shoyu Style Ramen with Seafood and Roasted Pork
Chef Stephen Perrin's Shoyu Style Ramen Noodles with Lobster, White Gulf Shrimp, Mussels, crab, scallops, clams, Asian Roasted pork belly, kombu Dashi-chilli broth, pork crackling, toasted nori and sesame seeds.
INGREDIENTS
For the Broth:
1 lb. pork shoulder
1 stewing chicken chopped
1 lb. ham hock
1/2 lb. white shrimp
10 pieces mussels
10 pieces clams
1/2 cooking onion (peeled and diced)
1 leek (washed, and roughly chopped)
1 knob of ginger (peeled and roughly crushed)
1 tsp. peppercorns
2 pieces of bay leaf
1 cup fermented soya sauce
1 cup mirin
1 cup sake
1 package kombu
2 tbsp chopped garlic
1 medium sized carrot (peeled and chopped)
1 cup shredded Napa Cabbage
1/2 cup vegetable oil
2 tbsp tomato paste
salt and pepper to taste
For the Garnish:
2 oz. Asian Roasted Pork Belly (Pre-packaged)
1 tsp. Pork Crackling (Pre-packaged)
1 tsp. sliced spring onions
1/4 carrot (peeled, and julienned)
Julienned Napa Cabbage
1 pinch Furikake seasoning (pre-packaged)
1 pinch Togarashi seasoning (pre-packaged)
1 tbsp. Black Fungus (pre-Packaged)
1 tbsp. dried mixed mushrooms (pre-packaged)
100 grams Ramen Noodles (cooked in salted boiling water until al dente)
1 tsp. chili garlic oil (pre-packaged)
1 tbsp. Bonito Flakes (pre-packaged)
1 tbsp. toasted Nori
pinch of toasted sesame seeds
1 day boat scallop
1/2 lobster tail
2 white shrimp peeled and de-veined
2oz. crab meat
5 pieces clam
5 pieces mussels
DIRECTIONS
Procedure:
1. Roughly chop white onions, leeks, carrots, and napa cabbage. Saute. Add in bay leaves, peppercorns, tomato paste, shrimp shells, clams, and mussels. Deglaze with Sake, Mirin, and soy sauce.
2. Make Kombu Dashi: mix dried kombu and cold water. Bring to a boil.
3. Combine Kombu Dashi, sautéed vegetables and seafood, ginger, pork shoulder, and ham hock.
4. Fry the chopped garlic, and add to the mixture.
5. Bring to a rapid boil, and then turn down to simmer.
6. Strain and season.
7. Blanch Ramen Noodles in salted water.
8. Poach seafood (garnish) in strained broth.
9. Place blanched noodles to serving bowl. Pour in strained broth to serving bowls. Arrange seafood and all garnishes on top.
***
Chef Stephen Perrin is the Executive Chef of Toronto's Substance Food Group which owns Terra in Thornhill, Sarpa in Richmond Hill, Rusty's in Collingwood and the recently opened Francobollo Posto Italiano in Toronto. Perrin recently participated in the 2015 World Food Championships which took place November 3 – 10 in Kissimmee, Florida. At the competition, Perrin took 1st place in the BBQ Food Fight Night and second place overall in the Pasta category.
The pasta dish was tortellini stuffed with Mangalista pork, black truffle, sage, and ricotta with foie gras and green pistachio truffle crema, Iberico ham crisp, grana-pistachio-truffle frico and shaved fresh black truffle will be featured on the menu at Terra, Sarpa and Francobollo restaurant beginning in 2016.
The Food Fight Night dish was triple seared USDA 'prime' beef tenderloin with lobster, corn, bacon, jalapeño, and smoked cheddar stone ground grits, fennel chimichurri and red wine jus. A version of this recipe will be added to the menu at Rusty's beginning in 2016.
http://www.substancefoodgroup.com/