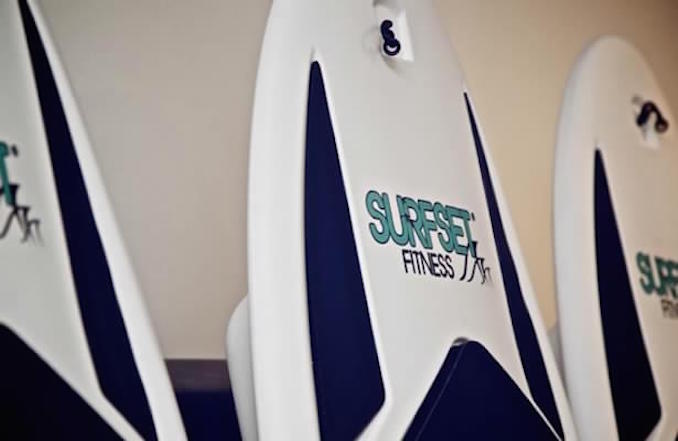 As someone who can't swim, taking a class at SURFSET Toronto is definitely the closest I will ever get to the real thing. And that's totally fine by me. I want the surfer bod without the sharks!
I signed up for the 2-week trial pass so I could experience all four of their signature programs: Balance, Build, Burn and Blend (which you can read more about here).
My first class was Blend taught by one of three co-owners, Lua Emilia.  Lua is cheery and playful but don't let that fool you, she runs a hard class! I thought we were getting a break after box jumps when she told us to lie back on the boards but then Lua introduces the infamous starfish sit-ups.  The first couple are decent – I think I'm getting the hang of it – but by the 15th rep my abs are burning and the wobbly board does everything in its power to roll me off. This burn continues with everything she throws at us, from "simple" bicep curls with the resistance band to waverunners. Alas, the drills are done and we move on to some single leg balance work.  Here I think my years of yoga give me the leg up…how wrong I was.  I'm shaking more than anybody else in the room and holding for "just 30 more seconds" proves to be the most challenging part of all. I pull through it and wipe the sweat from my face with their soft turquoise towels as we cool down.  Lua ends the class, as they all do, with a "Namasurf" and I think to myself, "Day 1 of 14!"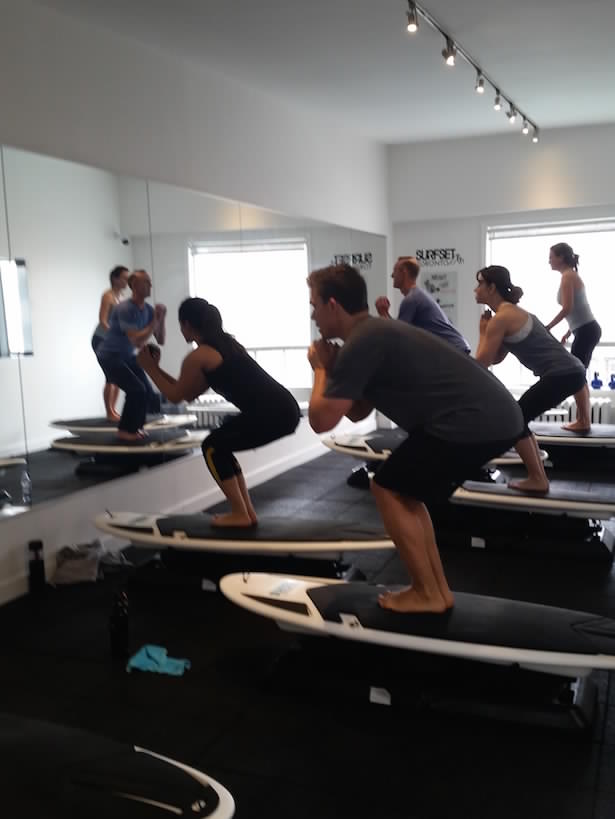 The next class I try is with co-owner Alexandra Vinichenko.  It's a Build class and Lua has warned me that Alexandra likes her ab work – awesome.  This is evident in the warm up as Alexandra goes through multiple sit-up variations like the sunrise sit-ups and kayak paddles, all the while smiling.  We grab dumbbells ranging from 3-7 pounds and because I think I'm hardcore, I take the 7's.  We go through side lunges, squats, front raises, and tricep kickbacks without setting the weights down.  Except that I do, now who's hardcore?  I like the variety of uneven squats and lunges and even what feels like hundreds of push-ups and oblique sit-ups.  By the end my muscles are aching but it feels good.
I finally time it right and attend a class with co-owner Sofia Mok. She has a no bullshit attitude and I like it.  Her music selection is spot on and the Balance class just flies by.  It's not at all as I expected, we try some usual yoga poses like pigeon and tree, but we also do walkout push-ups with our feet on the board and lunges that are surprisingly hard to balance on the board. And we hold…oh the holds!  We hold chair pose, side lunges, planks, and we hover push-ups right above the board.  I think to myself, "She's not counting properly!  This can't be 10 seconds!" as my muscles scream at me.  Then it's over. Sofia holds the stretches for a long time too, which feels amazing after an intense workout.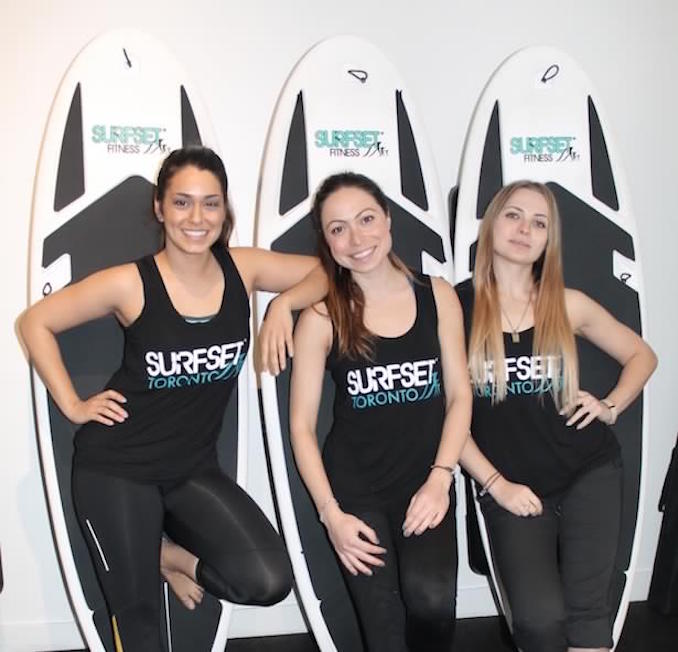 I don't think I have a favourite class or instructor for that matter, everything is awesome.  The classes all have moves in common yet each instructor brings something different.  It's definitely a shock to your core and stabilizer muscles the first time you get on the board and once you're used to it, it's still a nice challenge.  I had so much fun and the atmosphere is super friendly and warm. Visit Lua, Alexandra and Sofia for a new approach to exercise and get that beach bod before summer hits.
Check them out online here: www.surfsettoronto.com.
SURFSET Toronto is the only branded studio in Ontario; what made you choose the Yonge & Eglinton location?
We were eyeing Yonge & Eglinton right from the start when we were creating our business plan. The area is so incredibly vibrant, easily accessible to both uptown and downtown dwellers, is on the subway line, and has a great mix of young professionals and families.
What can beginners expect? Is there anything they need to do to prepare for a class?
All fitness levels and age groups are always welcome, and you don't need any special equipment or gear. SURFSET is such a unique functional workout and there's really nothing quite like it, so it's typical to be a little shaky your first time out (even your second or third) as your muscles get stronger and more stable. So bring your sense of adventure, and expect a tough yet fun session that'll work all the muscles you didn't even know existed!
How similar is a SURFSET class to surfing on water? Does the class help improve skills for tackling the water?
We can't promise a pro-surfing career but you'll definitely notice a difference in your overall balance, strength and agility on the water. The RipSurfer X board closely mimics the instability of a surfboard on water, but without evoking a fear of sharks or the tenacious climb out of water.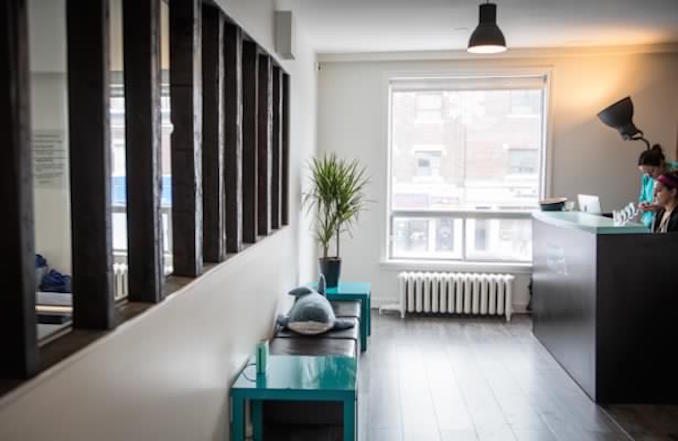 How can we incorporate SURFSET into our fitness regime? Should it be our "go-to" class?
Lots of people like to fit us into their workout regime, but because SURFSET incorporates cardio, core, weight training, yoga and so much more, tons of our clients have made us their workout of choice. We've even recently began offering our new Surf Circuit classes which incorporate on and off board training with elements such as kettle bells and battle ropes. Never again will you have to step onto a treadmill or elliptical – we promise!
What other services do you offer?
We offer our four core SURFSET programs (Burn for cardio & core, yoga-inspired Balance, Build for strength & toning, and Blend which combines elements of all three), as well as our new Surf Circuit classes. We're also hoping to bring in Surfboard Yoga in the very near future.
Our studio offers all of our guests complimentary towel service & toiletries, a selection of refreshing cold beverages, and 100% snob-free service!
What's in store for SURFSET next?
We've only been open for a few months but the community response has been absolutely fantastic. We're so grateful to all of our members for the love they show us and for all of the positive press that we've gotten. We've got our sights set on opening a second location in the near future, but for now we're spreading the SURFSET love so that more people can see how much fun working out can really be.
Tell us what you love most about Toronto.
We've got major pride in this city, and it's something that all Torontonians share (there's a lot of YYZ hats & tees seen around the world). It's such a diverse city and we couldn't imagine being anywhere else!
Anything else you'd like to add?
Thank you Toronto Guardian! Your team is the best and to everyone reading this – we can't wait to hang 10 with you!