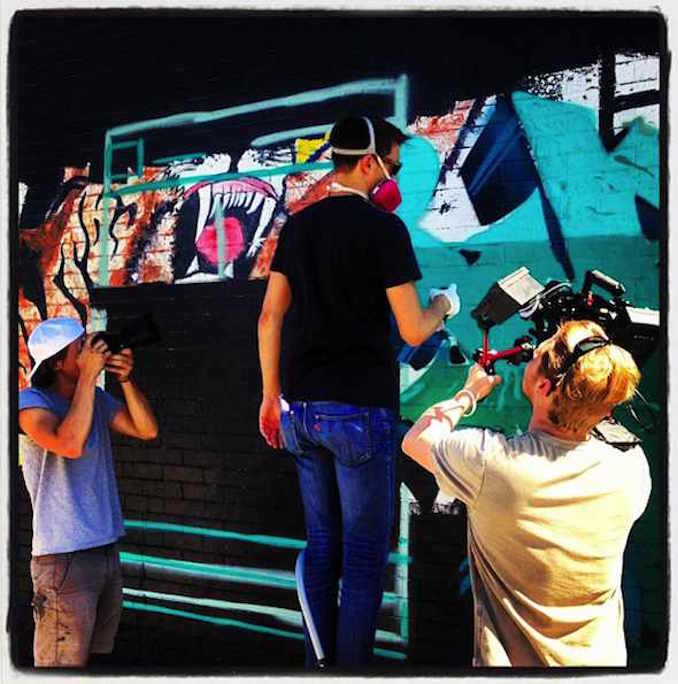 Photo: Filming Episode #3 – Hashtaggin'
A few months ago, I interviewed Alan and Mike Palmer, the brothers and creative partners behind the art-infused web series Roaming Focus. The duo, along with their team of filmmakers, capture the diverse beauty of Toronto as they document Mike Palmer's photographic journey through the city streets.
After a very successful introductory episode, Roaming Focus collaborated with the Juno-nominated band Hey Ocean! to create a musically-infused episode. Just last week, the team released their third episode of the series called "Hashtaggin'," which follows Mike Palmer as he photographs the graffiti that colours our urban landscape. In between conversations with graffiti artists, Palmer photographs the process (from beginning to end) of a social media inspired piece being painted on a large city wall to give viewers the behind-the-scenes look at graffiti art in Toronto.
Here's Roaming Focus' third episode "Hashtaggin'." Enjoy!
For more information about Roaming Focus or to watch their first two episodes, check out www.roamingfocus.ca. Or visit their YouTube channel at www.youtube.com/roamingfocusonline.