Finding the perfect plant for your home or office can be a daunting task. Fortunately, Toronto is home to many fantastic local plant stores, each offering unique, high-quality plants to suit all needs. Whether you're looking for a small cactus to brighten your desk or an exotic indoor garden, the Toronto area offers plenty of great options. Here's our guide to the best plant stores in every Toronto neighbourhood.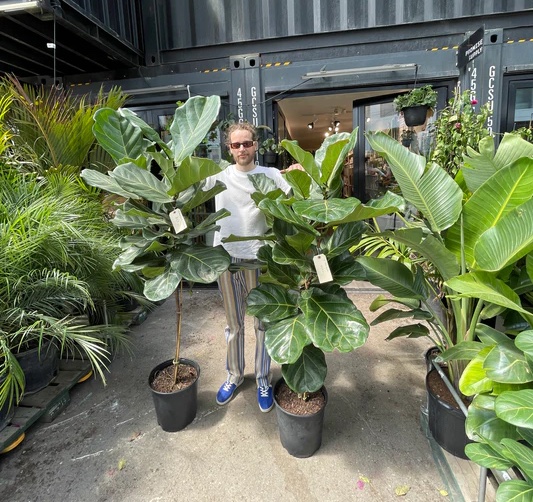 Looking for a plant store in your community? Well, you've come to the right place. Our top picks of local shops in your neighbourhood will give everyone a chance to meet their local plant dealer.
The Best Indoor Plant Stores in Toronto
King West, Fort York
Promise Supply at Stackt Market
Promise Supply is located at stackt market with King West, Liberty Village, and Fort York in close proximity. The shop started exclusively selling plants online during the December 2020 lockdown from their storefront at stackt market. Since reopening as a mini-garden centre at Bathurst and Fort York, they've become one of Toronto's top places to find unique houseplants like olive trees, lemon trees, and cacti. They also carry a wide range of tropical house plants, offer plant care advice over text, WhatsApp, phone, email and Instagram, and deliver all of their plants directly to customers in heated vehicles. Their small but mighty team has also helped create multiple unique retail and patio displays for clients like Mamakas and Tilley.
Toronto's Local Plant Dealers on Instagram: "Promise Safari"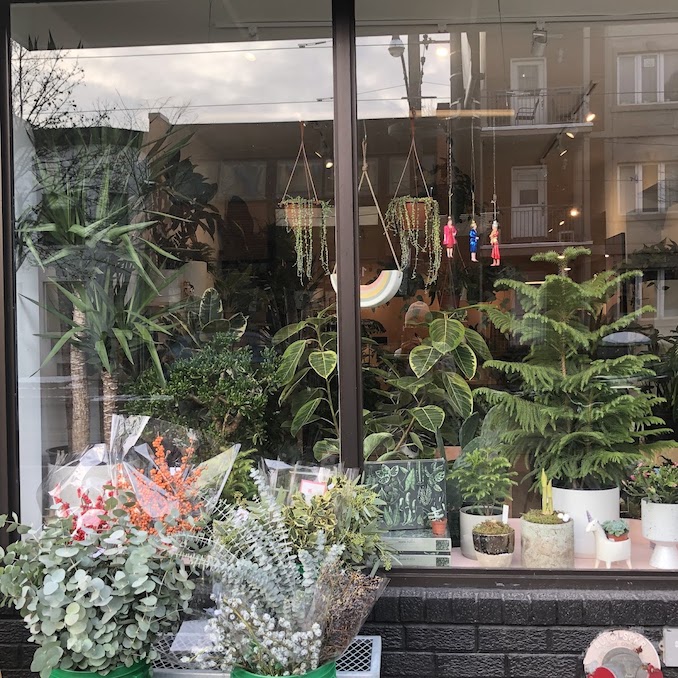 Dundas West
Sienna Flora is the best shop on Dundas West. They have a lot of plants and pottery, so everyone can find something they like. The staff are knowledgeable and can help customers find the perfect plant. They also have soil, fertilizer, pest care and substrates so customers can look after their plants. Sienna Flora also offers plant design and sourcing services for homes and businesses. With all they offer, Sienna Flora is the perfect place to find a special plant for your home or office.
Queen West
Poppies Plants of Joy
Poppies Plant of Joy is a 17-year-old independent florist and plant store in West Queen West, Toronto. They offer high-quality, local, seasonal, and imported flowers and plants worldwide. Their owners are passionate about bringing joy and healing through nature. Shop in-store, call, email, or shop online. Pets are welcome!
North Riverdale
Crazy Plant Shop by The Crazy Plant Guy
Crazy Plant Shop, located at 253 Broadview Avenue in the east end of downtown Toronto, is the go-to destination for anyone looking for a wide variety of high-quality plants, as well as all the supplies and accessories needed to keep them healthy and thriving. The shop has a reputation for being the go-to destination for those looking for hard-to-find plants and is also great for beginners looking to get into the world of plant care. The shop also offers a wide range of supplies and accessories to help care for plants with expert staff to help customers find the perfect plant for their needs.
Roncesvalles
Plant for Soul
Plantforsoul is a family-run plant store based in Toronto, Canada. It sells common and rare houseplants sourced from Ontario growers and sustainably-sourced imports from the US, Asia, and South and Central America. The store's goal is to provide customers with healthier plants. It is open for walk-in service as well as delivery across all of Canada's provinces and territories. plantforsoul emphasizes using recycled materials for shipping and runs a 'recycle program' where used plastic pots are given away for free. The store is owned by Shaziea and Sharif, two avid plant lovers who immigrated to Canada a decade ago.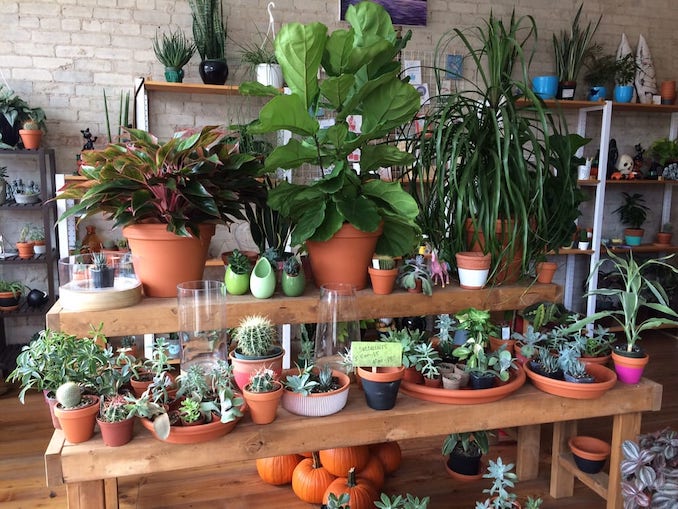 Junction and Wallace Emmerson
Urban Gardener
Urban Gardener is the go-to plant shop for Toronto's Junction Triangle. Their level of care is unmatched, from their wide variety of quality plants to their commitment to providing helpful advice and services for free. They prioritize sustainability and community, ensuring their plants come from local growers and their customers feel welcome and respected. This shop prides itself on being a part of its community, values diversity, and creates a safe space for everyone to feel comfortable learning about plants and getting the support they need.
Cabbagetown
Jamestown Milk
Jamestown Milk Convenience Store is a plant shop in Toronto's Cabbage Town neighbourhood. From the outside, it looks like any other convenience store, but when you step inside, you'll find an abundance of rare and unique tropical plants provided by Julia Woo. Whether you're looking for a unique houseplant or something more exotic, Jamestown Milk has various options. The selection is constantly changing, so check their Instagram account to see the latest arrivals. The prices and names of the plants are clearly listed, so you can easily find the perfect addition to your home or garden.
Check them out on Instagram, where they share their latest arrivals.
Little Italy
MIKA
Mika Sato, the owner of MIKA, was inspired by nature and the countryside where she grew up. Through her store, she aims to share this sense of calm with urban dwellers by offering a unique combination of plants, handmade pottery, terrariums, and kokedama moss balls. The MIKA logo was inspired by a maple key, a symbol of Mika's Japanese birthplace and her Canadian home. The store curates a selection of lush plants, handmade goods, antiques, and Japanese products to inspire customers to find peace of mind. Mika's design aesthetic was inspired by the ancient floral art of ikebana and her pottery. She also incorporates locally sourced and found elements such as lichens, moss, and branches to create one-of-a-kind pieces.
Kensington Market
Organic Press
Organic Press has been a cold-pressed juice bar in Kensington Market, Toronto since 2015. They offer a variety of organic, locally sourced juices and smoothies, as well as almond and tiger nut mylks. With a commitment to sustainability and wellness, they also provide a selection of plants representing the connection between people and nature.
Bloor West Village
Stamen and Pistil
Stamen and Pistil Botanicals is dedicated to helping customers build indoor oases. They offer a variety of plants from tropical to succulents to cacti, as well as planters and bulk soils. They also create miniature works of art with their terrariums which are crafted with unique care and attention. Customers can also benefit from their expertise, as Stamen and Pistil Botanicals provide helpful advice on creating and sustaining beautiful indoor gardens. All these offerings help customers bring their vision to life and create a healthy and beautiful space for themselves.
Danforth, East York, Beaches
In Bloom
In Bloom Flower Shop is a botanical studio located in Toronto's East End. They carry a vast assortment of houseplants from tropicals and cacti to succulents. New plant shipments arrive regularly, offering a curated selection of dried florals, pots, and accessories. Their shop is a lush jungle, delivering throughout Toronto, the GTA, and beyond.