Name: Ugly Melon
Genre: Classic Heavy Metal with modern twist
Founded: 2014
# of Albums: 2
Latest Release: Ugly Melon – Just A Man (October 20/18)
Latest Video: Coming Soon!
You Want More' release date Sept 3/18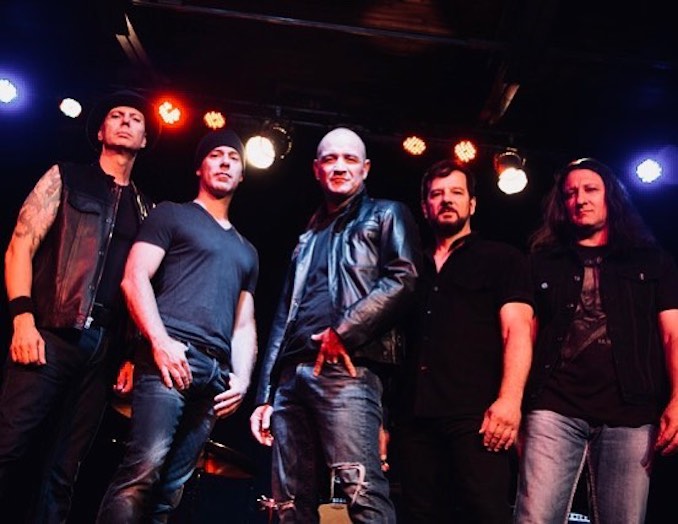 Bio
Some of the most notable moments in rock and roll in recent years revolve around the reunion of legendary bands. These reunions help many of us cling to the nostalgia of our youth, and take us back in time to a simpler way of life. The members of Ugly Melon have a greater appreciation for rock and roll reunions than most, because that's where their own story begins…
In 2014, guitarist Lu Cachie asked childhood friend, vocalist (and once-upon-a-time band mate) Tony LaSelva to listen to some riffs that he had written for a new project. What started out as a casual collaboration quickly turned into something that neither expected…the formation Ugly Melon.
When this dynamic duo realized that they were onto something special, they quickly got the band back together. After recruiting John Liberator (bass), and Franklyn Wyles (drums) – the other members of the band that started in a basement three decades earlier in Toronto, Ontario – all of the pieces started to fall into place.
This time around, things would be different…
The wisdom that comes with life experience beyond the stage has provided Ugly Melon with a foundation that most "new" bands cannot rely upon.
Armed with a collection of powerful songs featuring deep, honest, soul-penetrating lyrics, Cachie and LaSelva knew that their sound had to follow down the path of the trail blazed by the legends that came before them. They simply could not operate with the same mindset that most newer bands adhere to if they were going to achieve their lofty goals.
The members of Ugly Melon are at a station in life where becoming road warriors, making enough money just to get to the next gig in a small club, is not realistic. Having shared the stage with the likes of Bon Jovi Def Leppard and The Scorpions with other bands through the years the members of Ugly Melon live by the Moto GO BIG OR GO HOME
"We're doing this from a place of pure passion. We finance our own recording and rehearsal time, and spend more than we make on our gigs," stated LaSelva when talking about how the band operates.
It's this approach, and their powerful brand of classic rock inspired music, that prompted Hard Rock Daddy Publisher/Editor Adam Waldman to dub Ugly Melon "Canada's next great rock band, picking up where Rush left off."
The members of the band are all cut from the same cloth, share the same ideals as proud, first-generation Canadians, and are unified in their goals for the future.
Ugly Melon has set the bar incredibly high for themselves, but their life experience over the past three decades has them focused on clearing that bar. Although it may seem a bit brash to think that they can achieve big things in today's rock music climate, this band is the genuine article. In fact, the name Ugly Melon comes from the notion that this band is what it is, a real rock band with no pretense or BS.
Cachie and LaSelva are thrilled to be writing and performing together again after all these years. They proudly wear their influences on their sleeves…Black Sabbath, Rainbow, and Led Zeppelin (to name a few). Although you can hear traces of that bygone era in their sound, there is certainly a modern feel to the music, which is infused with classical, contemporary and theatrical inspirations.
Ugly Melon is a culmination of over 30 years of musical and life experiences. In addition to the aforementioned influences, Cachie and LaSelva have a profound appreciation for a wide variety of artists that may come as a surprise based on their sound: Elvis, Frank Sinatra, Don Henley, Oasis, Pink, and many others.
None of the songs that they have written since their reunion could have been written by a younger version of themselves. As the saying goes, timing is everything, and this is a band that could only exist as it is in this moment in time.
LaSelva shared his current approach to writing…"There is no fluff. None of the lyrics are frivolous. The themes are real. They're based on the life experiences that I've had, and my observations about real life."
Ugly Melon released their debut EP in January of 2017, available on all down load and streaming stores and plan on following it up in March of 2018 with a full album.
The future looks bright for "Canada's next great rock band!"
Latest Single: 'You Want More'
Favourite Restaurant: The Keg
Favourite band as a teenager: Black Sabbath
Favourite band now: Disturbed
Guilty Pleasure Song: Michael Jackson's Thriller
Live Show Ritual: Listen to Sabbath/Dio
Favourite local artist:
Stereo Guns
Sneaky Dees nachos, pasta from Terroni or a superfood salad from Fresh?
Pasta from Terroni
Queen or College St?
College St.
Trinity Bellwoods or Highpark, Riverdale or Kew Gardens?
Highpark
EP or LP?
LP
Early bird or night owl?
Early Bird
Road or studio?
Studio
Swiss Chalet or Roti?
Swiss Chalet
Where can we follow you?
Facebook Ugly Melon
Instagram, ugly_melon
Twitter, ugly _melon
Reverbnation
UglyMelon web site www.uglymelon.com
Any upcoming shows or releases?
Single and Video release Sept 3/18
Album release party October 20/18, at The Opera House