So, I shot up from Toronto to Meaford last weekend to immerse myself as an electric eclectic. Electric Eclectics is a music festival focusing on music from the digital world; the stuff that cavemen could only dream of but has now become a staple of our very existence.
I had heard good things and was pleased to arrive at the beautiful festival site – compact, sitting on a hill overlooking the valley beneath. One of the first moments of the weekend saw us watch that huge fireball descend over the horizon. The setting sun, as you'll soon see, provides excellent light so that even a desperate caveman of a photographer like me can take half decent pictures of my own feet.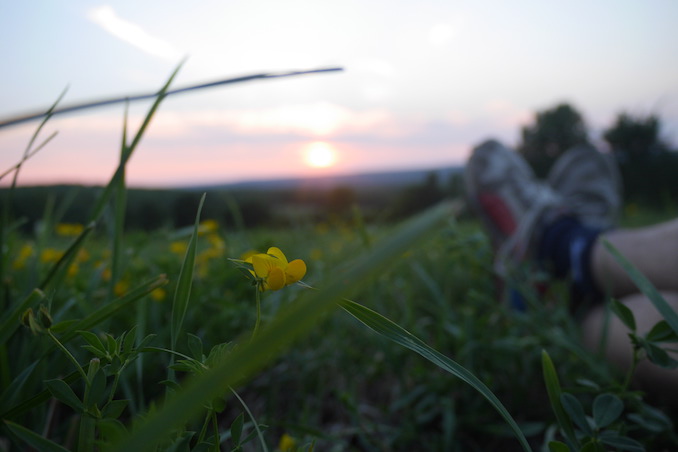 Performances came in the form of a variety of acts over the course of three days. The Pink Noise were rather enjoyable, offering loops and screechy guitar work with post-punk vocals. Imagine what it would sound like if Joy Division and New Order joined forces… although as you know, that's not possible, given that they are pretty much the same band divided only by tragedy and time. I digress.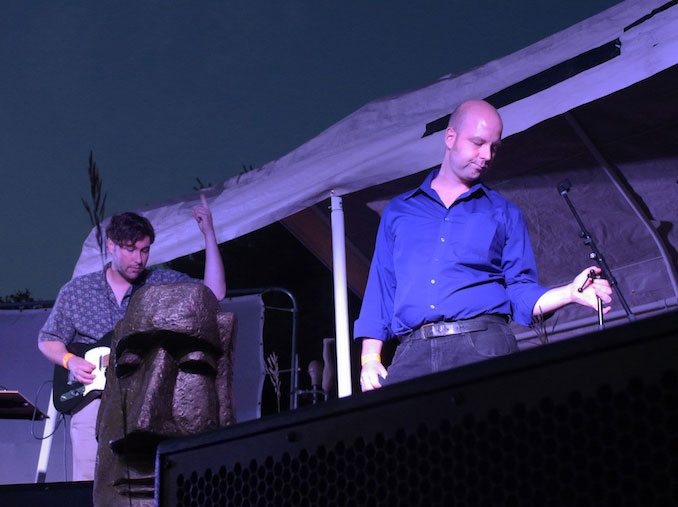 After them came Cares offering a harder electronic sound. There was a great amount of sonic control in the performance. The experience was definitely more 'gallery' than the jump and jive of Pink Noise… like sitting back to appreciate a work of art. But don't take that as a negative because Cares was very engaging and entertaining.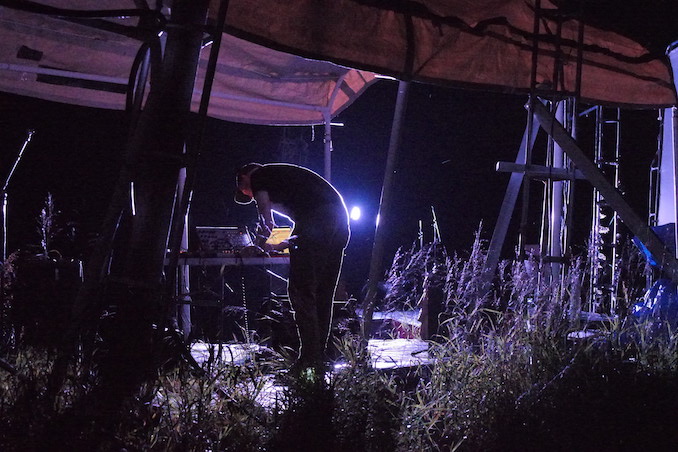 Unfortunately, it was slightly wet on the ground the first night, which led to a dampness of the foot. I should have worn better footwear, with this being a camping festival after all. A life lesson learnt.
Luckily it wasn't long before I was dancing in a bloody forest, with my quick footwork drying those socks in no time at all. Yes, that's right, I didn't realise that there was a second stage saved for night time only.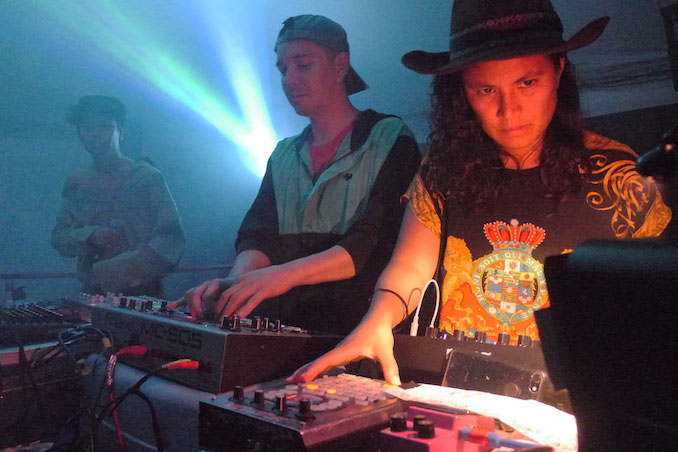 Phédre played a mammoth set alongside Lil Gay. Can't shout about it highly enough – it was fun, danceable, energetic and well crafted with tons of atmosphere. It's nice to see an electronic group keeping the grooves simple, hypnotic and hardware based. Sometimes less is more, and Phédre's huge set went on for a long time but never got boring.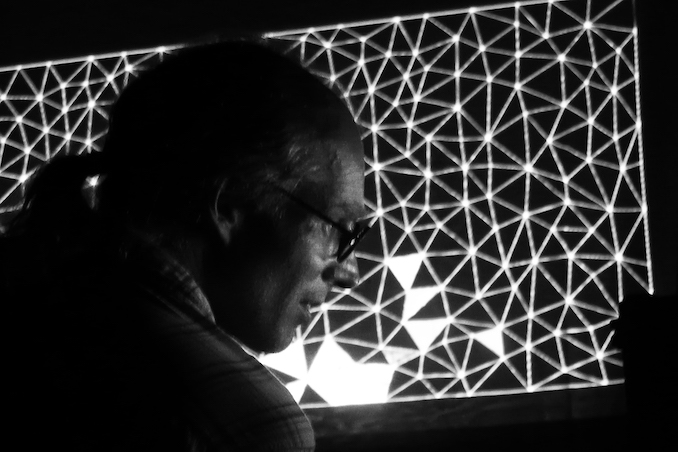 Electric Eclectics is not just about music programming, they also have various installations that you can stumble into. For me, that elevated the festival to full experience level – who doesn't love immersive art?!
A few of the installations were loaded inside trucks, with another inside one of those mill things that hold grain… you know what I'm talking about (and if not, check out my photo of Petra Glint coming up for a literal visual depiction.)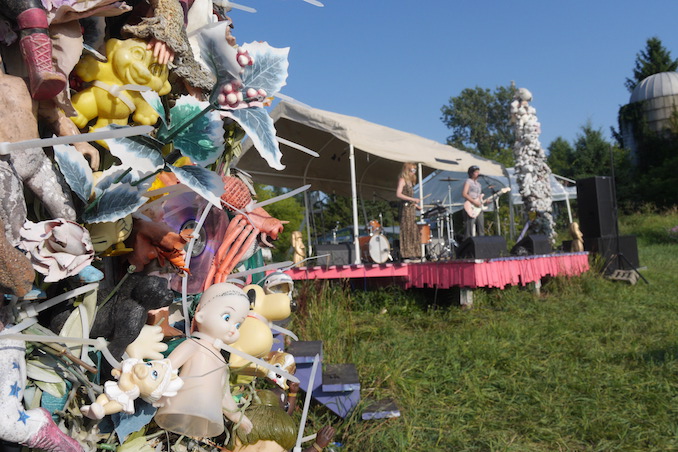 After recovering from Phedre's late night antics, myself and a group of fellow campers shot down to the lake side at Meaford to cool off and take a dip. It was the perfect way to cure a hangover. Saturday was belting hot, so it was nice to get my toes wet in a more controlled manner than the night before.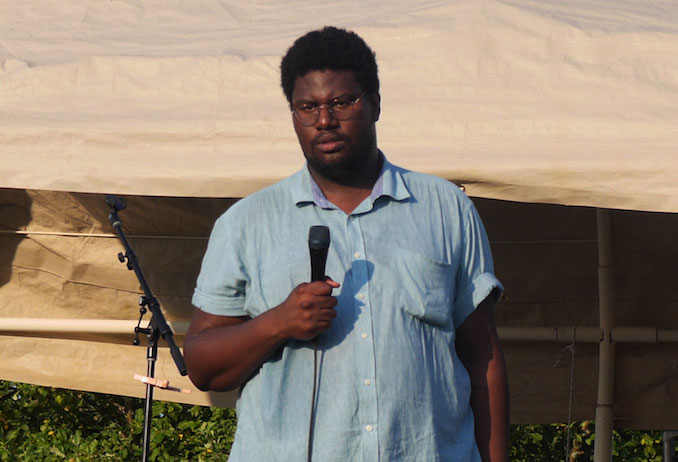 Cedric Noel played a great set, bringing a real soul and depth to the stage. The dude has a fantastic voice, with elements turning political and other moments feeling more touching and romantic. It was well put together.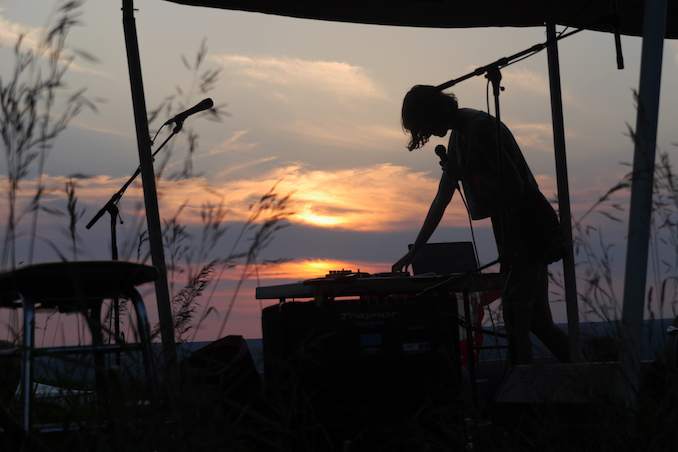 YlangYlang had the pleasure of performing to Saturday's setting sun, which was almost as dramatic as the evening before. I've heard of YlangYland, but never seen it performed live in the flesh, so was really intrigued. The compositions are very nicely put together, with thoughtful overlaid spoken word and soft melodies.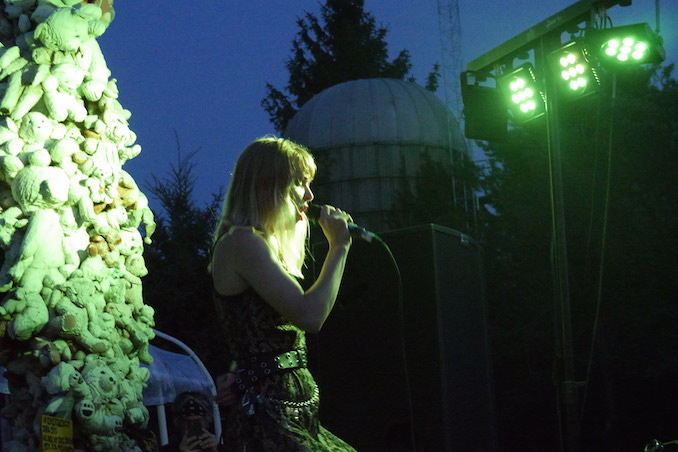 Toronto's Petra Glint brought an electric pop prowess to the stage. Perhaps my diamond-of-the-day was Tess Roby. Supported by her brother on guitar, Tess played keyboard and sang with almost operatic qualities. It was poppy but haunting at times.
The odd track would lock into nice melodic frames with true singalong qualities. I'm not saying that I loved every track, but having never heard any of it before, it kept me captivated and there were a few moments that I wished had gone on and on.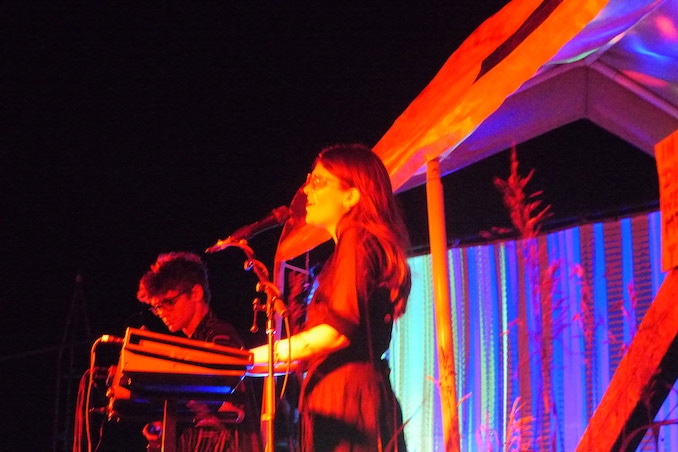 Dreamcrusher's set in the forest was awash with threat, anger, and all in all left me feeling rather disturbed. I don't know what the technical term is for what he does, but I imagine it to be known as something along the lines of noise-core, distort-topia, or feedback-ing-music. It was utterly horrifying and brilliant.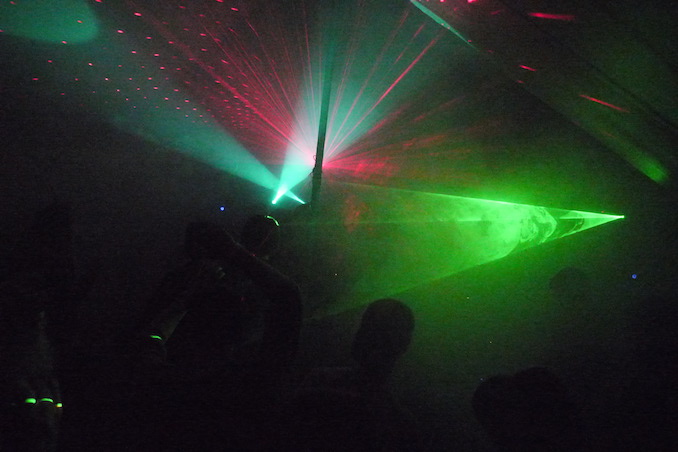 The best thing about Electric Eclectics is it's mix of art and party. The day was educational, engaging and beautiful, with the evening allowing everyone to really let their hair down. It was a great weekend, packing many a surprise, camping on a lovely site and with good vibes aplenty.
Visit their website for more information and make sure you keep an eye out for next year. I'll be there,  so do come and say hello when you see me.