We've had a bit of "cabin fever" thanks to this long and drawn out winter in the city. Thankfully the temperature is getting better and we can spend more time outdoors.
Just in time to usher in the warmer weather, is Springfree for Earth Day's POP-UP Adventure Playground that's coming to Trinity Bellwoods Park!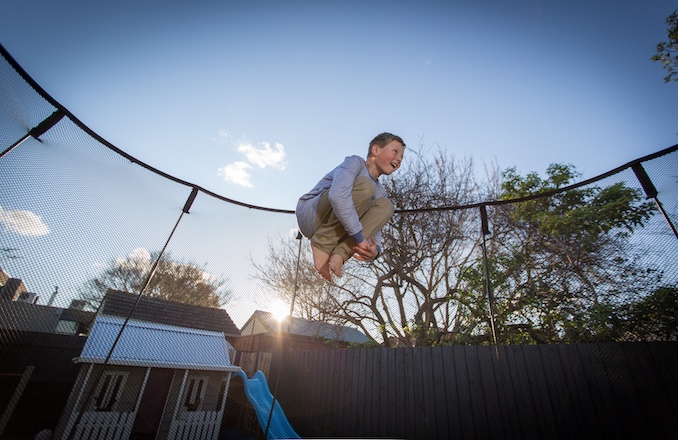 On April 22 – Earth Day 2018 – this curated "wild space" will be opened exclusively for one day only for GTA families to explore thanks to Springfree Trampoline. Conceived as wild-spaces dedicated to child culture, Adventure Playgrounds feature a variety of elements including green elements, natural materials, "upcycled" loose parts and tools, play structures and trampolines, all designed to stimulate imagination in an unstructured environment, like jumping on a trampoline and imagining you're competing in the Olympics.
With that in mind, we couldn't resist chatting with two-time Trampoline Gold Medal Olympian Rosie MacLennan about how backyard family fun turned into a passion beyond her wildest dreams. Having spent much of her childhood bouncing around in her family's backyard, she can credit all that fresh air in part to her success in earning many awards from competitions around the world. Rosie would tell anyone that outdoor, unstructured play is beneficial for physical, mental and emotional development. Outdoor play takes it further by giving a more stimulating environment. It also helps offer a social way to interact with family and friends beyond the snapchat selfies.
Rosie chats with us about the importance of getting outdoors from her perspective from when she was growing up.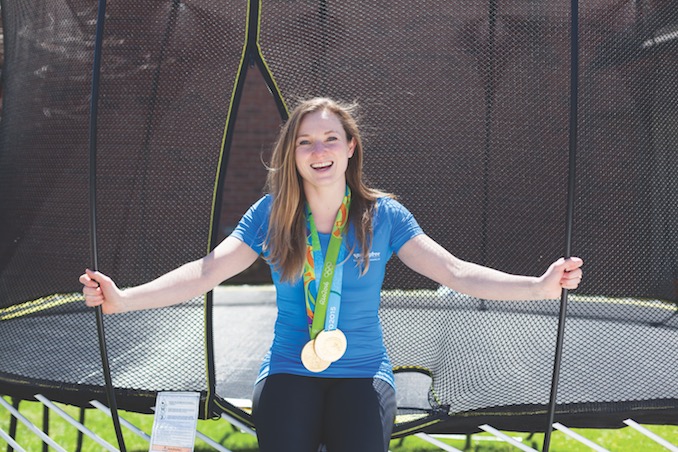 Tell us how you fell in love with trampolining?
As a kid, my family was always trying new sports and new activities. Playing outside and getting active was a major way that we spent quality time together as a family. Like many other activities, I was introduced to trampolining because I was following in my older siblings footsteps. I fell in love with the sport because there was always something to learn, new ways to be challenged and it pushed me to face my fears and overcome them. It's the perfect combination of beauty and power.
Any fond early childhood memories of playing outdoors?
I have so many memories of playing outside as a kid! My family basically spent all summer outside doing all sorts of different activities, in the winter as well. The best days, especially in the summer, were those where we had our cousins over and we would be outside from morning until dinner was ready, sometimes playing sports, sometimes playing games that we made up.
We've learned that you're not the only family member who was good enough to compete globally?
That's right- both of my brothers competed internationally for trampoline. My sister also competed all over but for sailing. We were lucky to be introduced to so many different actives as kids, to learn a lot of different physical skills and find something that we were each passionate about. We were also really lucky that we learned that pushing sport was challenging in the best kind of way, it forced you to learn through the mistakes that you make, pick yourself back up and try again.
Did you ever imagine that a childhood fun activity would bring you to where you are today? What are some of your unforgettable moments?
I always dreamed of being an Olympian. I remember watching the Olympics as a kid being so captivated by them and so in awe of all the athletes. I remember thinking that I wanted to be a part of it but where it has lead is beyond my wildest dreams. I have had the privilege of representing Canada on the world stage in a sport that I really love and with that has come many unforgettable moments. It's hard to pick just one but I think that the most unforgettable moment was marching into the Opening Ceremony stadium as Team Canada's flag bearer in 2016. That was the biggest honour of my career. Before we entered the stadium, the entire team was singing the national anthem, chanting CANADA! Another moment was when I had the opportunity to compete in front of a home crowd at the Pan Am Games in Toronto in 2015. I was able to share the podium with Karen Cockburn who, through my entire career, has been my role model, mentor, teammate, competitor and one of my best friends. We had the chance to share the podium in front of so many family and friends.
What would you want parents to know about trampolining?
Trampolining is an incredible way to get the entire family active and outside. It is a great exercise for the entire family and a great way to engage kids in something outside! Springfree Trampolines are great because you can use them all year, regardless of the weather and they are the safest trampolines out there!
***
We're all invited to join in the Earth Day POP-UP Adventure Playground on Sunday, April 22nd at Trinity Bellwoods Park in Toronto from 11:00 am to 4:00 pm — just one of several locations across Canada planned for this free family outing.
Who's ready to bounce?
For more information visit www.springfreetrampoline.ca