Abby (another cat at THS) and Sadie get along very well, but have their own distinct personalities. Abby is very outgoing and enjoys new situations and people, whereas Sadie enjoys new people but will take some time to get to know them first. They are both declawed.
Abby will jump on absolutely anyone's lap for a cuddle and will usually outstay her welcome. She likes to rub her face up under your chin and give kisses. Sadie also really enjoys affection and will compete with her sister for a lap, but is not as persistent as Abby. They both enjoy grooming with a paddle brush.
They are both good with children and declawed. Sadie will keep her distance slightly, whereas Abby enjoys rubbing up and interacting with children, and doesn't mind a little rough play – I have a 1 year old, and she has always been gentle with her. The cats don't love dogs, but will coexist with them easily as long as they are not constantly being chased. They have lived with 2 small breed dogs for 4 years.
Abby enjoys playing with toys that have feathers. She prefers to play with people, with the toy dangling above her. Sadie plays more independently and likes small stuffed toys that she can carry around. They are both vocal and enjoy communicating with their humans.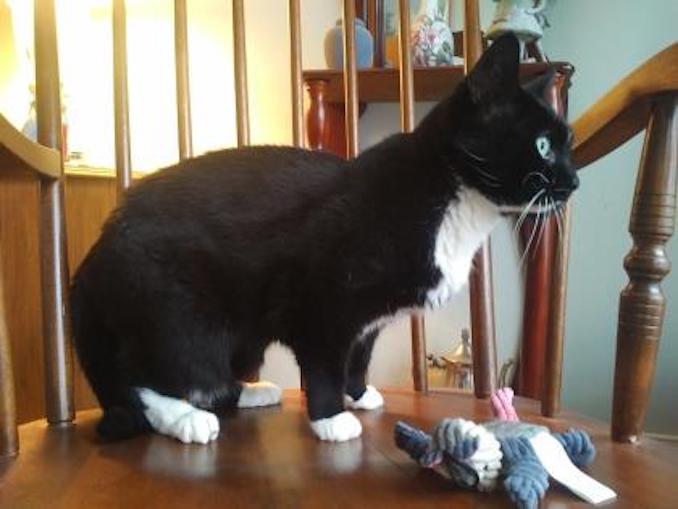 Age: 11 years 10 months
Sex: Female
Size: Medium
Colour: Black/White
Spayed/Neutered: Yes
Declawed: Front
In order to ensure a smooth and successful adoption, please remember to check all the basic requirements for adopting before coming in to the shelter.
About this column:
Each week we feature animals available for adoption from local shelters in the Toronto area with the hopes that our readers will assist in finding good homes for them. If you, or someone you know, has the resources to take care of one of these animals, please do get in touch with the appropriate shelter via the links provided.