by Etobicoke Lakeshore Multi-Faith Council.
Bomb threats to Jewish centres. Muslims shot at prayer. Christian churches tagged with the "N" word. People of all creeds are anguished by a harsher, harder world. It is a dark time for communities of faith across Canada and around the globe. Clouds of aggression loom over our families, friends, and communities. Even in Toronto the Good, a city known and beloved for its commitment to inclusivity, fear has begun to reach into the hearts of our communities.
There is a better way.
The Prophet teaches that "fear is a disease that consumes the soul of the one who embraces it". It is this contagious disease we must face together and defeat together. This is a duty that transcends boundaries of faith, creed, or nation. It takes courage – the courage to trust, the courage to share, the courage to understand that there will always be more that unites than divides us.
It is this courage to share ourselves, to trust one another as neighbours, that rests at the heart of every civilization. It is this courage that is the only antidote to the fear we face.
As David said to Solomon, his son: "Be strong and courageous, and do the work." In Etobicoke, we are committed to doing the work of bringing people together and courageously sharing ourselves with our neighbours.
That is why we are writing this letter – to do the work and to show unity in our diversity. Our faiths are built at heart on the "golden rule", to first do no harm, to treat others as we would seek to be treated. Our faiths – Christian, Jewish, Buddhist, Hindu, and Muslim alike – call on us to be courageous, loving, and kind to one another and to ourselves.
Yes, there are challenges facing us. But as the Talmud teaches, "this too is for the good". By overcoming these challenges together, we are building bonds that will give us strength, understanding, and compassion for the years to come. We gladly undertake this work.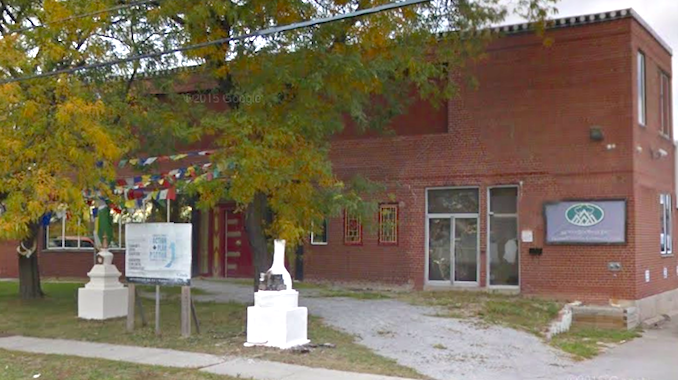 To that end, we would like to invite our neighbours from Etobicoke and beyond to join us for a celebration of our unity through our diversity, a chance to better understand what makes our faiths each unique – and, just as importantly, what ties us all together. On Saturday, April 30th, members of dozens of faith communities will be sharing our stories, our traditions, our food and our company with one another and with all who wish to join.
As the Buddha said: "Conquer anger with non-anger. Conquer badness with goodness. Conquer meanness with generosity. Conquer dishonesty with truth." If we may be so bold as to add to that – conquer fear with trust and understanding. In Etobicoke, we aim to do just that and build a world where love and peace abound.
Faith leaders – lay and clergy – in Etobicoke invite you to share in the movement toward harmony!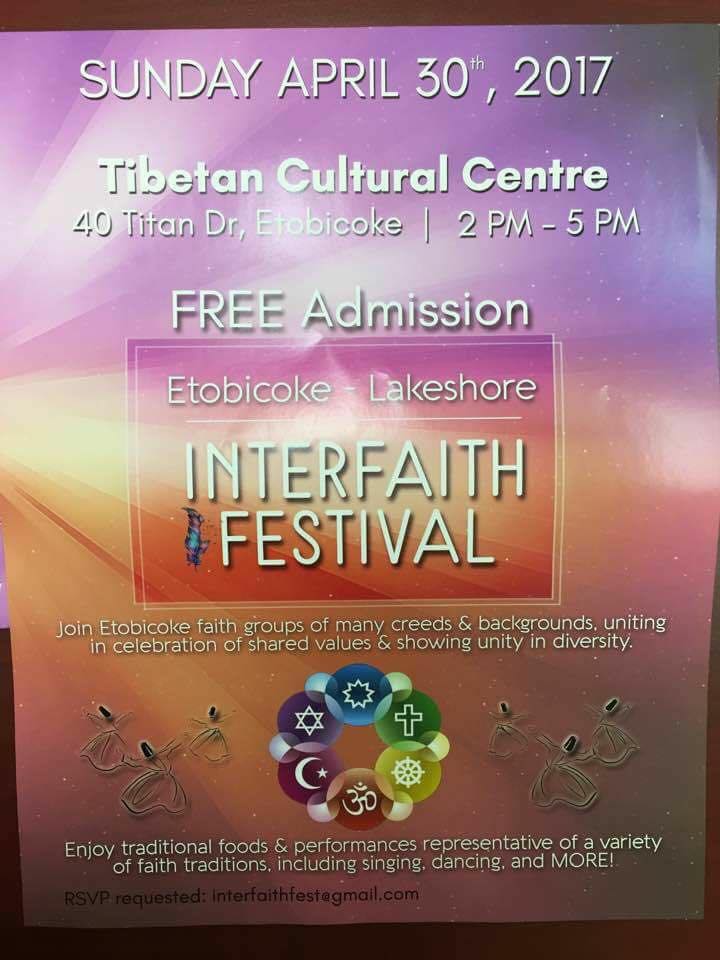 The Etobicoke Lakeshore Interfaith Festival opens its doors at 2 PM this Sunday, April 30th. Hosted at the Tibetan Canadian Cultural Centre (40 Titan Road, Etobicoke), the event offers free parking, free traditional food, and plenty of entertainment from each of our faith traditions. The event is family friendly and admission is free.
Check out the event page for up to date info.