I was really happy that the chefs agreed to share their Ma Po Tofu recipe. This famous Szechuan dish has a nice spicy heat to it thanks to the Chili Sambal sauce. I love this sauce and personally love heat so adjust accordingly. It's a dish I actually make at least once a week at home and serve with a side of rice and a quick side dish of baby bok choy with garlic for a quick and healthy meal.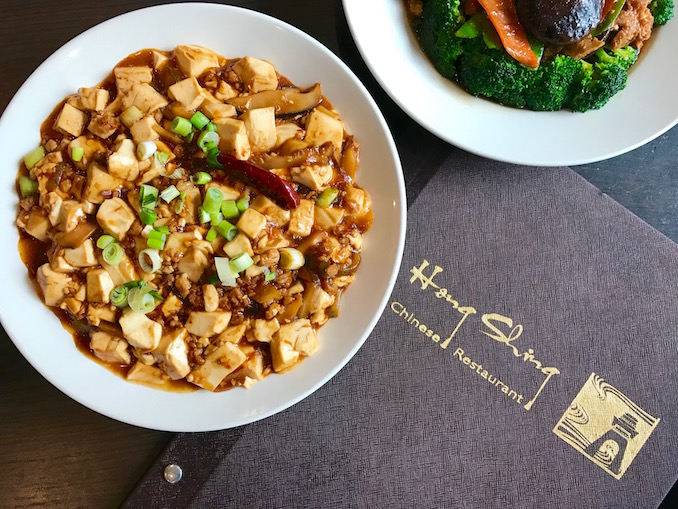 HONG SHING'S MA PO TOFU 
Ingredients
1⁄4 cup oil
1⁄4 cup of hot water

2 tablespoons of garlic, finely minced
2 slices of ginger
1 Package of Tofu, sliced 1"5 cubes
1 Green Onion, finely chopped
2 dried chili pepper
2 tablespoons of Chili Sambal
4 slices of shredded pickled radish
2 tablespoons of Soya Sauce
1 tablespoon of Hoisin Sauce
2 teaspoons of Corn Starch
Pinch of salt

1⁄2 cup of ground pork
Directions
On a saucepan or wok, add 1⁄4 cup of oil over medium high heat.
Add ground pork and cook it until brown in colour.
Add ginger, garlic, dried chili peppers, and pickled radish and cook for 30 
seconds.
Add Salt, Chili Sambal, Soya Sauce, Hoisin sauce, and 1⁄4 cup hot water and 
cook for a minute.
Add Tofu and gently stir, cooking it for 30 seconds.
In a separate bowl, add cornstarch and some water and stir. Place the 
mixture to the saucepan and stir gently for another minute.
Turn off the heat and add green onion before serving.
Serve with rice.
***
Learn more about Hong Shing from our article on the family restaurant.