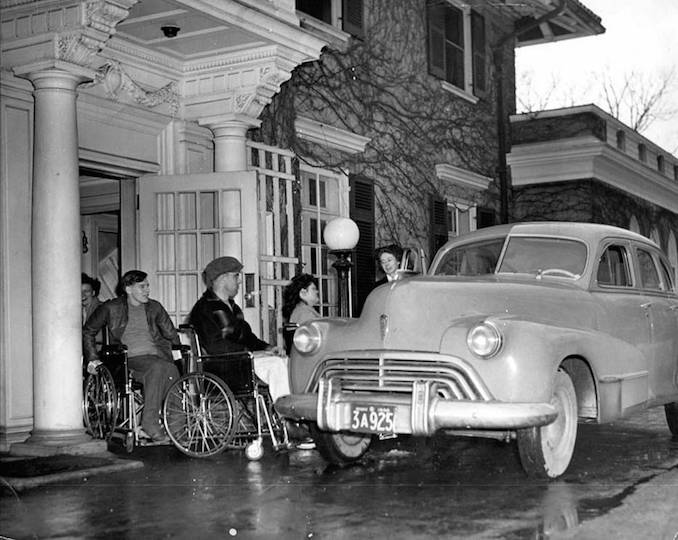 World War II marked a pivotal time for soldiers returning from combat with spinal cord injuries. Before the war, the majority of soldiers with this type of injury did not make it back home. For those who did, only 10% lived longer than a year.
In 1945 John Counsell, a Canadian soldier, returned from Dieppe with a spinal cord injury, after being shot by a sniper in the back. Unsatisfied with the current treatment and society's view of people with spinal cord injuries, he founded Canadian Paraplegic Association (CPA), which is today known as Spinal Cord Injury Ontario. The organization also started up Lyndhurst Lodge, a community-based rehabilitation centre that, in collaboration with spinal cord injury medical pioneers and the newly formed Department of Veteran Affairs, provided a network of support for people with spinal cord injuries that never existed before.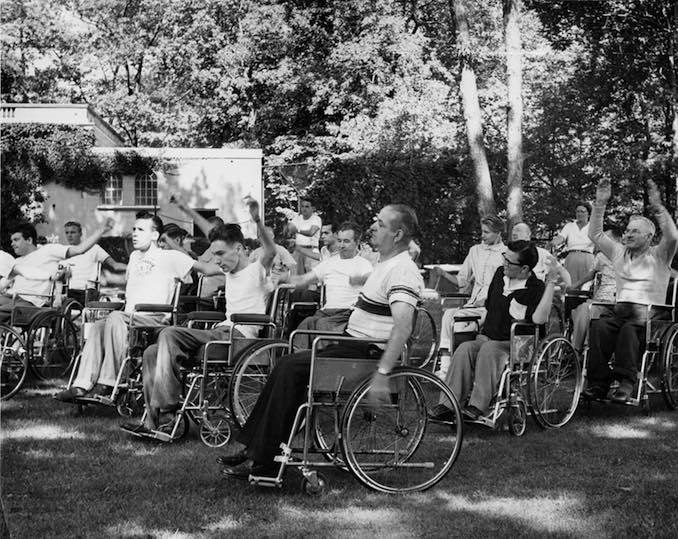 Counsell was joined by many other soldiers who sustained spinal cord injuries in the line of duty to establish Spinal Cord Injury Ontario. One of these gentlemen was Ken Langford who was injured by a piece of shrapnel; He was saved by a group of German soldiers who were crossing over into allied territory to surrender. They saw Langford on the battlefield and picked him up and carried him to safety, in hopes that if the allied forces saw them with one of their own soldiers, they wouldn't shoot them. This move saved his life.
Once Langford returned home, he became immersed in growing Spinal Cord Injury Ontario and became the Managing Director for 33 years. One of his earliest tasks was working with the Federal Government after the war, when it no longer wanted to keep Lyndhurst Lodge. Ken negotiated and bought the Lodge for $1! After that the lodge became open to civilians.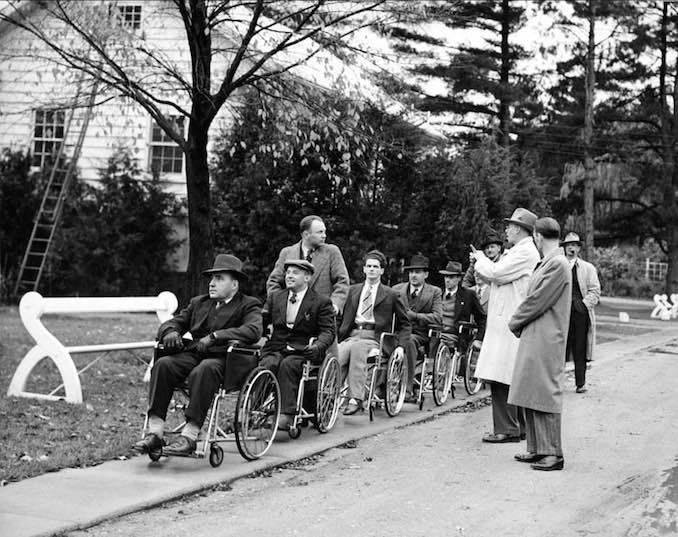 Another notable, founding veteran, was Conn Smythe, who while in combat, was hit in the back while heroically pulling a burning tarp off an ammunitions truck, which surely would have killed everyone surrounding it if it weren't for his brave move. While Smythe recovered and did not develop paraplegia, he experienced pain and related complications throughout the rest of this life.
Smythe helped Spinal Cord Injury Ontario by obtaining office and storage space at the iconic Maple Leaf Gardens, where he was General Manager. He recruited Whipper Watson, King Clancy and Harold Ballard to support the organization's fundraising initiatives. Another notable contribution of his was inviting people with spinal cord injuries to Maple Leafs games, with all expenses paid. For die-hard hockey fans, this was a dream come true.
From its beginnings seventy years ago, Spinal Cord Injury Ontario has been a leader in client rehabilitation, service and community re-integration – a time honoured legacy that continues today. So on Remembrance Day we remember the brave veterans with spinal cord injuries who broke down the many physical, healthcare and societal barriers they faced when they returned home. They paved the way for accessible rights. If you would like to honour these veterans by making a donation, you can click here.