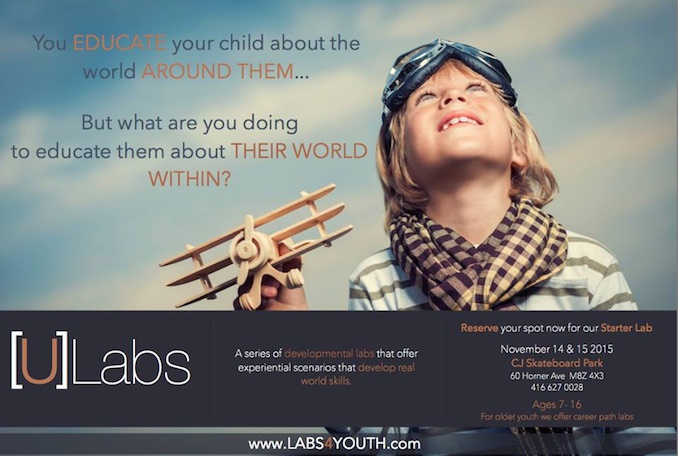 ULabs is coming to Canada with youth workshops aimed at discovering and developing passions for possible career development.
On November 14th and 15th, 2015, ULabs will run their introductory workshop aimed at helping youth discover their true passions and how to build on them. Through this discovery, the untraditional lessons will help youth self-learn with core concepts of self and skills development provided by the instructor. Participants in the workshop will learn practical, real world skills while also improving their confidence, communication, strategic thinking and self-value.
"Today's youth are eager to try and do. They are bright, advanced, highly creative and are desperate to try things, to experience, to 'do,'" says Kim Klingler, Founder of ULabs. "This desire to try, to experience and 'do' is an integral part of youth development. However, the landscape of what is available to them has not evolved to meet their desire to do purposeful things. They want to build, design and shape just like adults do. "Doing" is how we practice "who" we are, and U Labs provides youth with a variety of career skills sets and themes to "do" just that."
ULabs has a wide range of programs that will be available to Toronto's youth. Those involved will learn skill sets that could help them in future careers through the things that they already love. Other courses that will be offered include [U]Lab: Make[U]P, [U]Snap, Build[U], Inc[U]bate, Improv[U], [U]Focus, [U]Friends, [U]Nail.IT, Defend[U], [U]Survive and [U]HairDo. One will be able to put their hobbies to real-world use which can be missed in traditional education systems.
The event will take place at CJ Skateboard Park at 60 Homer Ave.
For more information about ULabs Toronto, visit their website.