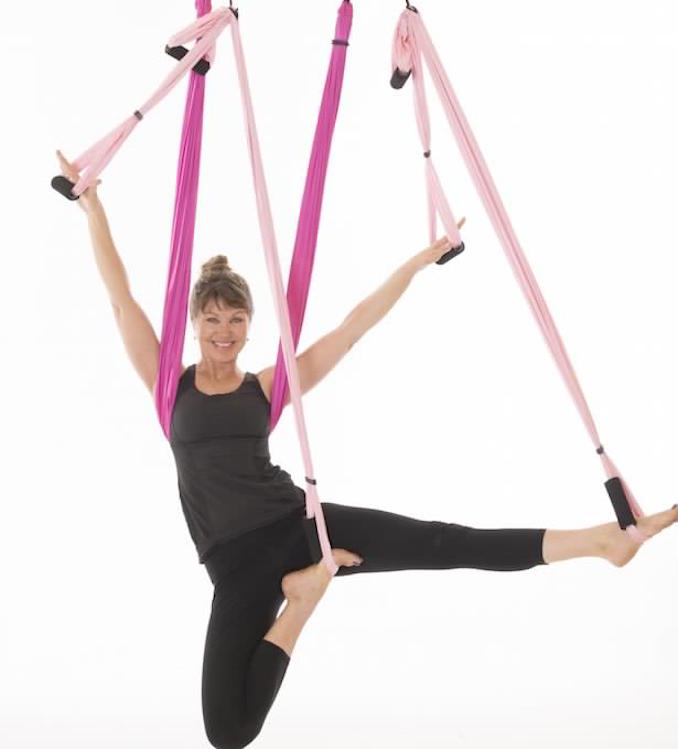 I've always wanted to try Suspension Yoga so what better place than the studio that started it all in Canada? The Flying Yogi, located between Queen and Dundas at Carlaw, is a cozy studio that literally was the first of its kind. Founder, Beatrix "Trixie" Montanile, began her yoga journey nearly 30 years ago, first through self-taught and then traveling to India for teacher training.
In 2008, during one of her many visits to India, Trixie experienced practicing yoga suspended from ropes. While she found the benefits to be extremely rewarding, she didn't think the ropes themselves were very comfortable. Upon returning to Canada Trixie tested other suspension equipment made from nylon fabric and taught with them for a while before deciding to create her own brand, the YogiGym (more on that later). The Flying Yogi opened its doors in 2011 and has steadily been growing since.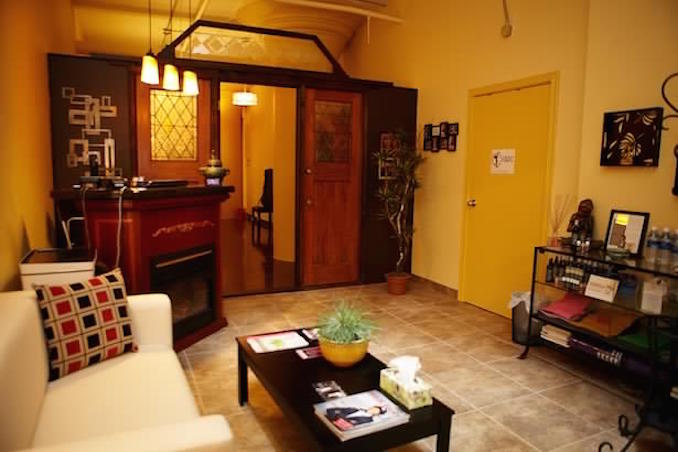 My first class was Gentle Suspension Stretch taught by O.J. Fidelino – in fact all the classes I took were taught by O.J. besides the MELT class. O.J. has a laid back vibe to him that suits The Flying Yogi perfectly. The class was a great starting point as we really focused on releasing tension from the back and shoulders. I enjoyed the graceful swaying from side to side in the sling that allowed my body to ease deeper into postures I've practiced a million times. The simple Child's Pose felt refreshingly new as we played around with the point of suspension. After that first class, I felt taller and more open in my shoulders.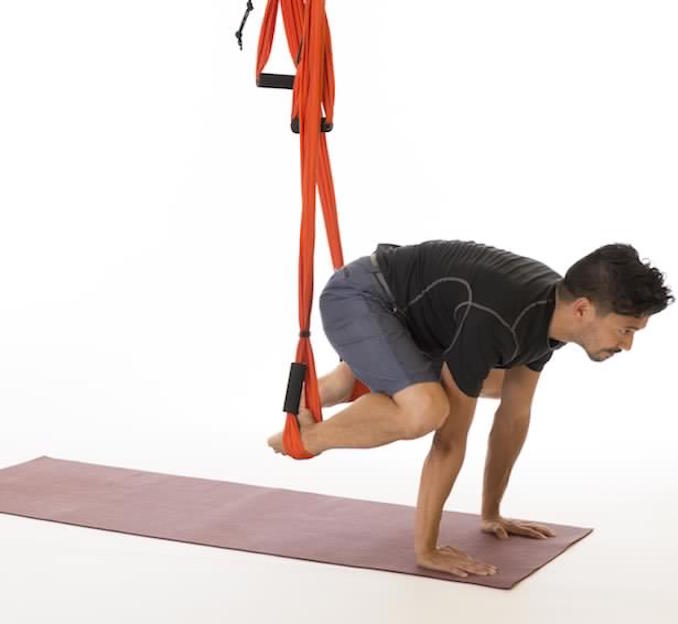 My next class was the Intro to Suspension Yoga Workshop. The first half hour or so was spent explaining the benefits of suspended inversions as well as the YogiGym equipment and how to use it safely. I found it fascinating that inversions (hanging upside down) had a whole list of advantages. O.J. ran through that list from spinal decompression to enhanced flexibility to (surprisingly) improved digestion and elimination. You can find out more here.
There were some crossover poses from Gentle Suspension Stretch but once we got our feet into the handles and stood up, it was a whole new ball game. Suddenly doing the splits wasn't completely out of the question anymore. The best part was that everybody in the class could do it! And believe me, it's exhilarating when your body does something you didn't think it could.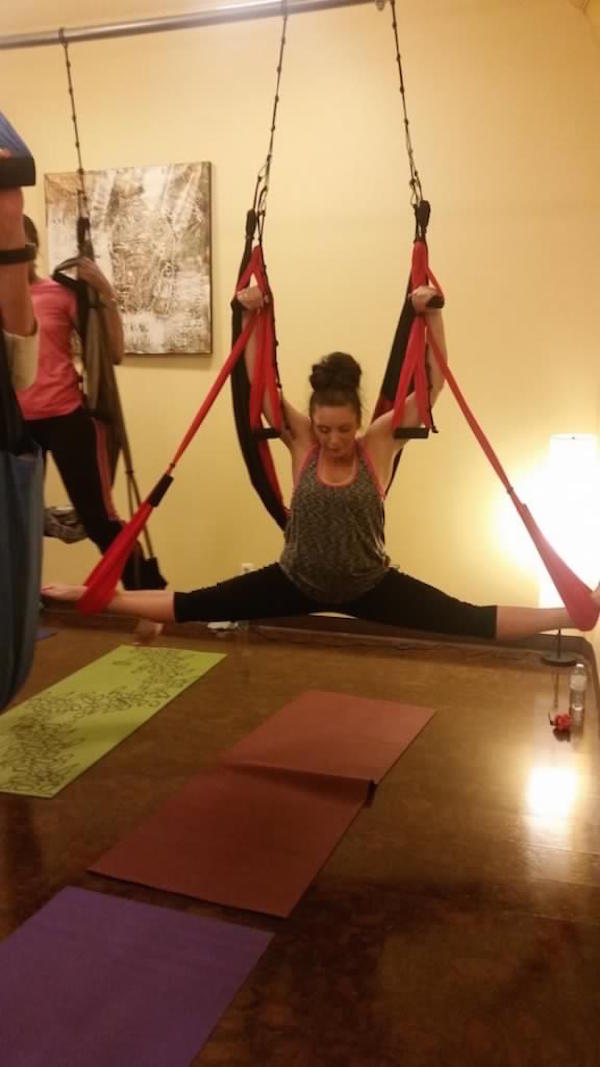 After these two classes, I found myself craving a little something more. So I signed up for the Suspension Yoga for Upper Body class. This was my favourite class of all. With a heavy focus on core and arm balances, I liked the challenge even though my muscles quivered. And I definitely had my serving of humble pie as I struggled with the pull-ups. Each move can be scaled for your fitness level so if pull-ups aren't your thing then don't worry. All in all, I enjoyed each class and it was amazing to see and feel the progression.
The last class I tried was The MELT Method with Gloria Feltham or Glo as her students call her. MELT is different from myofascial release techniques in that it works to rehydrate connective tissue and it's relatively pain-free! It was created by exercise physiologist and connective tissue specialist Sue Hitzmann. The technique improves flexibility and mobility, posture, the results of exercise, range of motion, sleep and digestion, and overall well-being. Seriously, you have to try it. You'll feel the difference almost immediately. My favourite was working on the soles of the feet. My arches are often achy but after class, they felt brand new! I think paired together, Suspension Yoga and MELT would transform the body holistically and I recommend it to everybody!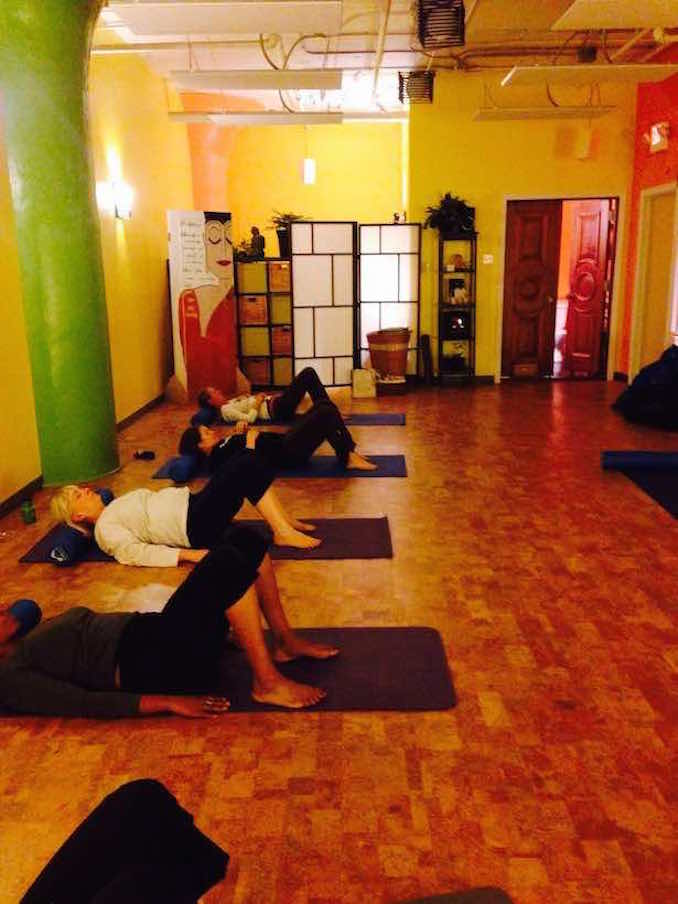 So there you have it, my experience with The Flying Yogi has been so eye opening in terms of how the body could feel and how far it could go. There is so much more I want to learn and anyone who knows me can vouch that I've got my sights set on those arm balances! Do I recommend The Flying Yogi? Heck yes! Find out more at www.theflyingyoga.ca
Tell us about the equipment (YogiGym); did you invent it?
This design has been around in Asia for a while so I can't be credited for inventing it but I did modify and improve the design. YogiGym was launched a year ago and featured at the Yoga Conference, where they created a suspension room and held Suspension Yoga classes there. It was a huge hit. The YogiGym can also be suspended from a door. Check it out.
What is the difference between Suspension Yoga and Aerial Yoga?
Aerial Yoga is basically a hammock, made with polyester knit though it's sometimes called silk. You can do wonderful things in Aerial Yoga and it's great fun. There is certainly a crossover to Suspension Yoga but the main difference is that you have to be pretty fit to use the Aerial Yoga equipment. Height adjustments and handles aren't available.
The YogiGym on the other hand comes with a foam, adjustment straps and a set of handles, making it much more comfortable and easier to use. Suspension Yoga protects your spine, you can easily adjust the height and it increases the versatility of the practice. It is accessible to everyone because you can customize everything based on your fitness level.
What can beginners expect for the first time?
Beginners can expect an opportunity to start developing core strength and flexibility. They don't need to be in shape or even flexible to start. Everyone starts at the same place anyway and anyone can come into a suspended inversion. We all need traction in our spine because we sit way too much. There is too much compression and our joints aren't getting enough movement. Suspension Yoga helps to lubricate our joints. For older adults, I recommend Restorative Suspension. We can certainly get everyone into safe and supportive poses for nice decompression.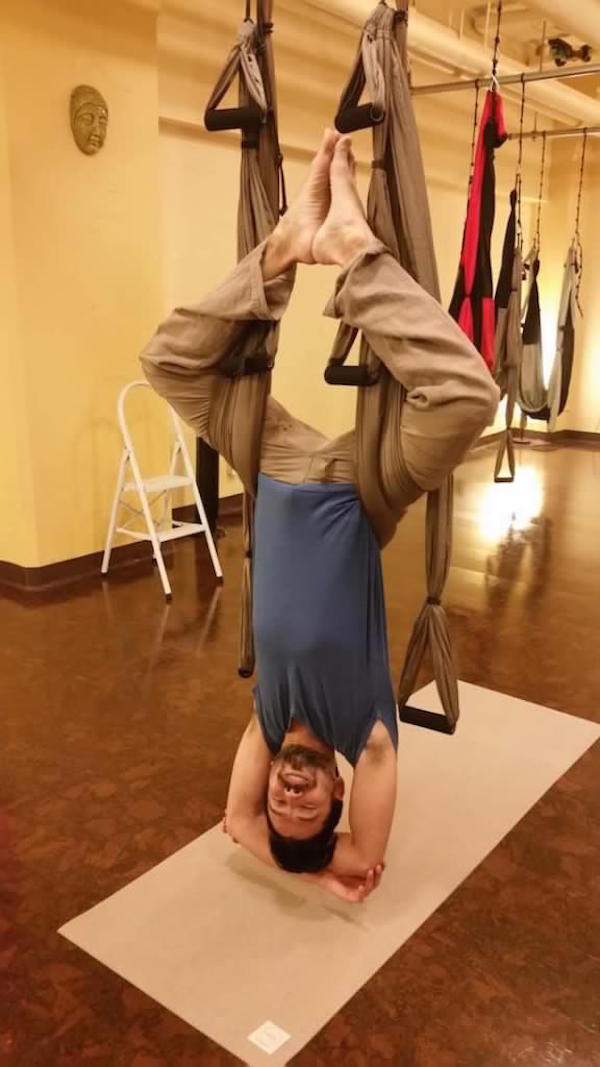 Where do you see Suspension Yoga in the future?
The Suspension Yoga community is still in the early stages. New people are drawn to it and it is beginning to grow exponentially. Through teacher training, I know more studios will be opening. In the next two to five years it will become very mainstream. My goal is to make sure everyone is trained really well so it's safe and fun for all participants.
Anything else you'd like to add?
Our Infrared Yoga classes are closed over the summer and introduced again in October. We offer community oriented donation based yoga in the park. It's our 10th anniversary this year and we have an amazing plan. Join the Park Yoga Toronto Facebook page to stay tuned.