So you've had a lazy Sunday at home. Saturday you spent running around getting groceries for the week, doing laundry, cleaning up cat hair, and this morning you're spent laying late in bed on a Sunday. However, by 4 pm you're feeling antsy. You're tired of reading your book. You're sick of hearing your neighbours. Either you have no outdoor space, or yours is looking cramped and claimed by squirrels or raccoons. It's 6 pm and sending TikToks or memes back and forth with your friend isn't entirely giving you the excitement you need anymore. That's where Toronto Outdoor Picture Show comes in.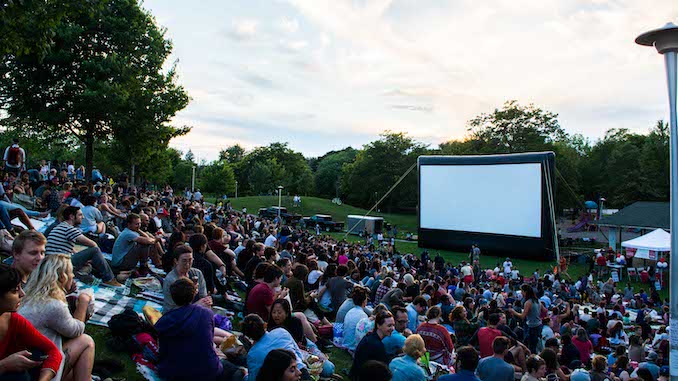 Started in 2011 as Emily Reid's dream with, "A lot of blood, sweat and tears, perseverance more than anything, […] I started a small series of two nights at Christie Pits Park in 2011, just learning along the way and asking a lot of questions, and crowdfunding. We had a crowdfunding campaign, asking friends to be my collaborators, and neighbours to be the funders. And there was such a strong community response that it was quickly obvious that it was here to stay." Christie Pits Film Festival grew and grew until it needed to be repotted, or a whole new garden.
In 2015 Toronto Outdoor Picture Show became an incorporated non-profit, "And Christie Pits was still the core of it. It's still the signature project. I can't let go of that name. But gradually we grew into Corktown Common, and then eventually at Fort York in 2018 and other parks in the inner suburbs. We were planning for a 10th anniversary season in 2020. And that didn't happen. Luckily, we had this great relationship with Fort York. That site is very unique where we could do what we needed to do for the pandemic. We ticketed in advance, we had to manage capacity, we had to have spacing, we had to have all these things that you couldn't have in public parks, neither possible nor allowable." And in 2020, Toronto Outdoor Picture Show became a charity, its mission has always been charitable, so it just seemed fitting.
You can help out and donate here.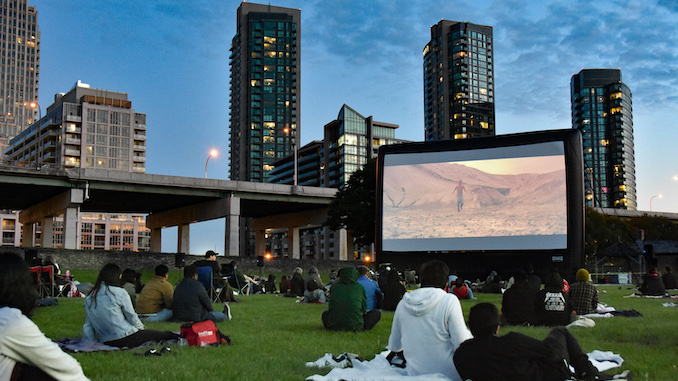 Sundays through July and August go to Christie Pits. Thursdays through July go to Corktown Common; Thursdays through August go to Bell Manor Park. Instead of getting overwhelmed by choices on streamers or cable, let Toronto Outdoor Picture Show surprise you with an excellent selection of features and shorts.
Toronto Outdoor Picture Show always has a theme, this year is Curtains Up! The features and shorts scheduled for screenings Thursdays and Sundays all through the summer have themes tied to performance. "It's our cinematic homage to the art of performance, which we all kind of lacked over the last two years. And certainly, artists lacked [the ability] to share their art with us. So, you know, [we'll showcase] great concert docs and films about circus performers and drag artists […] and dog shows!"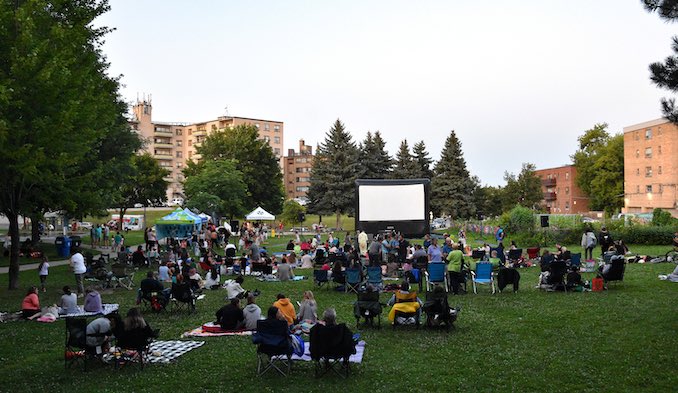 In 2013 Emily Reid introduced shorts to her Christie Pits Film Festival programming and has never looked back, giving new life to shorts after long festival runs. "The short program has always been Canadian, we focus as much as we can on local filmmakers. Research takes about six months to put together. We make it look easy, but we spend a lot of time and care trying to figure out what's out there, what fits the theme. And we don't care about premiere status. That's not important to us at all. […] Most festivals pair shorts together, which there's value in that. But it ends up drawing people who [love] short films more than anything. […] And for us, there's something about pairing shorts with features in creative ways, either on stylistic or thematic lines and [can] bring new meaning to both films. And that ends up being quite meaningful for the filmmakers as well as the audiences."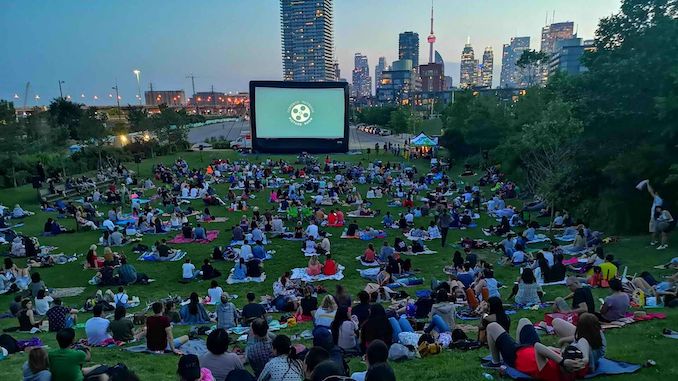 Sunday, July 3rd kicks off their first night back at Christie Pits with the premiere of a Toronto Outdoor Picture Show funded short film Magic in Plain Sight and Emily Reid's beloved A League of Their Own. And be sure to check out the gorgeous view framing the screen at Corktown Common.