It's time that the Canadian food industry become as diverse as our country truly is. This week we spoke to siblings Trevor Lui and Stephanie Lui-Valentim, who founded Quell, a talent agency with hopes to create more meaningful opportunities for food, drink and lifestyle talent who have historically been underrepresented.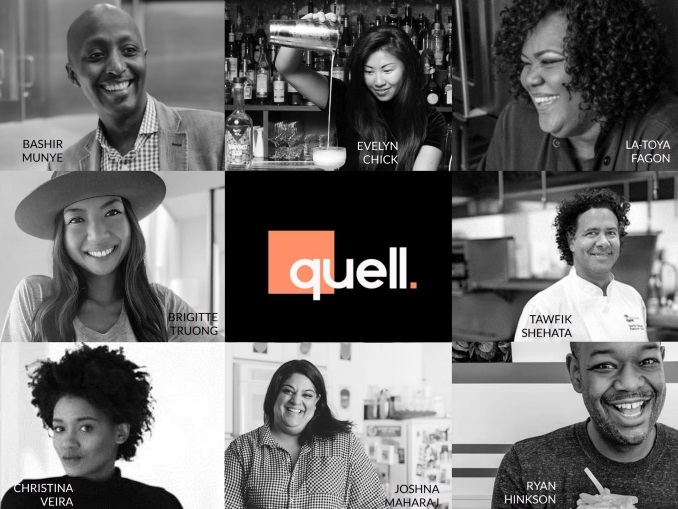 What is your business called and what does it do?
Quell is a new talent agency aimed at fostering meaningful opportunities and inclusive work for our diverse talent in the food, drink and lifestyle industries in Canada. With Quell, we not only are focused on breaking down barriers to elevate and showcase our talented roster, who have typically been underrepresented – but our mission is also to spark real change in Canada's hospitality industry overall.
What made you want to do this work?
We've both been a part of the food, drink and hospitality industry for many years – having worked in it, and around it, from entry-level roles to executives. And we've been hyper-aware of the barriers that make it difficult for women and people in the BIPOC and LGBTQ2S+ community to get the opportunities they deserve. We experienced it firsthand, ourselves.
If you take a look around, it becomes quite obvious that the hospitality industry in Canada faces a serious problem. Ultimately, the people highlighted by these industries are not reflective of this country's diverse and richly multicultural population. And given all of the conversations happening on a global scale around race and diversity, we saw a real opportunity to make change in our space. So we launched Quell.
What problem does this solve?
As our name suggests, we want to put an end to the lack of proper representation in Canada's food, drink and hospitality industry. And we want to do this while supporting our amazing roster of talent, which includes: Bashir Munye, chef, food advocate and educator; Brigitte Truong, a lifestyle specialist and content creator; Evelyn Chick, a certified beverage and hospitality expert; La-toya Fagon, a chef and celebrity caterer; Joshna Maharaj, chef and activist; Tawfik Shehata, a chef and educator; Christina Veira, a certified beverage and hospitality expert; and Ryan Hinkson, a food culturalist and creator of @EatFamous. They're a pretty amazing group of people, and we're excited to partner them with amazing brands.
Who are your clientele/demographics?
Our clients are food, drink and lifestyle brands (in Canada and through online programming, globally) for which Diversity and Inclusion has become a priority, yet the boardroom struggles to authentically integrate sustainable, meaningful, long term partnerships. Simply put, when someone knows they need to work towards Diversity and Inclusion but they don't know where to start, that's where Quell comes in.
Where in Toronto can we find your profession?
You can find Quell's incredible roster of talent all across our city – they're industry-leading chefs, content creators, mixologists, sommeliers, restaurateurs and food activists who have been honing their craft for many years and continue to expand their skills, education, voices and experience here at home, and all over the world.
What is the best part about what you do? What is the worst part?
The best part of what we do is that we get the opportunity to represent a brilliant group of some of the most talented, diverse industry professionals in Canada, and we get to help ensure their voices are heard. We're also excited to launch a mentorship program through Quell. We'll be collaborating with high schools in regions with socio-economic challenges offering, among other things, dedicated long-term mentorship opportunities and annual bursaries for students interested in pursuing careers in the hospitality industry – so we help to drive real change.
PAY IT FORWARD: What is another Toronto business that you love?
We'd love to tip our hats to Chef Keith Hoare from Thistletown Collegiate Institute, who has done so much during the pandemic to continue finding ways to feed those suffering from food insecurity. Now that school is back he's carrying this on with his students (albeit in very different and sometimes more adverse environments). I also want to highlight the work of Joanna Sable who also used the pandemic as a source of inspiration to launch Best Before Date – an initiative where she engages all sectors of our food industry, from suppliers to restaurants, to retrieve meals and ingredients to help support the Seeds of Hope Foundation. These are great people doing great work in the hospitality space to help our communities, especially given how challenging this year has been for so many.