There are more than a few reasons why Toronto is hailed as the most popular business travel destination for companies based in Canada. It's also the top location outside the United States for association meetings sponsored by U.S. companies. Indeed, Canada's bustling financial capital certainly knows how to make business travellers feel right at home, with a strong reputation for being both welcoming and show-stopping.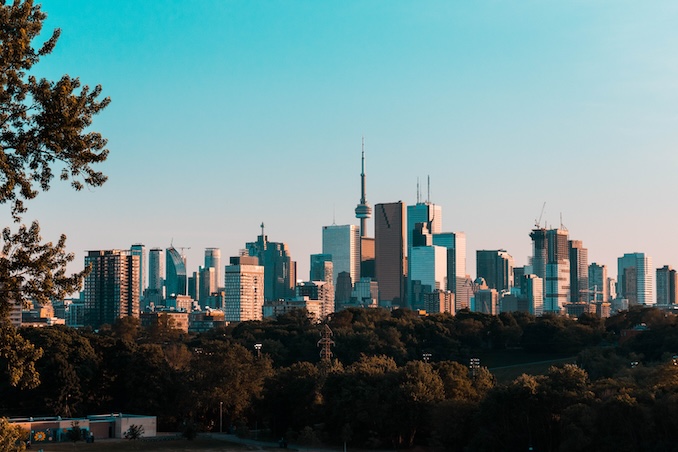 A Larger Metropolis
Toronto is the largest city in Canada and North America's fourth-largest city. With half its population born outside of Canada and 100,000 new immigrants flocking to the city annually, this metropolis is renowned for being a diverse global city. While visiting for business purposes, it's worthwhile to carve out some downtime to adequately explore all that Toronto offers regarding recreation, accommodation, dining out, and beloved tourist attractions.
If you aim to start your business trip on a luxurious and refined note, look no further than the ease and comfort of a private jet charter. Employing the use of high-end private travel can save your staff time and energy, as well as spare them the inconveniences and challenges that are often experienced at airports and with mainstream air travel. There's truly no better way to get around in style.
Why Do Business Travellers Flock to Toronto?
When searching for the perfect business travel destination, there are several explanations for why Toronto continues to come out on top. Its prime geographic location means the city is within 90 minutes of air travel for over half of all U.S. and Canadian residents. It allows professionals to travel and explore somewhere new without factoring in time-consuming, long-haul flights.
The thriving economy exports over $80 billion of goods and services globally annually, contributing approximately 20% of the nation's GDP. It is home to an impressive 38% of Canada's business headquarters and offers a skilled, educated, and multilingual workforce of 1.4 million individuals, totalling one-sixth of Canada's working population.
Toronto has consistently ranked in the world's top ten best cities to live and work in, boasting cleanliness, safety, and a diverse range of things to see and do to keep residents and visitors busy and thoroughly entertained.
Selecting Your Ideal Stay
With over 180 Toronto hotels to choose from, finding accommodation can appear easy at first. The greatest challenge is sorting through the vast array of choices to find the accommodation that best suits your business and its needs. Knowing where you'll be conducting most of the business events should help, as this will narrow down the location of your stay. Finding accommodation close to your meeting or event destination should be made a top priority so that your daily travel consumes less time and money and your staff can avoid the stress of potentially running late to essential work events.
Ratings and reviews from other guests are always a good metric by which you can measure the success of a potential hotel stay, which is particularly important when impressing important work colleagues and associates.
Nowadays, many hotels cater specifically to business travel needs, offering home office equipment and impressive boardrooms that can best facilitate your working endeavours. From printers and fax machines to advanced meeting space technologies, these elegant business centres should make you feel fully equipped to carry out your everyday tasks. Of course, robust and reliable Wi-Fi capabilities are non-negotiable, so it's best to ensure it's included in your desired accommodation before booking.
What sets apart one hotel is the amenities, which might help you further narrow your search for the ideal stay. After all, once you've packed in a long day of meetings, reviews, and brainstorms, you might want to soak away the stress on a rooftop jacuzzi overlooking the city or with a top-rate spa massage. Alternatively, you may want to melt away your work worries by lifting weights or running in a sophisticated and well-equipped gym space. However you and your team like to unwind, there's sure to be a hotel in Toronto that can cater to your individual needs.
When You're off the Clock:
As we said earlier, taking the time to discover what makes Toronto so unique outside of your working hours is highly recommended during your stay in the city. After all, you're already here — you might as well make the most of it.
The CN Tower, a hallmark of the Toronto skyline, is a popular tourist attraction and provides unmatched 360-degree views of the city. The iconic St. Lawrence Market in Old Town Toronto allows visitors to try culinary offerings from over 120 farmers and merchants. The Toronto Waterfront Trail takes both walkers and bikers on a scenic lakeside tour of the city, and although it takes over four hours to complete on foot, it's a great way to unwind and break away from monotonous work chatter.
An assortment of fine dining experiences, museums, art galleries, parks, and unique outdoor spaces will keep you and your team thoroughly stimulated during your downtime, allowing you to head home with a keen sense of everything Toronto offers business and leisure travellers.
The dynamic city of Toronto certainly proves that business trips don't, by any means, have to be mundane. While performing work tasks and achieving professional objectives might be your main priority during your stay, there's no reason you can't conduct business in a highly engaging, fun, and diverse metropolis like this and have a spectacular time.