Watercolour sketching with Ghazaleh Naderian
June 27 @ 10:30

-

12:30

$60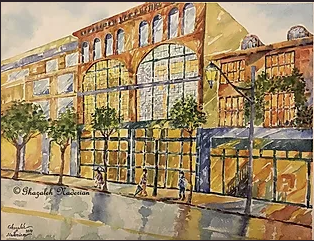 In this workshop, you will explore the joys and challenges of the transparent watercolour technique by painting urban and rural motifs.
You will learn how to plan, edit and simplify the composition of the subject, and how to layer colours and use "accidents" as a happy discovery.
You will explore a variety of techniques and build transparent layers and textures to create a mood and create an atmosphere in a painting. Then pen and ink will be added to the painting as finishing touches.
Join us for a fun moment of painting and happy accidents along the way.