If you think you're all up to date with the latest news in technology, think again! As you're reading this and learning something new, rest assured there is something in the works that you have yet to read about. If the development of technology does anything, it keeps you on your toes waiting for more. 

Instead of wasting time scrolling through endless pages making sure you've managed to take in all the information fast enough, we've created a little shortcut for you. Get your page bookmark button ready, because this is certainly a list of tech news websites you will want to follow for the long-run.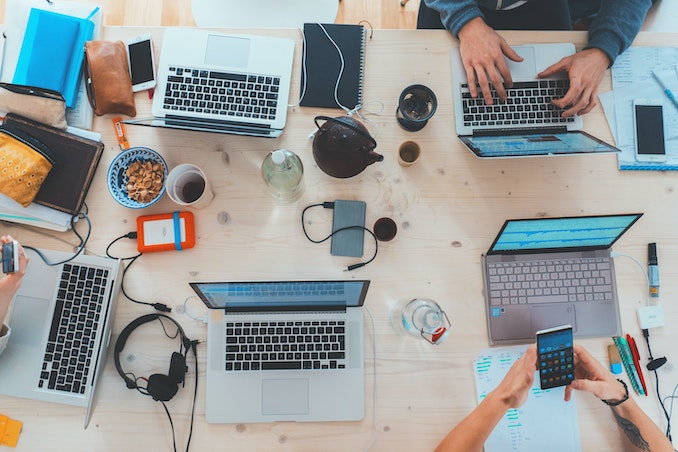 1. gizmodo.com
If you're questioning whether or not you should get a certain laptop, smartwatch, or any tech gear, Gizmodo can be your right-hand man. Known for their reviews, guides, and up-to-the-minute tech news, Gizmodo pushes its way to the top. This site makes it easy for visitors to communicate and interact with one another in the discussions area, which in itself sparks up a few good topics.
Gizmodo can provide you with in-depth insights on current trends, and the trends that are yet to come. It is a site aimed toward helping their audience make tech purchasing decisions with a strong foundation of information in their pocket. Features and specifications are just a small part of the information Gizmodo can provide. Check out what's the latest trend in technology here.
2. theverge.com

The Verge makes a valid point with their 'Better together' motto. With them providing the most cutting-edge news of technology today, and you reading all about it, the development of technology can only get better. What you can expect in the future of tech all depends on what s happening at this present moment. This is why The Verge covers a wide spectrum of tech and tech-related topics in real-time.
From the creators and presenters of the content you're searching for, to the review sections that will finalize your investment decisions, they will have you covered with all the information that you need. The Verge is one of the top-ranking tech news reporter websites you can follow here.

Another must-have on your watch list is tech information and business reporter, TechCrunch. Most recognized for their in-depth knowledge of the startups and companies that could change the future of tech. With this, TechCrunch uses its platform to help investors, salespeople, researchers and plenty of others catch up on the inside story.
Over 15 years have passed since they've launched their site, and within those 15 years they've managed to create a powerful and reliable platform where visitors can go to see keep track of the growth in technology. As well as finding them a place where they can put their knowledge into good use, with the Crunchboard system. Have a look for yourself here. 

The world of tech can be a bewildering place to be if you're not directed in the right direction. This is where the Bright Side of News comes into play. A convenient and captivating dashboard mixed in with in-depth information of current and emerging technologies makes the Bright side of News an interesting up and rising tech site to follow.
BSN can keep you updated on what s new with the technological advancements that are building the future. Streaming, tech news, electric cars, fintech, and VPN, everything you need for a balanced and solid informational background in tech. Check out their Tech News category here.
5. engadget.com
If you're on the fence about getting a smartwatch or tablet, you might want to take a peek at tech news reporter, Engadget. They have a strong following the in product review area, as well as buyers guides that can help make the purchasing process a little less complicated.
In tandem with their stellar reviews, Engadget keeps their crowd in touch with breaking news in the gaming, tech, and tech entertainment industry. If you're looking for a site where you can go to gather the information that makes you feel like you're talking to a friend rather than a tech specialist, we would recommend checking out what Engadget has to offer here.
Tech is a web made up of innovations, achievements, and inventions that mold the future. TheNextWeb is a terrific site that contains all the know-how of the tech world today and tomorrow. They offer a considerable degree of information that focuses on the development of technology, culture, and business.
On top of their timely reporting, with the help of TheNewWeb, you can boost your network of tech specialists. They provide you with the opportunity to connect with managers, CEOs, and many others that are making a difference in the tech world through various webinars and events. If you're up to discover what is going on today, take a look at TheNextWeb here. 
Don't miss out on the opportunity to get the latest coverage on trending tech news, near and far. Smartmobs offers a variety of comprehensive insights into tech topics for the general public. All in one place, you can have the first look at why Facebook is adding new features or what you can expect from the newest game console.
But why stop there when you can have a look at what is going on in the entertainment industry as well. Without technology, we wouldn't have top-quality entertainment. You'll find what is hiding behind the red curtains with Smartmobs information that is fresh off the reel. Check out their Tech News category here.
To be in trend is one thing, but to be a part of the trend starters is another. Every nook and cranny of the tech world is covered in their far-reaching categories. While Digitaltrends is commonly referred to as the place to go for product reviews, buyer guides, deals, and downloads, the information they provide goes far beyond the specifications and features. 

Digitaltrends make the purchasing and learning process simpler than ever. For users who want to enhance their knowledge of technology with a relaxing read, blogs, and articles published by Digitaltrends can help you do so. There is no beating around the bush for them, they'll give you straightforward information that you can use for your future endeavors. Feel free to check it out for yourself here.
9. mashable.com
Mashable has grown from a go-to source of entertainment to a go-to source for news on emerging technologies. It has rapidly risen to a widely known tech site made up of compelling and up-to-date articles on business, apps, gadgets, reviews, how-to's, and much more.
To go even further, Mashable enables their visitors to hunt through the best speakers, headphones, streaming services, and even VPNs that you can download directly from the site with a few clicks of a button. See what is new, what is hot, and what is rising on Mashable, right here right now.

10. bgr.com
This tech site is dedicated to publishing everything you need to know about technological achievements and developments. Boy Genius Report or BGR for short has an astounding selection of categories that anyone who is even slightly intrigued by technology can pick and choose from. See what topic interests you most and with a few clicks you'll be glued to your screen and asking for more.
BGR's exclusive tech content ranges from tech as a general concept to the science behind the software and hardware in charge of providing us with life-changing products. Check out what they have to offer here.
*This content is Sponsored