As life edges back to something approaching normality, Canadians might be looking forward to visiting a casino in Toronto or the city's surrounding area once more.
Gambling is a popular activity in Canada and a night out at the casino was a popular social activity, but can these places ever get back to normal in the COVID-19 era?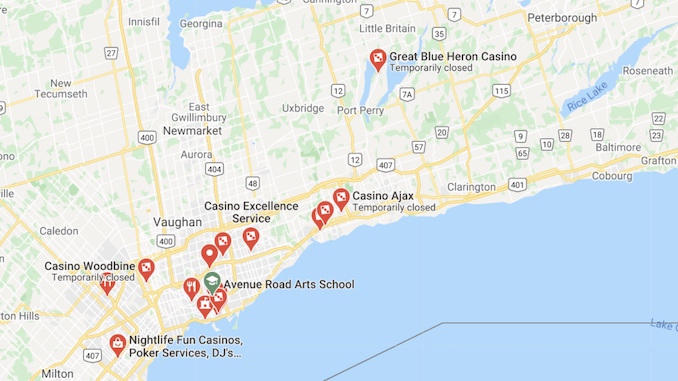 It is hard to imagine people crowding around a blackjack table or the roulette wheel again, so major changes are likely to be made by Toronto casinos in order to keep people safe.
Indeed, it might be the case that some will stay closed and many patrons have moved online, with the flexibility of playing casino games through the internet appealing to a lot of people.
For those Toronto casinos that will be welcoming players again, what is it going to be like?
Wearing masks and social distancing
It seems likely that social distancing will be enforced when casinos open in Toronto.
This is expected to mean reduced capacity in order to ensure people can be spaced out in a safe and appropriate manner. The number of people who can play at a single table is likely to be cut – perhaps by as much as 50 per cent – in order to make social distancing more possible. Fewer slot machines are also likely to be plugged in, so that players can have more space.
Staff will probably be wearing masks, if not other forms of personal protective equipment. The wearing of a face covering might be mandatory for customers at Toronto casinos as well.
Furthermore, casinos might follow the lead of other types of businesses in a post-pandemic era by putting in place some form of physical barriers, which could include Plexiglass partitions.
People will have to decide for themselves whether or not a visit to a casino is worth it if they have to wear masks and stick to social distancing rules. Many might prefer to play online.
More regular and more rigorous cleaning
Casinos are likely to have to ramp up their cleaning practices if they are to be able to reopen at any point in the near future. Cleaning at casinos is usually carried out either when the facility is closed, or when there are not a lot of customers in the building.
However, it could be more reassuring to casino customers if cleaning is carried out in view of them, so they can feel safe while playing their favourite games like poker, roulette and blackjack.
Surfaces where COVID-19 can linger will need to be wiped down almost constantly, as well as any other areas where there is a lot of contact from many different people, like in bathrooms. It seems unlikely that games that use rolling dice will be able to operate in the same way either.
Some casino companies have revealed how they plan to keep their sites clean once they have been permitted to reopen their doors. The use of a fog machine when the casino is closed, to disinfect and sanitize, has been introduced in some places.
Alcohol-based hand sanitizer should be made available for customers. This will probably be put in place at entrances to the casino, as well as in various other locations around the building too, as operators try to get into a position to reopen.
"Nobody put into their business plan 'I'm going to be closed for 12 weeks' – or could be more," Paul Burns, president of the Canadian Gaming Association, told CBC recently.
"I think everybody's ensuring right now that they can get their employees back to work and get their doors open."
Cashless payments to become the norm at casinos?
Handling cash safely is likely to be one of the big challenges for businesses like casinos that are trying to reopen in the wake of the coronavirus crisis.
Casinos could instead make plans to allow digital payments through platforms such as Apple Pay in order to avoid the risk of the virus being transmitted through the handling of paper money.
Many casino companies have been working on introducing cashless payments for some time, with COVID-19 giving them more encouragement to move forward with these plans.
Visitors would still be able to control their spending through the use of a deposit limit system.
Air conditioning could be switched off
Another big change for Toronto casinos could be that air conditioning units are turned off.
According to Colin Furness, who is the University of Toronto's infection control epidemiologist and assistant professor, air conditioning can contribute to the spread of COVID-19.
"There are a lot of things to touch at casinos; poker chips, slot machines handles, doorknobs … and there's also ventilation," he told Global News last month.
Casinos could therefore turn off air conditioning, giving customers another thing to get used to. What is certain is visiting Toronto casinos is now going to be very different due to the pandemic.
*This content is Sponsored