The Top Entertainment Hotspots in Toronto
Toronto is home to some of the most varied and exciting entertainment in the country, regularly topping lists as the best Canadian city for nightlife. It can be a fast-changing scene, with hip new joints popping up in the city's legendary Entertainment District and beyond. Whether you're a visitor, or just looking for some inspiration, here is our pick of the top places to go for fun and entertainment in and around the great city of Toronto.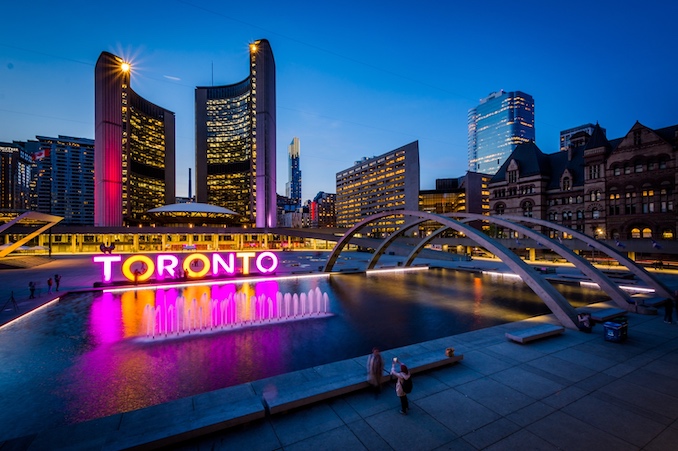 ROM Friday Night Live
The perfect mix of clubbing and culture, this is an event that takes place over several weeks each year. During this time, the Royal Ontario Museum throw open their doors every Friday evening in a quirky event that combines live music, dancing, and food among the fossils and other museum exhibits. A uniquely Toronto experience, if you are in town when this is on, it's definitely one not to miss.
Woodbine Racetrack and Casino
Located in Etobicoke, this entertainment complex is definitely the place to be if you fancy playing a few casino games or having a flutter on the horses. If you're after new casinos Canada, then Toronto may not live up to nearby Niagara Falls, but just because Toronto's aren't new casinos, that doesn't mean that the Woodbine can't compete. With thousands of slots and more than a hundred table games, there's more than enough here for an evening of entertainment. And the casino even offers a shuttle service to and from the establishment.
Hugh's Room
If you want to catch some live music, then Hugh's Room is the perfect venue. Not only does it score a great mix of big names and amazing local talent, but the intimate layout brings you up close and personal with the performers. It's a relaxed joint, with tables where you can sit and relax, eat from the excellent menu, and enjoy the music.
The Beaver
For a great alternative night in Toronto's thriving queer scene, check out The Beaver. This small venue holds an ever-changing roster of events on most nights of the week, from trivia and karaoke to drag shows and dance parties.
Drake Underground
Part of Toronto's Drake group, which includes a hotel, as well as restaurants and bars, Drake Underground is a multi-purpose performance venue and nightclub. Bringing together live music, visual arts, stand up comedy and much more, a visit to this Queen Street venue is sure to be a blast. Check out their long-running Elvis Monday event, where you will even get some free food.
Toybox
Toronto residents reacted with dismay when it was announced that the legendary Uniun nightclub would be closing down in 2019. However, it didn't take long for dismay to be replaced with excitement, when Uniun owners INK Entertainment announced that they were re-opening the venue as Toybox. We can expect a refurb, but most clubbers hope that the fabulous DJ lineup will remain intact.
Comedy Bar
For an evening of hilarity, head to Comedy Bar on Bloor. This comic club has gained quite a reputation since it opened its doors more than a decade ago. The proprietors proudly advertise the venue as the 'home of comedy in Canada', and they are not wrong. Every established Canadian comedian has at least visited Comedy Bar, and many have performed on one of the two stages. They are dedicated to fostering and promoting new talent, and you can find an event taking place almost every night of the year.
Snakes and Lattes
Here's another idea for an alternative day or evening out. Snakes and Lattes is a board game cafe which has proved so popular that it has three locations in Toronto. This is the perfect place to chill out with friends, drink coffee and play a huge variety of board games both old and new.
*This post in Sponsored