If you live in Canada, then you know the importance of having a quality fireplace in your house during the winter. There are different types of fireplace designs you can install in your home, even on a fixed budget, and enjoy the warmth during winter. When going for traditional or modern fireplace, you want it done by an expert to ensure it is comfortable and safe.
In this article, we look at some fireplace designs in 2019 that every home in Toronto should look forward to having. Read through to find out which fireplace design suits your specifications.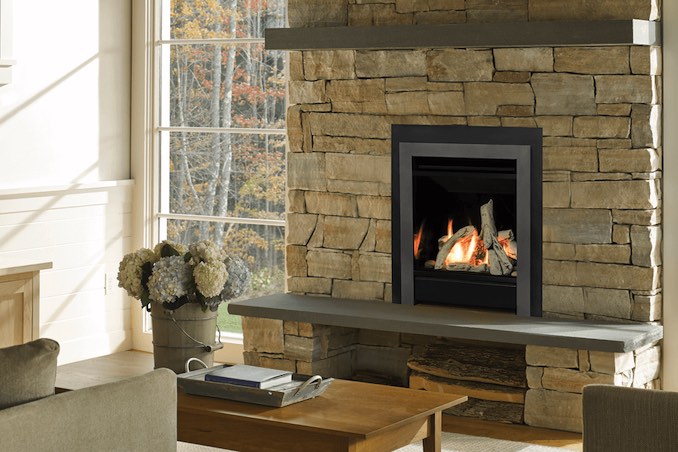 Stone decorated 
Stone decorated fireplaces complement the interior and architectural design of a house. Valor Portrait Gas Fireplace Clearview is one of the most sought stone-dedicated gas fireplaces. The fireplace is designed to fit different home options, which complements both traditional and contemporary home settings. A stone-decorated gas fireplace adds flavour to your home décor. They last longer and require minimal maintenance, which makes them economical.
Valor Portrait series of fireplaces are popular amongst homeowners in Canada. Unlike other types of fireplace designs, it produces proficient heat that keeps your house warm. You can always find a perfect Valor Portrait Gas Fireplace style that suits your house specifications. Clearview is an ideal choice if you look forward to giving your room a more traditional look while saving on fuel.
Classic
Classical fireplace designs provide an outstanding look and experience in your house. The Montigo H36PV Gas Fireplace is one of the most sought classical fireplace designs in the market. It is designed to be a focal point of any living room, giving it the perfect décor. 
Montigo H36PV Fireplace has a flush to floor design and provides a 38 inches viewing area. It is spacious to give an authentic hearth experience. You can give this fireplace a perfect finish by installing some tiles over the firebox frame. Other key features of Montigo H36PV Gas Fireplace include:
A door screen

Fibre brick lining

Wrought iron grate

Traditional burner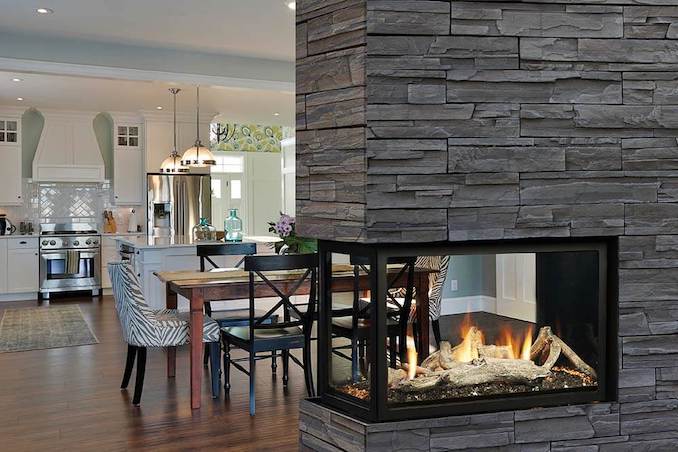 Wall Mounted 
A wall-mounted fireplace gives your home a perfect look and saves on space. Kingsman Gas Fireplace CVP42NH Peninsula Driftwood is a wall-mount fireplace you should not hesitate to shop for in the market. The fireplace doubles as an artefact and a heating source. 
It comes with standard features like safety screen barrier, clean view appliance, and IPI valve system. The IPI system makes it easy to adjust the heat in case of power failure. Wall mount fireplaces come with the different specifications you can choose based on your home décor requirements.
Kingsman Gas Fireplace comes with a brick refractory liner, accent lighting, thermostat, glass tray, log set, and a porcelain liner. These features make the fireplace stand out. If you are going to give your home an ideal heat source and a perfect look, then you should go for the wall-mount fireplace.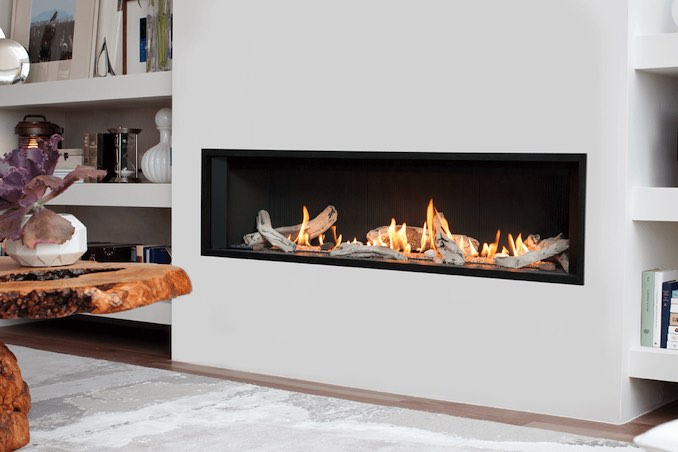 Minimalistic black and white
If you look forward to having a modern minimalistic gas fireplace, then Valor L3 Series Linear Gas Fireplace is your perfect choice. The gas fireplace offers a wide glass view area and great hearth that keeps the entire room warm. The fireplace surface is scorching when operating. It keeps the room warm for sometime after switching the fireplace off. The fireplace is made of quality materials to last longer. 
Valor L3 Series Linear Gas Fireplace is more accessible because it comes with a remote battery and wall switch. You can switch the gas fireplace on and off to regulate the heat.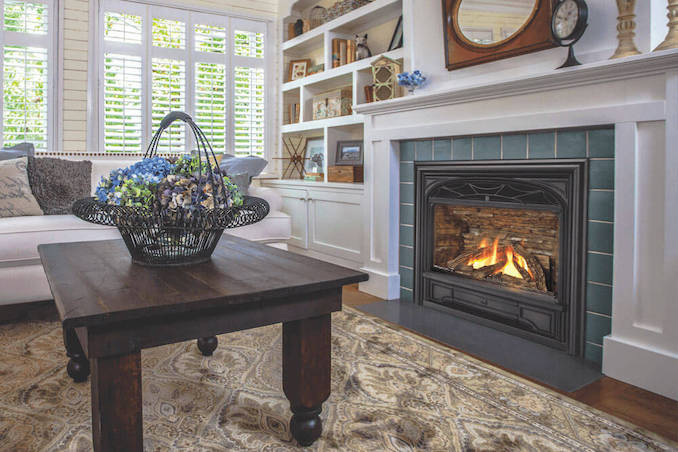 Rustic 
Valor Horizon Series Gas Fireplace is a rustic fireplace design you must have in your contemporary home. You can install the fireplace in different styles to give your room a perfect look. It comes in various designs that meet unique specifications of the traditional and modern home. 
Horizon Series offers an array of fireplace installation opportunities for any home. It promotes the principles of Valor with its ceramic hearths, traditional casting, and clean fronts. While it doubles as a modern décor and source of heat in the room, the Horizon fireplace is easy to maintain and install.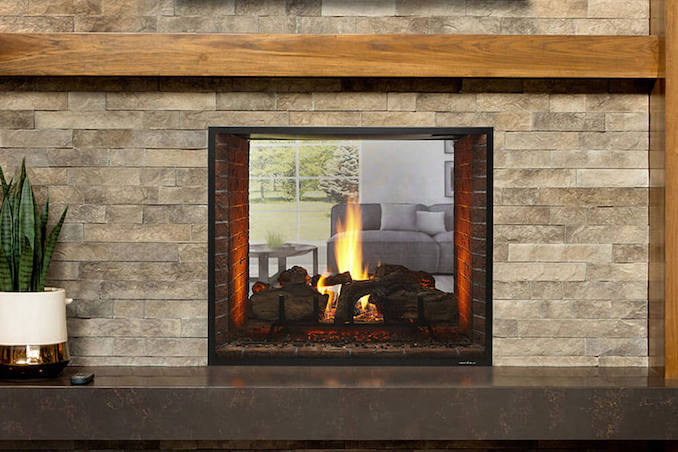 See-through 
See-through fireplace designs are the most sought in the modern fireplace market because of their durability and flexibility. The Heat & Glo Escape See – Through Gas Fireplace is a familiar brand in the see-through series of a fireplace. This brand offers unique features that make it outstanding. This gas fireplace is designed to serve multiple rooms and provide an appealing look that suits any architectural design. 
Some key features of this two-sided viewing Heat & Glo Escape See -Through Gas Fireplace include:
Micro-screen

Direct Vent technology

Fireplace safety

Anti-reflective glass

Electric Amber bed
The see-through gas fireplace has a unique heat management technology that redirects heat to other parts of your house, which makes it economical and multipurpose. It comes with the Intelli Fire Touch technology that makes it easy to operate.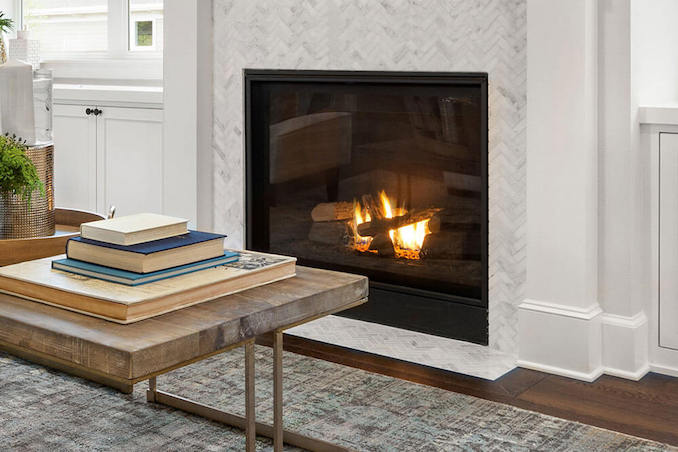 Modern classic 
A contemporary home requires a modern and classical fireplace. Montigo H42DF Gas Fireplace is a perfect choice if you are looking forward to giving your living room a unique appearance. The H42 series of fireplace comes with outstanding design and style that fits the modern living room.
It has a spacious and square viewing area. You can customize the fireplace by installing some tiles on the firebox frame to give it a more classical look.
Conclusion
When shopping for a gas or electric fireplace for your modern living room, you must look at some key features such as view frame, durability, the material used, and maintenance cost. Coming up with a perfect choice of an ideal fireplace can be such a challenging task. 
However, the seven fireplace styles and designs given here not only save you the hassle but also assure your home the comfort and style it requires. With a full line of gas and electric fireplace at your disposal, you can always shop for one that suits your unique specifications. 
This article was provided by Zoroast – The Fireplace Store
535 Millway Avenue, Concord, ON
(416) 8-99999-8
https://www.thefireplacestore.ca