Pop-up food events and festivals have been so predictable in this city but here comes something completely different. Dinner Time Stories is coming to Toronto from September 29 to November 25, 2018 and it will be a feast unlike we've seen in the city.
The part dinner, part visual arts concept was first launched in Dubai by Belgium-based creators, Skullmapping and produced by Nadine Beshir. It's won global interest from foodies alike throughout Europe, the Arabian Gulf as well as Nashville, the only other North American presentation to date.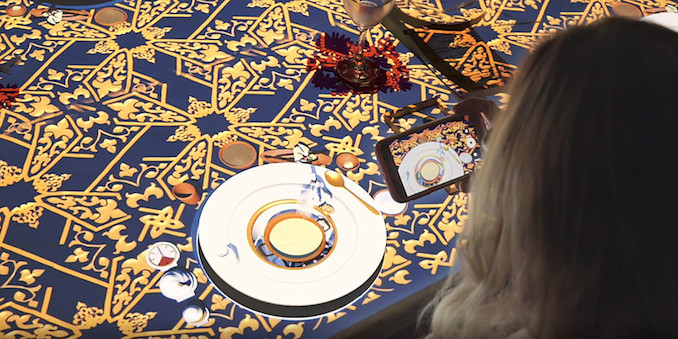 Guests will be immersed in a dining experience not just for your tastebuds but also for your eyes. Thanks to cutting edge 3D technology, dinner will be a food journey. Follow the adventure with Le Petit Chef, making his way along the historical route of Marco Polo on the Silk Road. In two hours, you enjoy a six-course menu of international cuisine as the story unfolds right before your eyes.
Toronto's The Substance Group and Go West Creative will set the table, and show, that comes to life on the dinner plate. Through 3D digital mapping, Le Petit Chef embarks on his travels with dinner served in sync as the story unfolds.
Dinner includes culinary explorations begin with Le Petit Chef's French classics from his hometown of Marseille and continues with travels with flavours of the Himalayas, North Africa, India and then China.
The dinner is created behind-the-scenes by Toronto's catering company 10tation and Chef Bashir Munye who's already well-known for his inspiring cuisine. Born in Somalia and raised in Italy, Munye has over 20 years of experience in the industry.
We're marking our calendars… so very curious!
Dinner Time Stories will run  September 29 to November 25, 2018. Fridays to Sundays with two seating nightly. The dinner events will be held at Katana (333 Bay Street). For more information and for tickets visit dinnertimestories.eventbrite.ca