Whether you're building a deck from scratch or you need to renovate an existing structure, DIY projects can be quite a challenge to pull off. Of course, we're here to make your work simpler by giving you great ideas on how to make your own deck building project a success. First and foremost, you need to give the entire project a reasonable timeline. Building a deck can take a week or several months depending on factors such as the size and current weather conditions.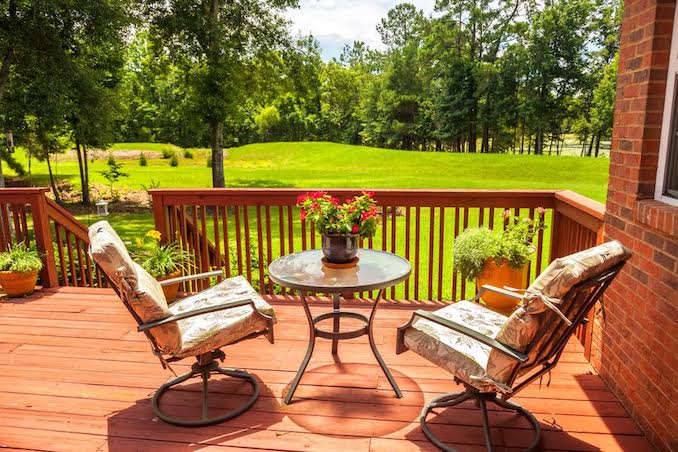 In this article, we'll cover the 5 important aspects that you will need to go over when building a deck. Most deck construction projects will require these 5 basic processes. While every homeowner may prefer different methods of building their deck, the basic process is a straightforward one. It's important to know the golden rules of building a deck to avoid common problems and ensure the construction is as smooth and efficient as possible.
Step 1: Preparing Drawings and Obtaining Building Permits
This is one important area that many DIY homeowners overlook when building a deck. In most localities, this kind of construction requires a separate building permit. This is because a deck is considered an unattached structure from the rest of the house. Make sure you have the right building permits before beginning any construction work. The permit can only be issued after you've submitted your building plan and it has been evaluated by relevant authorities to determine if it's safe and conforms to the required construction standards.
For this reason, make sure your plan is reviewed by a professional such as a licensed structural engineer before submitting it for approval. The building department is very strict and if your plan fails to prove the structural integrity of the deck, you may be denied a permit. This is especially important if you're planning on building a complex deck. It can cost you between $300 – $600 to have your plan reviewed by a professional to get a permit.
The location of your deck is of utmost importance. You will only be given a permit if the deck meets local setback requirements which means you are building in the right zone. For unique deck projects that require one to construct within a setback zone, you may need to apply for a variance. Other factors such as if the deck will be built in right of way areas (these are simply areas in your property that the public and utility companies can access legally) will be put into consideration by the building department.
Step 2: Preparing Worksite
Site prep is another crucial step in deck construction you shouldn't overlook. First, proper site preparation enhances safety and strength of the deck. Begin by setting the posts 180 cm from the edge of the house. Ensure that the end posts are accurately set in a straight line by measuring twice and then digging 30cm square footing holes at least 30cm deep. Mix and pour the concrete then wait for it to set before setting the posts.
If you're building a deck on bare ground, make sure you pour weed killer before you start so that it eliminates the chances of weeds growing in between timber. Weeds can cause extensive damage to your deck because they foster termite infestation and speed up the rotting of wood. You also need to check the drainage so that it doesn't turn out to be a serious issue after you've already constructed your deck.
If there's any tree removal required prior to constructing the deck, make sure you hire a professional to get it done. Tree removal in Toronto is a dangerous affair that should only be handled by someone who's experienced and qualified to get the job done safely and efficiently.
3. Selecting Decking Materials
When shopping for building supplies in Toronto, you'll need to find a suitable decking material. One common alternative is pressure treated decking that is durable and resistant to rot. It's one of the cheapest wood products available in the market and can last up to 25 years. Cedar is also a popular option used by Toronto homeowners for decking. This softwood is also designed to resist decay, rot and termite attack but it must be treated with a water sealant and stain to preserve the colour and enhance longevity. It costs twice as much as pressure treated wood but it's a maintenance-free product.
If you don't mind a more expensive option, you can go for Ipe which is a strong Brazilian hardwood with a deep texture. This decking material is said to last up to 100 years. If you prefer a decking material that is very easy to maintain and cheaper than Ipe, go for composite decking. However, this material is prone to mould growth, so it needs to be treated with certain chemicals to prevent this. If you don't want decking that contains wood, go for plastic decking which is made of PVC. With this type of decking material, you'll have a maintenance-free deck that's easy to clean.
Step 4: Get Rid of Construction Garbage
Finding the right disposal bin before you even begin is important because you'll have a lot of garbage that you'll need to toss away. Handling trash the right way will enable you to keep the area clean and dispose materials responsibly. Reach out to a garbage bin rental company that will help you select the ideal disposal bin for your project depending on the size and materials which will be used.
Step 5: Inspections
While the construction is still underway, you may get a visit from the local building inspector who wants to ensure the structure is being constructed according to local codes. Don't feel intimidated by building inspections; many of the inspectors in your locality are very knowledgeable in such constructions and can give you invaluable advice. Take this time to discuss your plan and methods with the inspector and ensure everything complies with the local building codes.