Peter Marrack was born in St. Catharines, Ontario to a dynamic set of parents. A lot of his life, especially in the early days, was split between sports and creative endeavours, like creating a whole golf course, different levels of grass, pins and all, in the backyard of their suburban house. (Like I said, dynamic parents.) He was never one to sit in one spot too long and often felt school was too easy and moved around a lot. He spent a year in upstate New York when his father took a job at the General Motors headquarters on the border, and when they moved back to St. Catharines skipped ahead a grade in school, and then abandoned traditional school altogether to attend a special tennis school.
He pursued tennis to such a degree that the family relocated to Mississauga when Peter was in Grade 9 to place him in better training environments and when he hit Grade 10 had achieved a top national ranking. Unable to find adequate competition in Toronto even, Peter moved on his own to Houston and then Arizona to train with better American coaches and competition and competed internationally representing Canada. He earned a scholarship to University of Wisconsin-Madison competing in Div. 1 NCAA and helped the Badgers hit a high ranking of #15 in the country.
Though he spent most hours on the tennis court, throughout the journey Peter would write, paint and direct movies, as well as create graphics on his laptop computer while listening to rap music, artists like Drake, Kid Cudi, who were just coming up. He ended up spending more time on his own pursuits than on the classroom study, though he still managed to achieve good grades, and when an injury sidelined him in Wisconsin, his love for creating, in particular at this time, film and writing, took over.
He left his scholarship and competitive tennis behind for good in 2011, frustrated in part by the athletic department's incapability to accept his creative side, and enrolled in film studies at York University. He wanted to create films but the department refused to acknowledge his American credits and he wound up on the writing side, passionately researching writers like Camus, Sartre, Hemingway, Chandler, Bukowski and penning reviews of his favourite directors' films, like Harmony Korine's Gummo, Gaspar Noe's Enter the Void as well as commercial films like Nolan's Batman series and Sin City.
He graduated in 2013, began writing for magazines in Toronto and New York City, interviewing artists, rappers, producers, filmmakers and painters alike, though always writing/creating his own fiction and poetry and collages on the side. He studied the artist lifestyle and the business side while teaching tennis at Rosedale Tennis Club, then, all of sudden, took a position at a hotel in Dubai where he imagined himself writing the next best Canadian novel. That didn't work out though and he landed back in Toronto, working at the tennis club, York Racquets, and writing for publications Mass Appeal and Green Label. It was during a story for Mass Appeal that he reconnected with Parisian-born, Toronto-based painter and owner of 416 Gallery, Jimmy Chiale. This is when he really started to paint again and so began his career as a professional artist.
Peter first showed his work at Blank Canvas Gallery, with curator John Samuels, who he continues to work with, focusing mainly on abstract surfaces and textures. He left his tennis job after two private events put on completely independently and relocated to West Queen West in summer 2017. His work began to shift toward colourful abstract landscapes, which he dubbed Liquid Landscapes, and gave up writing everyday, sick and tired of the misery that comes with it and as the world becomes more image-oriented. Things came back full circle and Peter returned to working hands-on with paint and natural materials such as charcoal, rediscovering his initial love of images and landscape. Inspired by past visionaries such as Aleister Crowley, William Burroughs as well as his friends, some of whom are professional scientists, he gave up brushes altogether and landed on his current technique. Peter uses house paint and paints quickly and physically, mimicking the movements of an athlete or perhaps a caveman or even an alchemist pouring and mixing different precious metals to astonishing effect. You'll find him now hanging out around West Queen West, where he keeps his studio in his apartment, at the coffee shop Major Treat or Saigon Flower restaurant. If you ask him he says he just wants to continue painting and never work another job in his life. If he can do that, he's happy.
His upcoming solo show, Liquid Landscapes, where you can view Peter's latest paintings, is open to the public, April 14-15, at the VUCO ArtSpace, 1444 Dupont St. #31, reception on the 14th night between 7 and midnight. We hope to see you there!
-Donald Digga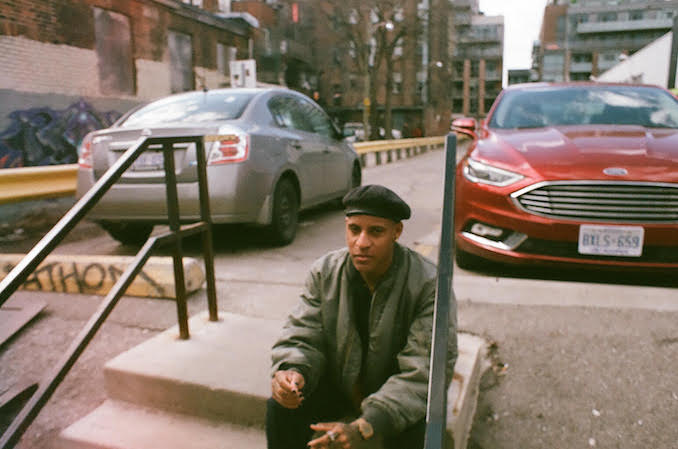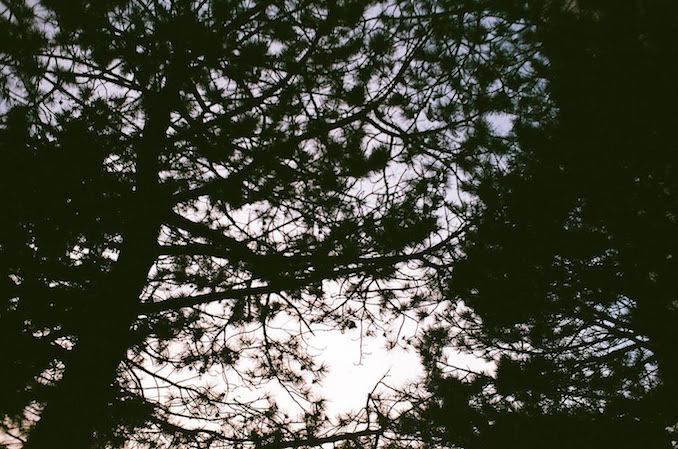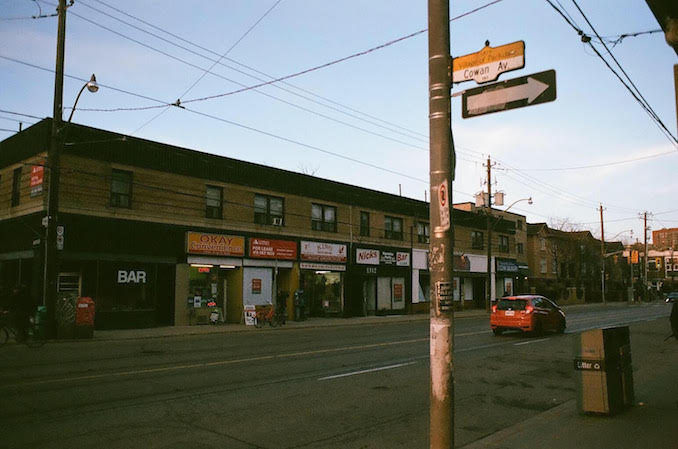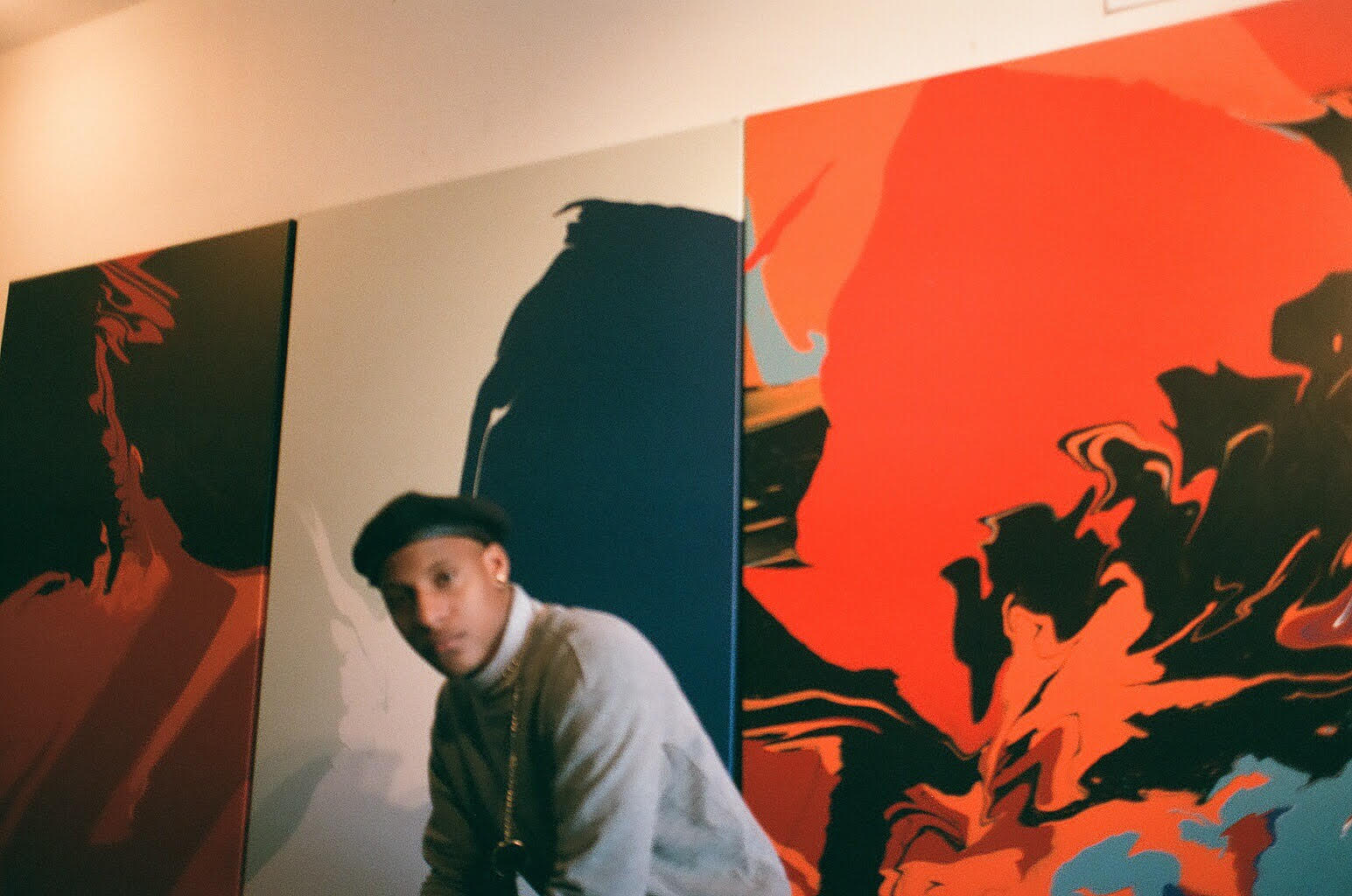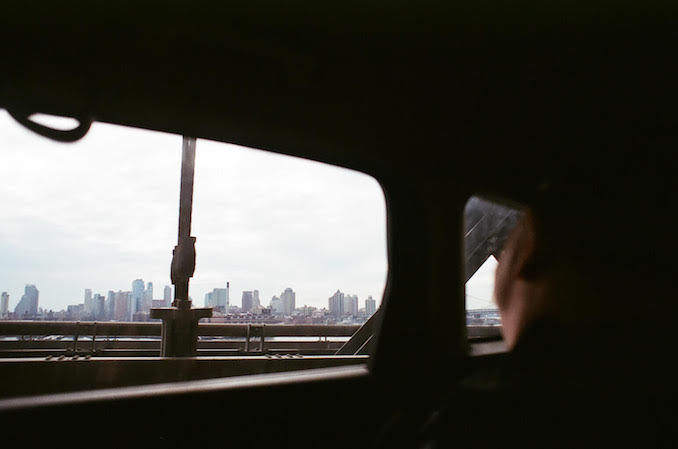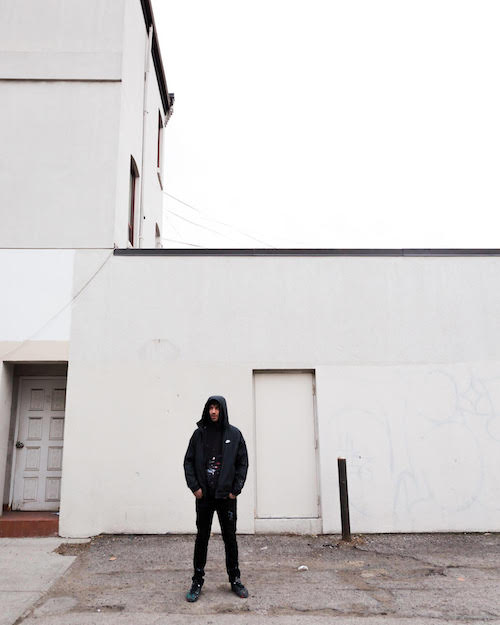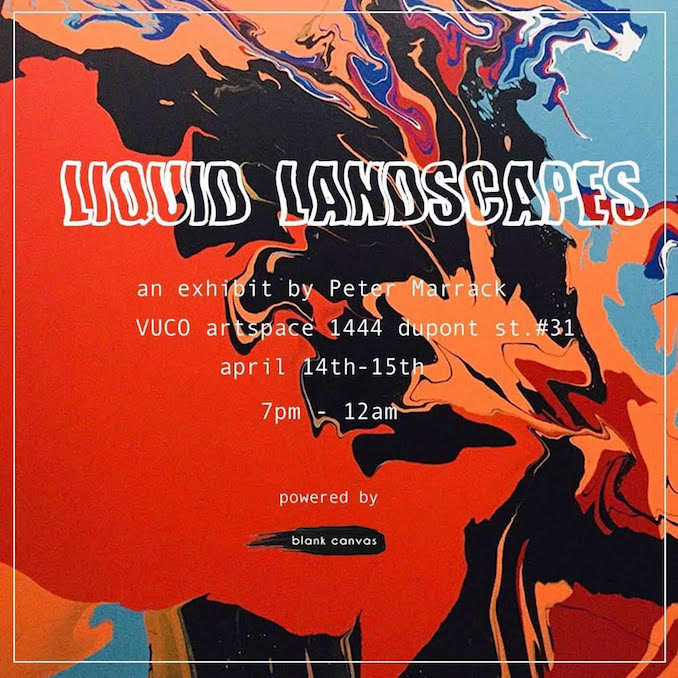 ***
What 'hood are you in?
I live on West Queen West and have my studio there.
What do you do?
I am a professional artist focused on big colourful abstract paintings and charcoal portraits. I also shoot 35 mm photography, write and will direct an experiment horror film soon.
What are you currently working on?
I'm currently focused on promoting my upcoming solo show at VUCO Artspace at 1444 Dupont #31 April 14-15 called Liquid Landscapes featuring my large abstract colour series. The reception is Saturday 14 night 7-12 and open to everyone.
Where can we find your work?
You can find my work on Instagram @peter_marrack as well as Inabstracto on West Queen West next to the Drake Hotel and across from Curry's. As well as on the big monitors in Yonge and Dundas Square for the month of April.