George Shimi is a skilled contractor and a smart businessman. Young, he's already recognized as one of southern Ontario's best independent spray foam insulation application master craftsmen.
George started Everest Insulation in Toronto with his wife five years ago, before they had kids. She used to join him on the job and physically help complete each project, but now they have a full time labourer on the crew and she works from home managing their business and raising their children.
Parked in front of what will someday be a gorgeous five-bedroom Forest Hill home, I met George at 9am standing in the doorway of the site. He was smiling and I liked him immediately. Dressed in white puffy coveralls the young man was happy to be working in such a big house with such tall walls where there was so much potential for his art.
George invited me into his splendour to watch his foam fountain – like an artist surrounded by empty canvas the man was loving his life. This home was huge. Over 270 linear feet of 10ft tall walls will require approximately 2700 square feet of insulation, and that gives George five full days of spraying foam.
As an owner operator, George has own truck complete with a helper who works just as hard as he does. When we met, 'first thing in the morning', they'd already been at work for hours. Before arriving here George had filled up his generator's fuel tanks with a week's supply of diesel, and after picking up his hired man they'd gone to their storage locker and loaded three more barrels of liquid foam into the back of the truck. A thousand kilograms of the mixture would only last them two more days on this big job.
This was the team's third day in this soon-to-be mansion; it stood empty that day because they were there. In George's line of work, he almost always has the entire construction site all to himself as other trades cannot operate while spray foam insulation is being applied. "Its not really so dangerous," George smiled, "but its an exclusive atmosphere' he remarked while pointing to the truck and hoses in the doorway.
The spray foam insulation George uses is a vegetable oil based polyurethane product, and as such masks with ventilators are required apparel for applicators.
Do the Spray Foam Shuffle – Stretch Up, Crouch Down and then Step to the Left
Although the artist was careful not to show this author all his trade secrets, I soon came to realize the reason why he's so busy. It's a combination of things of course, but one characteristic stands out the moment you see him at work – his judicious application of foam that makes perfectly formed slabs of solid insulation between the studs.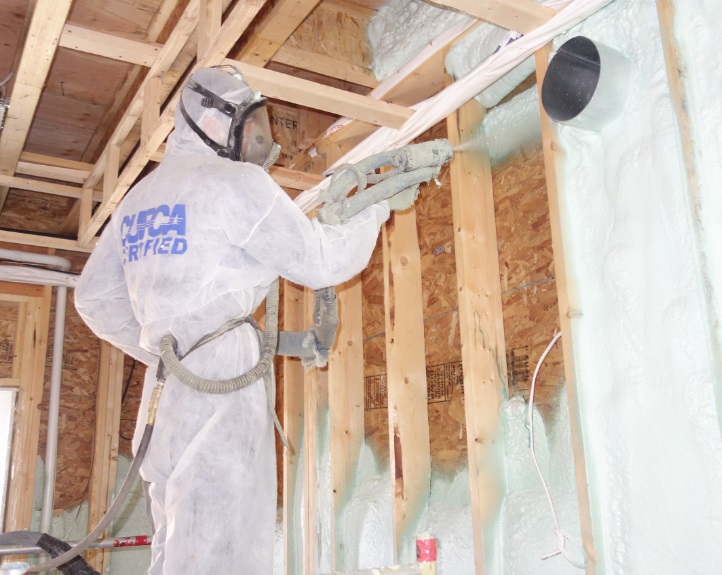 A spectator watching George work wouldn't likely notice his state of the art application equipment, or the fact that he uses Heatlok Soy 200 Plus, a high-performing 'closed cell' spray foam insulation, but rather they would notice and approve of his moves, and his advanced technique.
George does the spray foam shuffle, a full body dance. He climbs up on the scaffolding with the hose on his shoulder and the gun in his hands, and then standing on his tip-toes he lets it fly. He arcs his body up and then crouches down to his knees as he sprays each trough with a gentle dip and a flick of his wrist at the end. This spray foam artist has style.
George's skill at wielding the gun leaves a thin coat on the wooden studs and two inches of foam on the wall. He's making a seal, a capsule that will encompass the whole domicile when he's done. If removed and weighed the mass collected would total two pounds of foam per square foot. This is the most efficacious application density which will result in the highest R value possible for this insulation product, and any homeowner would be hard pressed to find a better solution.
The trickiest spots for George are the hard to reach corners of the home and around pipes and plumbing fixtures where he takes special care as spray foam's great strength is its uniform coverage around such obstacles where other material can leave gaps. Any voids in the insulation will bring drafts and cold pipes.
How did George get so good? Like most tradespeople this crafty apprentice learned everything on the job. After just doing it for so many years, the young man eventually mastered the art and science of spray foam installation, and by now, after years of owning his own business, George calculates he's sprayed over two hundred thousand litres of foam in the GTA alone.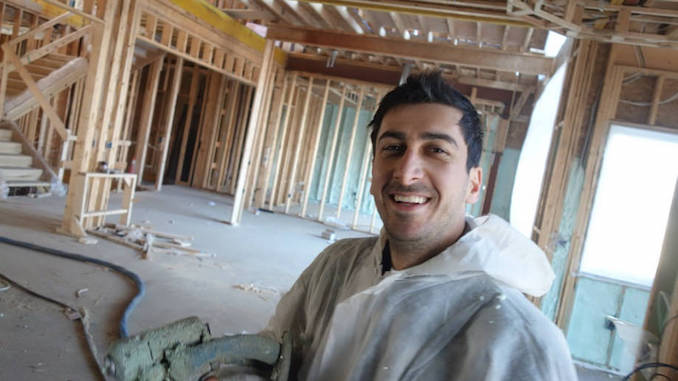 Aiming for a million litres of foam sprayed, George is a happy applicator who takes pride in producing a perfect product, the best insulation for Canadian homes.
Save